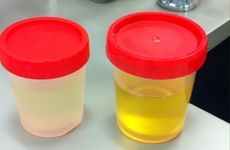 NEW YORK (360Dx) – Diagnostic startups are converting conventional urinalysis assays to smartphone-based formats in an effort to provide clinical-grade testing at the point of use.
This year, firms including Sunnyvale, California-based Inui Health, Los Angeles-based Scanwell Health, and Tel Aviv-based Healthy.io have received US Food and Drug Administration 510(k) clearance for smartphone-based urinalysis devices.
The devices measure the analytes, or a subset of the analytes, measured by traditional colorimetric urine dipsticks sold by companies like Siemens or Bayer and use the same testing chemistries. Using a smartphone to read out the results, however, removes the subjective element of a human reader, allowing the companies to offer in-home testing with the accuracy of a test read by either a trained clinician or automated analyzer, said Scanwell Health CEO Stephen Chen.
"The strips you buy over the counter are purely subjective because you are relying on lay people to read them," Chen said. He noted that while some doctors will in some cases make treatment decisions based on patient-reported urinalysis tests, "usually a physician can't make use of that data."
"We haven't invented a new test," said Inui Health CEO Jaime Tenedorio. "What we have done is brought the diagnostic lab to point of use by using technology that can be put in the phone. It removes the variability of reading it with the human eye."
Firms like Siemens offer clinical systems for automated reading of urinalysis strips, and a number of studies have found that testing accuracy is improved by automated reading compared to visual reading (though some studies have found the accuracy of the two methods to be comparable). According to Tenedorio, published literature puts the error rate of manual urinalysis readings by trained clinicians at around 20 percent. The error rate for patient-read urinalysis strips would presumably be higher.
Inui, Scanwell, and Healthy.io (which did not respond to interview requests) all received FDA clearance for their devices in late spring or early summer of this year and each company aims to market the same basic technology of smartphone-enabled urinalysis. However, the firms appear to be carving out different niches within this space.
Of the three, Scanwell offers the most narrowly targeted product at the moment — a test for urine leukocyte and nitrite levels for detecting urinary tract infections. The company has also brought in-house a larger portion of the clinical workflow. While Inui and Healthy.io's platforms provide patients with results they can then share with their doctors, Scanwell allows patients to send their test results to physicians affiliated with the company who can prescribe antibiotics if necessary.
Scanwell's test can also be sold over the counter in the US, while Inui's and Healthy.io's require a prescription. Chen said the company is in talks with major pharmacies about offering the test in their retail stores.
Urine leukocyte and nitrite levels alone are only moderately effective at diagnosing UTIs. Given this fact, Chen said Scanwell also collects patient symptom information with the urinalysis data and offers culturing, which he said can be especially useful in diagnosing and treating with recurring or difficult to treat UTIs.
To provide treatment "you need a complete case file," he said. "What we are trying to do is replicate the protocols done in the clinic and deliver that at scale."
Chen began working on Scanwell's device in 2011 but noted that at that time "FDA was still wrapping its hands around how to regulate mobile medical apps."
The company submitted the device to FDA in 2015, and while waiting for clearance Chen launched a pet urinalysis firm called Petnostics, using the revenue from that company to support Scanwell's operations. Last year the firm raised $120,000 through Y Combinator and has since raised additional seed funding Chen said.
He said the company plans to expand into additional diagnostic areas using the smartphone approach, but that it began with a focus on UTIs due to the fact that it is a condition consumers are highly aware of and that is not treated efficiently.
Going to the doctor for a UTI "is a very inefficient visit," he said. "There's also a strong consumer mindset around it, and that will allow us to initially get to market by marketing directly to the patients themselves."
Inui and Healthy.io, meanwhile, are taking a broader approach, with Inui's test measuring urine leukocyte, nitrite, protein, glucose, and ketone levels, and Healthy.io's test measuring those analytes along with blood, specific gravity, bilirubin, urobilinogen, and pH.
While the analytes measured by the Healthy.io product are applicable to a variety of disease areas, the company has focused much of its work to date on kidney conditions, where testing for protein, glucose, and blood could help with diagnosis and monitoring of chronic kidney disease (CKD). In April the company announced a clinical trial undertaken with the National Kidney Foundation and Geisinger to evaluate the use of its device for home-based urinalysis of patients with high blood pressure who are at risk for CKD.
The company has also said it plans to develop smartphone-based tests for albumin-creatinine ratio and chronic wound care.
Inui's move into the smartphone urinalysis market marks a shift from the company's original business, which was focused on the development of a device, called the Scout, that could detect vital signs like heart rate, blood pressure, and body temperature and upload them to a smartphone.
Originally named Scanadu, the company was launched in 2011 by Walter De Brouwer and in 2013 raised more than $1.6 million in crowdfunding on Indiegogo to support development of the Scout. The company raised an additional $50 million over the following two years, but it was ultimately unable to win FDA approval for the device and shut down support for it in 2016.
Since then, the company renamed itself Inui and turned its focus to the urinalysis device, which had been an active program within Scanadu, as well.
Tenedorio, who took over as CEO in 2016, said the company saw opportunity for the device particularly as the US healthcare system continues to move in the direction of accountable care organizations where payments for many procedures are fixed, incentivizing doctors and physician groups to work to reduce the cost of care.
He cited the example of managing a pregnancy, where he said the Inui test could provide a more convenient and less expensive alternative to sending out urine samples for testing at a central lab.
Conditions like diabetes where regular monitoring is required are also potential targets for the device, said Reza Kazemipour, Inui's chief revenue officer.
"Say you have someone with type I diabetes who may have some kidney compromise, may have some trouble managing their pre- and post-prandial glucose levels," he said. "Depending on the standard of care, they should be monitored at least once a month. So rather than bringing them into the office, having them give a sample, and having that sample go to a big lab like Quest or LabCorp, which takes time and money, the doctor can give the patient [the Inui test], and tell them to test themselves as often as indicated."
The test results will go to the doctor who can monitor them and bring the patient in if an intervention appears necessary based on the results.
"It's about being able to take more data… and enabling early intervention where that can be a big benefit," he said.
Inui received the CE mark for the device in December of 2017 and has been selling it in Europe and the Middle East since then, though the company declined to say how many it has sold in that time.
It launched US sales last month and is currently focused on driving adoption among large hospital and healthcare systems on the west and east coast, Tenedorio said.