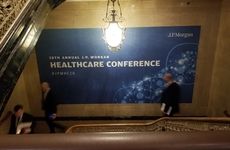 SAN FRANCISCO – With one day left, the 38th annual JP Morgan Healthcare Conference continued on Wednesday with diagnostics companies presenting before thousands of investors. Below are brief reports on the presentations and breakout sessions covered by our team at the conference. For our previous coverage this week, please see this page on our site.
Natera
Natera CEO Steve Chapman provided an early look at the company's 2019 results and shared news around its cell-free DNA-based testing businesses for oncology and transplant rejection testing.
Natera processed approximately 800,000 total tests in 2019, representing 20 growth over the prior year. Chapman noted that this included a "very strong" Q4 but did not provide additional details. He also said that the company outperformed its 2019 goal for pharma contracted value, achieving about $55 million in total contracted value.
In oncology, Natera has launched a new clinical trial for its Signatera assay for colorectal cancer monitoring and residual disease testing. The trial, called COLUMBIA-2, is being sponsored by AstraZeneca. It is a prospective, randomized platform clinical study of stage II or III microsatellite-stable CRC patients, who are tested with Signatera after surgery to determine which patients should receive adjuvant chemotherapy and/or novel treatments.
Chapman said that the trial is significant because it is the first time that a trial primary endpoint will be clearance of circulating tumor DNA after six months of treatment, as measured by Signatera.
The news of this trial piggybacked on another new trial Natera announced earlier in the day: the CIRCULATE-IDEA trial in Japan, a collaboration with the National Cancer Center (NCC) Japan. This is a prospective, multi-center, randomized trial to investigate ctDNA-guided treatment strategies for patients with stage II or III colon cancer, based on the results of molecular residual disease testing with Signatera. The trial is organized by the NCC and national in scope, Natera said in a statement, and it is expected to include approximately 1,500 patients from over 100 cancer centers across Japan.
There will be multiple investigational arms in CIRCULATE-IDEA, including treatment escalation (experimental therapies) in patients who test MRD-positive after surgery, and treatment de-escalation (no chemotherapy at all) in patients who test MRD-negative after surgery. The study's primary objective, Natera said, is to demonstrate that MRD-negative patients derive no significant clinical benefit from adjuvant chemotherapy and thus may safely avoid it.
Natera also launched a new clinical study for Signatera last week, called BESPOKE CRC. This nationwide multi-center prospective registry study aims to measure the clinical impact of serial testing with Signatera in patients with stage II or III colorectal cancer. The test is designed for MRD assessment, early relapse detection, and patient risk stratification after surgery. 
On the transplant rejection front, Chapman said that Natera received a final local coverage determination for its Prospera test through the MolDX program on Dec. 19 (Medicare administrative contractor Palmetto administers the MolDX program, in which three other MACs participate). The draft LCD for Prospera had been issued in May. 
Chapman said that final pricing for the test is expected in the first quarter of this year, and a full commercial launch is also planned for the quarter. To prepare for this, Natera already has a strong transplant-focused commercial team in place, he said.
Finally, Chapman said that Natera has hired Eric Evans as its chief scientific officer. Evans joins Natera from Counsyl, where he was a cofounder and CSO.
Exact Sciences
After Exact Sciences reported preliminary financial results earlier in the week well above its previously stated and Wall Street estimates, CEO Kevin Conroy said that the company's 2020 priorities included "delivering more answers, enhancing the customer experience, and powering new growth." 
One of the main ways it will accomplish the latter is by developing new test indications through its ongoing collaboration with the Mayo Clinic, the first of which is expected to be a commercial blood-based test for liver cancer later this year. The market for that test is some 3 million Americans representing about $1.5 billion. "This is the year we start to make an impact here," Conroy said. 
But Conroy presented a slide on Wednesday that contained 11 other potential areas of exploration with Mayo, including pancreatic, esophageal, bladder, ovarian, cervical, stomach, lung, lymphoma, melanoma, kidney, and uterine cancers. 
Between its flagship assay for colorectal cancer, Cologuard; the potential liver cancer test; and the two tests from recent acquisition Genomic Health (Oncotype DX for breast cancer and Onctoype DX Genomic Prostate Score), the company would have assays for four of the six deadliest cancers.
Genomic Health may help the company thrive in other ways, too — its physical location in Redwood City, California may give Exact Sciences an edge when it comes to reimbursement for the forthcoming liver cancer test, Conroy noted.
"One proof point of us coming together … is bringing up our liver cancer test in California in a [Medicare administrative contractor] Palmetto district," he said. "We were looking for several years as to how we could bring up a new lab in a MolDX state," he added, referring to the reimbursement program that Palmetto runs in which three other MACs participate.
On the point of delivering more answers, Conroy said that the company's Cologuard marketing alliance with Pfizer, a year and a quarter in, "has been tremendous so far." He added that he hopes Pfizer will be a partner for years to come, and indeed Exact has an option to renew the deal for a year or for multiple years when the original agreement ends at the end of 2021. 
Conroy also said that Exact added 150 new sales people in 2019 to increase sales and marketing of Cologuard this year.
Finally, regarding "enhancing the customer experience," Conroy and other company executives discussed the importance of bringing on new electronic ordering of tests through electronic health record giant Epic, a relationship that started in 2018. To date, the vast majority of Cologuard test orders are sent via fax.
"That is our second priority as a company, to make working with Exact Sciences even easier than it is now,' Conroy said.
Accelerate Diagnostics 
Accelerate Diagnostics is developing the next generation of its Pheno ID-AST system, the firm's incoming CEO Jack Phillips said Wednesday. Though details were not available about the anticipated timing for future launch, Phillips said the new system is being designed to use urine for identification and antimicrobial susceptibility testing of infectious disease pathogens leading to infections.
"It is a stepwise change in technology and will be more cost effective so that we can access a higher volume segment of the market," Phillips said during a breakout session following a the company presentation. "The lifeblood of the company is innovation, and the first bit of disruption that occurred was with Pheno 1, which is playing out quite well."
The new platform should not be viewed as an improvement on the current Pheno instrument "but as the next phase of innovation for our company," Phillips said. "Specifically, that translates to a much lower cost of goods sold that will allow us to go after a broader part of the [ID-AST] market."
Phillips added that Accelerate sees value for health institutions in being able to use urine to conduct pathogen identification and antimicrobial susceptibility testing before the infection proceeds to the bloodstream. "Think about the [antimicrobial] stewardship we will be able to contribute there," he said.
Accelerate Diagnostics' Pheno system and bloodstream infection assay were cleared by the US Food and Drug Administration in February of 2017.
Since then, the firm has steadily placed instruments and tests, mainly in US hospitals, but it has frequently missed analysts' revenue expectations. Accelerate said on Monday that its preliminary Q4 2019 revenues are expected to rise 94 percent to $3.5 million, short of the analysts' average estimate of $4.8 million.
Phillips, who will replace Larry Mehren as Accelerate's CEO on Feb. 1, said Wednesday that the main reason for missed expectations is timing associated with when instruments go live in hospitals. Phillips said he is working on a more robust process that involves ongoing discussions with contracted customers during the go-live process to help remove uncertainty. The firm believes it can reduce the current average nine-month cycle from inking a contract to going live to an average of six months, or less, he said.
During his presentation, Philips noted that the firm expects to report between $16 million and $18 million in revenues in 2020. However, in a research note Wednesday, Barclay's analyst Jack Meehan said the revenue guidance was well below the consensus estimate of $27.9 million.
Phillips said that the firm had 164 live instruments in place by the end of December, and as an indicator of the system's adoption potential, Accelerate had an additional 255 instruments under contract that it expects to go live this year.
GenMark Diagnostics
With US Food and Drug Administration clearances behind it for the ePlex molecular diagnostic system, respiratory panel, and blood culture identification panels, GenMark Diagnostics is focused on commercial execution, the firm's President and CEO Hany Massarany said Wednesday.
The company anticipates driving revenue growth "with a unique sepsis solution and extending its leadership in respiratory testing," he said. Further, the firm is continuing with development work on ePlex and looking to expand its menu with assays, including for gastrointestinal and central nervous system conditions, among others.
After a long product development cycle, GenMark received 510(k) clearance for its ePlex instrument and Respiratory Pathogen Panel in June 2017. The FDA cleared the third of three BCID panels, a gram-negative panel, in April of this year.
On Monday, GenMark reported that its preliminary fourth quarter revenues were approximately $27 million, a 40 percent increase over its 2018 sales, but short of the average Wall Street projection for revenues of $27.6 million. Expected revenues for the firm's ePlex molecular diagnostics platform were roughly $19 million for the quarter, an increase of around 58 percent over Q4 2018.
According to Massarany, ePlex placements for sepsis and respiratory testing grew by 60 percent in 2019, a rate that the firm expects will continue in 2020 and beyond.
The firm anticipates reporting about $88 million in revenue for 2019, a 24 percent increase over 2018, Massarany said. ePlex revenue for the full year is anticipated to reach about $60 million and net placements are expected to rise 50 percent to 173.
"BCID testing drove 80 percent of new customer placements in 2019," Massarany said, adding that almost 50 percent of those placements also include a respiratory panel.
The installed base of ePlex analyzers has grown at a compound annual growth rate of greater than 80 percent since 2017, and the average annuity per analyzer has reached $148,000, he said.
GenMark believes that the addressable market for syndromic infectious disease testing is worth about $2.5 billion. "However, it's important to note that this market is probably only 40 percent penetrated," Massarany said. "In 2019, we believe that just over $1 billion was spent on syndromic or multiplex panels, and that will continue to grow at a high rate of 18 to 20 percent over the next few years."
OraSure Technologies
OraSure Technologies reported in November that its third quarter revenues fell 22 percent year over year, but its President and CEO Stephen Tang said on Wednesday that he saw several positive signs for the business in Q3.
Specifically, he pointed to the $201 million that the firm had, as well as its absence of debt, at the end of quarter. As a result, he said, it continues to look for acquisitions of products and services that are accretive to its innovation-based growth strategy.
OraSure completed three tuck-in acquisitions in 2019 that can be characterized as emerging technology companies spanning products and services, and it "will continue to look for companies like that." OraSure is not ruling out doing large deals, though.
So far, the acquisitions have been associated with the molecular testing side of OraSure's business, but it is also "looking at possibilities" in the infectious disease space, Tang added.
With the acquisition of Diversigen, announced in November last year, OraSure is positioning itself as an industry leader in microbiome analysis. The firm plans to combine Diversigen's metagenomics sequencing with the microbiome services and sample collection technologies of its CoreBiome and DNA GenoTek subsidiaries to provide an end-to-end solution for microbiome analysis.
OraSure had acquired early-stage microbiome services provider CoreBiome and urine sample collection device developer Novosanis in January last year.
Tang said on Wednesday that the firm's microbiome business grew 81 percent in Q3 compared to the prior-year quarter, and it saw a 35 percent increase in the number of customers using both genomic and microbiome testing kits. He noted that in Q3, global sales for its HIV tests increased 16 percent compared to Q3 2018.
OraSure anticipates that it could benefit from an announcement by the federal Substance Abuse and Mental Health Services Administration (SAMHSA), which has issued guidelines that stated next-generation testing products for substance abuse can use oral fluid samples. "That's significant for two reasons," Tang said, First, it is easier to tamper with urine samples, so oral fluids provide a more secure testing option. Second, oral fluids provide an more effecctive biofluid for detecting when drugs have been used, he said.
Oral fluid-based substance abuse testing provides OraSure with a large, unserved market opportunity, Tang added.
Quidel
Quidel has just completed the biggest quarter in its history for flu testing, the company's President and CEO Douglas Bryant said Wednesday.
The firm expects influenza testing revenues to come in at around $50 million for the fourth quarter of 2019. 
Almost a week ago, Quidel had announced that it expects fourth quarter 2019 revenues to be in the range of $151 million to $152 million. The expected revenues would represent a 14 percent to 15 percent increase over the $132.6 million that the company reported in Q4 2018.
The firm specializes in CLIA-waived point-of-care tests sold mainly for use in urgent-care settings. About 45 percent of diagnostic testing is done in such settings, Bryant said, noting that the company placed 6,000 Sofia immunoassay instruments in urgent care and other settings in 2019 and built its installed base to 42,000 by year's end.
The company has an objective to grow its annual revenues to around $1 billion dollars per year, potentially driven by mergers and acquisitions, and by launching new products.
The firm's executives anticipate that its cardiac immunoassay segment will grow at 4 percent per year from a base of $267 million in 2018; its legacy rapid immunoassay business will grow at more than 10 percent per year from a base of $183 million in 2018; its specialized diagnostic solutions segment will experience very low growth but high profitability from a base of $53 million in 2018; and its molecular business is expected to achieve high growth from a base of $19 million in 2018. Figures for each segment were not available for 2019.
In the fourth quarter of this year, Quidel "had a nice quarter in terms of molecular testing in advance of the launch of an instrument called Savanna," which it is putting through clinical trials this year, Bryant said. Though its molecular business is a niche one for Quidel, it contributed $7 million in Q4, he said.
Savanna is a low-cost, fully integrated sample-to-answer molecular diagnostic system. Bryant expects the instrument to be competitively priced. The company is targeting a cartridge cost less than $5 and an instrument cost of about $10,000 to achieve sales to low-volume laboratories and potentially to entities in CLIA-waived settings, Bryant said.
Invitae
Having cofounded Invitae one decade and a few days earlier, its CEO Sean George on Wednesday reflected on the company's business objectives and strategic imperatives.
In a presentation, he said that the firm's objectives include making genetic testing more affordable and more accessible, building partnerships with industry peers to increase utilization of genetic testing, and doing acquisitions that expand its test content and services to open new markets. Further, the firm is engaged in sharing genetic testing information on a global scale to diagnose more patients correctly and bring therapies to market faster, and providing genetic information services that inform healthcare decisions.
George said during his presentation that Invitae has been investing in a consistent business model of aggregating genetic test information, consolidating the industry, and "driving prices to the point where you can expand the addressable market around the globe."
He said that based on preliminary estimates, the firm's volume of accessioned tests in 2019 grew to greater than 482,000, an increase of 60 percent over 2018 and accounting for about $216 million in annual revenues.
On Sunday, the firm had announced that its preliminary 2019 revenues represented 45 percent growth over $147.7 million in the prior year, but its estimates fell short of the consensus Wall Street estimate of $219.9 million and short of its own annual revenue projections of $220 million. 
Test volumes in the fourth quarter of this year were slightly softer than the firm had anticipated, George said during a breakout session after his presentation on Wednesday. That occurred because a number of the firm's new accounts had unexpectedly shut down for one to two weeks toward the end of the year.
The firm would like to have been a bit further ahead such that any seasonal slowdown wouldn't have affected the ability to reach its estimate of 500,000 accessioned tests for the year, he said, adding, "Perhaps that's something we could have known given the new types of accounts we're getting in, but that's something we've taken into account for this year."
Based on its preliminary estimates, Invitae believes that in 2020 it will accession more than 725,000 samples and bring in more than $330 million in revenue.
Opko
Opko CEO Phillip Frost said Wednesday that the firm's BioReference Laboratories business revenues were around $181 million in the third quarter of 2019, which ended Sept. 30. 
BioReference's 300-person sales and marketing team has elevated esoteric testing to about 70 percent of its overall revenues, he noted.
Its main focus areas are oncology, women's health, urology, and genetics, BioReference Executive Chairman Jon Cohen said. BioReference's oncology profiling businesses GenPath and GeneDx provide screening for hereditary cancers and diagnostic services for solid tumors, anatomic pathology, hematology, and coagulation. Its 523-gene pan-cancer next-generation-sequencing platform has expanded the range of serviceable cancer types, and its 4Kscore test provides a risk assessment for aggressive prostate cancer, Cohen noted.
About 75 percent of men undergoing prostate biopsy based on prostate specific antigen testing are found to have no cancer or indolent cancer, and more than 2 million prostate biopsies are done globally each year, according to Opko.
The 4Kscore blood test provides greater than 93 percent negative predictive value for the detection of aggressive prostate cancer. More than 12,000 physicians have used the test in their medical practices, and physicians performed about 18,000 of the tests in the third quarter of 2019. 
In November, the Centers for Medicare & Medicaid Services said that Medicare administrative contractor Novitas issued a positive local coverage determination for the 4Kscore test. Coverage went into effect on Dec. 30, 2019, Cohen said Wednesday.