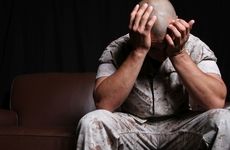 NEW YORK – A group of researchers led by the New York University School of Medicine and the US Army Medical Research and Development Command has developed a blood-based assay that relies on a variety of molecular and physiological biomarkers to detect cases of post-traumatic stress disorder (PTSD).
While the test is still in its very early stages, the researchers intend to eventually commercialize the 28-biomarker panel for military veterans and civilians who show early symptoms of post-traumatic stress disorder. 
Initially, the goal was "to assist military psychiatry and mental health in high-throughput screening for PTSD," NYU School of Medicine's psychiatry department Chair Charles Marmar explained. "While there have been some studies that looked at how blood features are related to PTSD, they were mostly to predict the risk of those in the emergency department who might develop PTSD." 
Psychological health experts typically diagnose PTSD in patients by using a survey called the Clinician-Administered PTSD Scale (CAPS). In addition to assessing about 20 psychological and physical PTSD symptoms — including trauma-related thoughts or irritable behavior — the questions target the onset and duration of symptoms, subjective distress, impact of symptoms on social and occupational functioning, improvement in symptoms since a previously administered CAPS test, and overall PTSD severity. However, the process requires a clinician to interview one person at a time and takes at least three hours for each interview.  
In a study published in Molecular Psychiatry earlier this week detailing their work, Marmar and his team examined a group of US male combat veterans from Operation Enduring Freedom and Operation Iraqi Freedom who had previously been diagnosed with PTSD using the CAPS survey. 
As part of a discovery cohort of 83 warzone-related PTSD cases, the researchers collected roughly a quarter of a pint of blood from each patient and assayed it for several molecular species, including genetics, methylomics, proteomics, metabolomics, immune cell counts, cell aging, endocrine markers, microRNAs (miRNAs), and cytokines. 
Marmar and his team performed DNA methylation using a genome-wide association study approach and a targeted sequencing-based approach. Using targets generated with Illumina BeadChip arrays, the team then evaluated a smaller set of methylation sites. To identify potential plasma miRNA biomarkers, the team evaluated the miRNAs using small RNA sequencing. 
For potential protein biomarkers, the researchers applied three different methods: peptide quantification using selected reaction monitoring, quantification of six neurodegenerative disease-related markers, and quantification of serum levels of brain-derived neurotrophic factor (BDNF) using a BDNF ELISA assay. For metabolomic analysis, the team used ultrahigh performance liquid chromatography/tandem mass spectrometry. 
Marti Jett, senior author and chief scientist of Systems Biology at the US Army Medical Researcher and Development Command, added that the team also looked at a veteran's stable heart rate and clinical lab measurements, including insulin and mean platelet volume, as potential indicators of PTSD. 
In the discovery cohort of veterans, the team identified 343 candidate biomarkers from over 1 million potential biomarkers. The researchers then invited patients as part of a recall cohort from 2014 to 2018 for further testing. 
After reassessing a total of 26 participants, the group used a series of machine learning algorithms to refine the set of markers from 323 to 28, based on their performance and ability to track changes in phenotype over time. The biomarkers included 11 methylation markers, seven proteins, three metabolites, and four microRNAs, as well as a veteran's insulin volume and heart rate. 
The researchers then validated the final diagnostic panel in an independent cohort of 26 veterans, examining how well the tool matched the diagnoses previously made using CAPS. They found that the panel had 85 percent clinical sensitivity and 77 percent clinical specificity when compared to the questionnaire.  
Marmar emphasized that the subclasses of biomarkers did not perform as well on their own for the detection of PTSD. Instead, the group required all the biomarkers on the multidimensional panel to effectively diagnose cases of PTSD in the validation cohort of veterans.  
According to Jett, the overall automated process — analyzing the physiological and molecular markers after collecting a blood sample — takes about half a day to produce diagnostic results and can test up to 96 samples during each run. 
At the same time, the researchers highlighted that they need to replicate the study in groups of active duty soldiers, populations with civilian trauma, female cohorts, and phenotyped populations with and without many conditions often comorbid with PTSD. Marmar believes that genomic, proteomic, and transcriptomic factors may differ in female PTSD veteran because of sex hormonal effects. 
The study authors also noted they will need to perform validation studies in cohorts of patients with chronic PTSD, intermediate PTSD symptoms, and those who have recovered from PTSD. From there, Marmar envisions launching studies to test civilian cases of PTSD. 
Jett noted that the group has filed IP related to the 28-biomarker panel, as well as for subsequent and current research. She said the group is now refining the panel to eventually commercialize it for PTSD diagnostic purposes, emphasizing that the US army has recently increased its interest and funding for the long-term project. 
"Our group has been working with the Department of Health Affairs within the Department of Defense for several years to see how they could use a panel like this" Jett explained. "We are still adjusting things for this to be used as a screening tool easily for post-deployment, but hopefully we will be able to use it when a person is initially showing signs of these issues." 
Instead of interviewing each patient suspected of having PTSD for at least three hours, Jett envisions clinicians drawing blood from several hundred patients and performing the biomarker panel to detect cases of PTSD. Eventually, her group may work with a commercial partner to further develop the assay, which will "depend on whether or not our final panel is useful for civilian or military PTSD." 
Jett said that the group will seek 510(k) approval from the US Food and Drug Administration to fully commercialize the assay for use with military veterans.Marmar believes the team could develop the commercialized version of the assay within five to 10 years, depending on the amount of funding it receives from the army. Since launching the study in 2010, the researchers have received about $50 million in funding from the military to further develop the PTSD assay.
Jett explained that one of the team's long-term goals is to also identify molecular signals that are comorbid with PTSD, which are often well-characterized by physiological behaviors — including circadian rhythm disorders, inflammation, anger management, self-abuse, and hyperarousal — or before they coalesce into PTSD.
"The main message of the study is that this shows you can identify PTSD using molecular methods," Jett said. "From a molecular point of view, it's exciting to say that a person could come in, have the test done, and given something to ease one or two of these symptoms that might prevent PTSD and help keep their life stable."