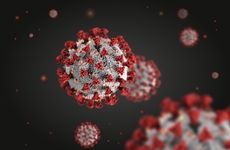 NEW YORK ─ More than 30 new products for combatting COVID-19 could be coming to market over the next year thanks to a new European project. The effort, called INNO4COV-19, was awarded €6.1 million ($7.2 million) last month to support the commercialization of new diagnostics and other technologies.
The International Iberian Nanotechnology Laboratory (INL), based in Braga, Portugal, is leading a consortium of 11 partners from seven European countries that will support INNO4COV-19. Five projects from INL will serve as test cases for bringing products to market, while €3 million, half of the budget for the two-year project, will be awarded to 30 small and medium-sized enterprises or research technology organizations to also quickly bring their platforms to market.
Awardees will receive €100,000 each and will benefit from the INNO4COV-19 consortium's so-called open innovation test bed concept, which enables SMEs to scale up and test their products ahead of going directly to market, according to Paula Galvão, chief officer for business and strategic relations at INL.
"We want to create a lab-to-fab[rication] platform and a collaboration resource,"  said Galvão. "An open innovation platform will help counterbalance all the scattered efforts that are being generated by the urgent need for solutions for this pandemic," she said. By offering companies access to production lines and pilot production facilities, the hope is that they will be positioned to launch.
"Whether for monitoring, prognosis, or diagnosis, we want to bring everything together in one innovation platform," said Galvão. "We can provide the technical and business expertise needed to help SMEs bring their products to market."
INL was founded 10 years ago by the Spanish and Portuguese governments and currently employs around 400 people. Backed by a €100-million investment, the institution is focused on market-oriented research projects, Galvão stressed, providing researchers and external partners with "all the equipment and facilities they need" to bring their products to market.
She noted that INL has already collaborated with some of the institutions involved in INNO4COV-19 in the past, laying the groundwork for the new consortium, which received money in August as part of a €128 million package of EU funding for COVID-19 projects.
"We already have some collaborations with previous and ongoing projects for what we call the open innovation test bed projects," said Galvão. "We saw the [EU] call and we decided we had the competencies to go for this challenge." She noted that some of the consortium participants are from countries that have been exceptionally hit hard by the pandemic, such as the University of Bologna in Italy and the Biokeralty Research Institute in Spain.
"Our idea was also to have representatives from countries where COVID has been really harsh," she said.
INNO4COV-19 has multiple pillars. One is to support five so-called test cases involving technologies developed by INL and its consortium partners. Two are explicit diagnostic projects. The first revolves around using virus-negative sense RNA to determine if a person who was positive for SARS-CoV-2 still has an active replicating virus and is contagious. Using real-time PCR and fluorescent detection, the investigators believe they can determine the presence of an active, replicating SARS-CoV-2 virus. This could help in deciding which patients could come out of isolation, for instance, and which patients should remain in quarantine.
In the second test case, investigators will compare different isothermal techniques for detecting SARS-CoV-2, such as loop-mediated isothermal amplification (LAMP), recombinase polymerase amplification (RPA), and others, and compare them against real-time, quantitative PCR in terms of sensitivity, specificity and efficiency, in addition to turnaround time.
Other test cases are focused on air filtering systems, mask sterilization techniques, and thermo sensors. These five test cases will start from "month one" of the project, Galvão said, and will inform how the consortium manages other projects going forward.
"This will help us learn the regulatory aspects, business aspects, and other twists we need to know to bring a product to market," she said. "It will provide a pool of lessons for the external projects we will support."
Another arm of INNO4COV-19 is to support 30 SMEs and RTOs with grants of $100,000 to quicken their route to market. Companies and organizations from across Europe are welcome to apply for support. 
"We are talking about high [technical readiness level] projects," Galvão noted. "We will not accept basic research," she said, "only projects that are ready to be tested in relevant environments."
Projects will be selected through an open call during the first year of the INNO4COVID-19 project and there will be three cutoff dates, she said. Selected projects will then have a year to test, scale, undertake pilot production and market introduction with assistance from the project.
Companies developing diagnostics, especially using nanotechnology platforms, are welcome to apply for support through INNO4COV-19, Galvão underscored.
"The project is based on key enabling technologies, and nanotechnology is considered one of the key enabling technologies," said Galvão. In addition to diagnostics and screening systems, INNO4COV-19 will also support environmental monitoring systems, sensors for telemedicine and monitoring at-risk locations, such as nursing homes, and projects that improve the safety of protective equipment, such as masks.
"During year one  and through support and competencies of consortium partners they will bring these products to the market," said Galvão.
While INNO4COV-19 is a two-year project, its organizers hope the infrastructure they build will continue afterward and will support the fast-tracking of future projects to the market. "Our aim is to find and support new solutions," Galvão said, "and to better prepare Europe and its citizens for any future pandemics we might have."