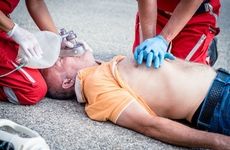 NEW YORK – A recent study determined that an algorithm developed by Abbott that analyzes a patient's age, sex, and high-sensitivity troponin concentrations could rapidly identify the likelihood of a heart attack in low- and high-risk patients.
According to the study authors, the technology could identify whether a patient was having a heart attack within three hours of entering a hospital after their symptoms first started.
Published last week in the journal Circulation, the study analyzed data from more than 11,000 patients who presented with heart attack symptoms to train and test the myocardial ischemic injury index algorithm.
Abbott has filed for an international patent for use of the algorithm. It provided an unrestricted grant for the study, but the authors noted the Abbott Park, Illinois-based company had no influence on the results.
The research team comprised scientists from the US, Germany, the UK, Switzerland, Australia, and New Zealand. For the study, they trained the algorithm, dubbed MI3, on 3,013 patients and tested it on 7,998 patients from nine countries who presented with symptoms of a heart attack.
Overall, they "found that the algorithm provided doctors a more comprehensive analysis of the probability that a patient was having a heart attack or not, particularly for those who entered the hospital within the first three hours of when their symptoms started," Abbott said in a statement.
The underlying technology of MI3  is a machine learning technique, called gradient boosting, which "iteratively trains a set of sequential weak learners (her decision trees) using the provided features to map onto the outcome," whether a patient was diagnosed with myocardial infarction, the authors wrote in Circulation.
MI3 incorporates age, sex, and paired cardiac troponin I concentrations at presentation and at another early but flexible time point, as well as rate of change of cardiac troponin ! concentration t compute a value between 0 and 100, with higher values indicating greater likelihood of a heart attack diagnosis. Clinicians can then use the score to identify low- and high-risk patients and treat them accordingly.
Because MI3 doesn't depend on fixed cardiac troponin thresholds and doesn't require serial testing to be performed at a specific time, it's more versatile than current algorithms, the study said. It also accounts for the nonlinear ways the variables may interact, while current algorithms don't allow for any interaction between age, sex, and troponin concentrations.
Previous international guidelines recommended using serial cardiac troponin measurements over six to 12 hours to determine myocardial infarction in patients with a rise or fall in cardiac troponin concentration where at least one of the serial concentrations is above the 99th percentile.
But the study noted that other researchers have challenged this threshold and instead recommended risk-stratifying patients when using high-sensitivity cardiac troponin assays.
And because MI3 doesn't have a fixed troponin threshold, it can reflect more subtle risk variations.  
MI3 also doesn't require fixed time or mandate specific time-points for serial testing, which makes it more transferable to high-volume emergency departments, since there's often variation in sample timing.  As long as measurements are being taken serially, the timing is flexible, said Fred Apple, one of the study's authors and a principal investigator at the Hennepin Healthcare Research Institute in Minneapolis.
A rapid decision can be made even when the time between samples is 1.5 or 2.5 hours, Apple said in an interview. When the results were stratified by time from when the symptoms began, there was no difference in performance, so MI3 can be applied in patients who present with symptoms early.
The study also noted early presenters made up 34 percent of patients in the testing set and are often a significant subset of heart attack patients.
Clinical, commercial implications
MI3 is "the first machine learning-developed algorithm that combines high-sensitive troponin with other patient details to help evaluate patients suspected of having a heart attack," Agim Beshiri, one of the inventors of the algorithm and a senior medical director at Abbott, said in an email, adding the algorithm has been in development at Abbott for four years.
Abbott declined to comment on its regulatory plans for MI3. The company currently has a few tests on the market or in development targeting the cardiac disease market, including its High Sensitive Troponin-I blood test, which was CE marked a year ago. It is also developing a point-of-care test called Abbott i-Stat Tnl-Nx troponin test.
Abbott said it's willing to share the algorithm with researchers who agree to use it only for research purposes and agree to share their data.
The clinical implications for the algorithm could be wide-ranging. Because the information the algorithm uses can come directly out of a patient's medical record, MI3 can be integrated with the hospital system's workflow, Apple said, improving the assessment of potential myocardial infarction for individual patients.
That individualization of data is a key purpose of the algorithm. "The algorithm is designed to be patient centric and address specific patient variables, rather than trying to fit the patient to a population-based category," Beshiri said.
There's also the potential for significant cost savings for hospitals that integrate the algorithm into their workflows, Apple noted.
"If we can eliminate patients staying in the system [unnecessarily], we could send home 20 to 30 percent of patients," safely, Apple said. "That would be a huge financial burden release."
The speed and accuracy of results could also contribute to the cost savings and improve patient treatments. "The faster we can get to treat patients to the proper level of care, the greater chance we have to improve patients' lives today and also improve outcomes long term," he said.
But the algorithm isn't meant to replace clinical decision-making. "You can't lose track of the clinical situation," Apple said. "If someone comes in with excruciating chest pain and symptomology but yet had the low risk score, most clinicians will still watch that patient."
Although the focus of the study was on diagnosis of a type 1 myocardial infarction, Apple noted the algorithm could also work with a type 2 myocardial infarction.
The study is only the first in a potentially long line of future research on the algorithm. Additional work is needed to assess patient outcomes and resource use after the algorithm has been implemented into clinical practice, the study authors noted.
Apple also said randomized control trials and the use of US-specific datasets would be needed.
"Patients present to US emergency rooms much different than they do in Europe," Apple said. "We see a lot of patients that present with other symptomology."
A second US cohort just finished enrollment, with Apple saying the analysis of data has just begun. The research will look at 2,000 patients at Hennepin County Medical Center in Minneapolis.
"We'll go to test it to see how it works in another period of time in a sick population of inner city patients that come into a general hospital," Apple said. 
Although many of the details of the algorithm are still unknown, Apple noted the great potential once it's in use.
"It's a decision tool that'll be in the pockets of physicians in emergency rooms to calculate, and that's actually pretty cool," he said.