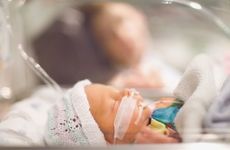 NEW YORK (360Dx) – Maternal-fetal testing firm NX Prenatal is planning a 2020 launch for its exosome-based test for predicting preterm birth.
The Louisville, Kentucky-based company recently published a study in the American Journal of Obstetrics & Gynecology that found the test could improve prediction of preterm birth when used at between 10 and 12 weeks gestation. The company has also launched a 2,300-subject prospective study looking at the performance of its test in first-time mothers enrolled at 20-plus hospitals across the country.
Upon launch, NX Prenatal plans to commercialize the test through an outside partner, said CEO Brian Brohman. In January, the company announced that it has entered an agreement with Milu Labs to commercialize the test in Asian markets including China.
Preterm birth is a major public health issue with roughly 525,000 cases per year in the US. According to the March of Dimes, the annual cost of caring for preterm infants runs more than $26 billion.
There are few tools for assessing a woman's risk of delivery prematurely, however. It is a particular challenge in first-time mothers as one of the major risk factors for preterm delivery is having had a preterm birth previously.
"The two most commonly used measures to assess risk for preterm birth have been either a prior history of preterm birth or a short cervical length in the second trimester," Brohman said, noting that while women who have been pregnant before "have some obstetric history," that can be useful in guiding treatment, there is little information available to first-time mothers in the first trimester.
"This test can useful for [both] groups of women, but we feel like the early adopters and those who have the highest need are those first-time moms," he said.
In the AJOG study, the researchers found the test identified first-time mothers who gave spontaneous preterm birth before the end of 35 weeks gestation with a sensitivity of 63 percent, a specificity of 86 percent and an area under the curve of .77.
Given a baseline risk of 4.9 percent for delivery prior to 35 weeks, a positive test result would raise that risk post-test to 20 percent, while a negative result would put the patient's preterm birth risk at 2 percent. The authors noted that compares favorably to approaches based on patient history, with women with a prior preterm birth having around a 15 percent risk of preterm delivery in their subsequent pregnancies.
The company hopes its ongoing validation study will further confirm the test's performance while allowing it to look at a variety of clinical factors and additional protein signatures that could improve its effectiveness, Brohman said.
"The size of that study is really going to allow us to evaluate risk factors like age, body mass index, nutritional factors, and socioeconomic factors," he said. "I think the other exciting part of that study is that it will allow us to evaluate how signatures may change from the first trimester to the second trimester and if that sequential evaluation gives you even more information about the predictive power of this approach."
The company also plans to use data from the study for the development of additional tests in its pipeline, including for identifying women at risk of developing preeclampsia.
The NX Prenatal test is based on proteomic analysis of exosomes — membrane-bound particles released by cells that contain molecular content including proteins and nucleic acids from their cells of origin. The company uses a multiple-reaction monitoring mass spec workflow to make its protein measures and has established a Houston-based laboratory for performing its exosome isolation and mass spec work, Brohman said.
He noted that in terms of its commercialization plans, the company is currently in discussions with several firms "that have an interest in controlling the US and other marketing rights for [the preterm test]." He did not identify the potential partners.
In 2016, NX Prenatal entered a partnership with genetic maternal-fetal testing firm NxGEN MDx to collaborate on the development and commercialization of the former's preterm birth test. That agreement has since ended with Brohman characterizing it as focused primarily on helping NX Prenatal "advance our clinical development, our product development."
The original announcement suggested, though, that the agreement would encompass commercialization of the test, with NxGEN MDx CEO Alan Mack calling the NX Prenatal assay "complementary to our current suite of tests."
When the NX Prenatal test does come to market it will find at least one existing competitor, Sera Prognostics PreTRM test, which likewise uses mass spec-based protein measurements for assessing risk of preterm delivery.
Sera released the test in 2017 through LabCorp, which is its exclusive US distributor. The company has not released information on sales of the test since its launch.
While the Sera test was first to market, Brohman said NX Prenatal expects its test's ability to assess risk earlier in pregnancy would be a differentiator. While the PreTRM test is intended for use at 19 weeks gestation, the NX Prenatal test is intended for use at 10 to 12 weeks.
"The earlier you know, the more time you have to discuss that with your doctor, discuss available interventions and lifestyle behavior modifications," he said.
The PreTRM test covers a wider range of preterm births, however, predicting deliveries before 37 weeks gestation, compared to 35 weeks gestation for the NX Prenatal test.
Some data indicates the Sera test might also have better performance. In its 5,501-subject PAPR validation study, the PreTRM test identified women at risk of giving birth before 37 weeks with an AUC of .75 and before 35 weeks with an AUC of .93. In the AJOG study, the NX Prenatal test identified women delivering before 35 weeks with an AUC of .74 in the overall cohort and with an AUC of .77 in first-time mothers.