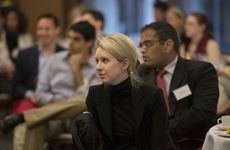 NEW YORK (360Dx) – The US Securities and Exchange Commission today charged Theranos, its founder and CEO Elizabeth Holmes, and its former President Ramesh Balwani with fraud, saying they raised more than $700 million from investors by exaggerating the company's technology and its business and financial performance.
Theranos and Holmes have reached a settlement deal with the SEC, while the agency will pursue litigation against Balwani in US District Court, Northern District of California.
Holmes has agreed to pay a $500,000 penalty and will return the remaining 18.9 million shares of Theranos stock that she acquired during the fraud. She will also give up her voting control of the company by converting her super-majority Theranos Class B Common shares to Class A Common shares. 
"Due to the company's liquidation preference, if Theranos is acquired or is otherwise liquidated, Holmes would not profit from her ownership unit — assuming redemption of certain warrants — over $750 million is returned to defrauded investors and other preferred shareholders," the SEC said in a statement.  
Holmes is also barred from serving as an officer or director of a publicly traded company for 10 years.
Neither she nor Theranos admitted to nor denied any wrongdoing, the SEC said.
According to the SEC's complaint Theranos, Holmes, and Balwani raised more than $700 million between late 2013 and 2015.
In a statement, Theranos' independent directors said, "The company is pleased to bring this matter to a close and looks forward to advancing its technology."
According to the SEC, Theranos, Holmes, and Balwani deceived investors by making "numerous false and misleading statements" that led them to believe that the company's blood analyzer "could conduct comprehensive blood tests from finger drops of blood, revolutionizing the blood testing industry."
In fact, the agency said, "Theranos' proprietary analyzer could complete only a small number of tests, and the company conducted the vast majority of patient tests on modified and industry-standard commercial analyzers manufactured by others."
The SEC also said that Theranos, Holmes, and Balwani claimed that the company's products were used by the US Department of Defense on the battlefield in Afghanistan and on medevac helicopters. Further, they said that the firm would generate more than $100 million in revenue in 2014.
However, the technology was never used by DoD and generated "a little more than $100,000 in revenue from operations in 2014," the SEC noted.
The development is a stunning denouement to a company that was once viewed as a Silicon Valley darling with potentially disruptive medical technology. Holmes founded Theranos in 2003 after dropping out of Stanford University, according to the SEC's complaint. Initially, the firm focused on developing a blood analyzer that, with a blood sample taken from a finger prick, could provide samples at the point of care.
The technology would not only be able to provide results for routine testing, such as cholesterol testing, but promised the ability to provide results for more complex types of tests, such as genetic tests. Its board of directors eventually would include such notables as former Secretary of State George Shultz, Henry Kissinger, former US Senate Majority Leader William Frist, and current US Secretary of Defense James Mattis.
By 2014, Theranos had raised more than $400 million, and the company was valued at about $9 billion. However, a series of reports by The Wall Street Journal cast doubt on the firm's technology, alleging it provided inaccurate results. The US Centers for Medicare & Medicaid Services notified the company about deficiencies it found in its tests that it said posed threats to patient safety, as well as other concerns.
Meanwhile, a deal to offer Theranos' testing in a limited number of Walgreens stores was nixed by the retail pharmacy chain after it grew weary of Theranos' numerous regulatory issues.
In July 2016, CMS barred Holmes from owning or operating a clinical laboratory.
Later that summer, Holmes previewed a new technology platform by Theranos called the miniLab, which she claimed would make diagnostic testing broadly accessible in a decentralized manner. Speaking to attendees at the American Association for Clinical Chemistry's annual meeting in Philadelphia that year, Holmes acknowledged that the company had had its shares of problems, but the new technology and its unveiling marked "a new chapter for the company."