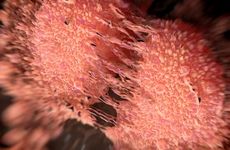 NEW YORK (360Dx) – NuView Life Sciences is preparing to launch a second phase of clinical trials of its NV-VPAC1 in vitro diagnostic test for detecting shed prostate cancer in voided urine.
The trials, scheduled to begin this fall, will include 1,500 patients and are intended at gathering additional data in preparation of a submission next year to the US Food and Drug Administration for clearance of the test .
The NV-VPAC1 test for prostate cancer is initially being positioned as a confirmatory test to be used following an elevated prostate-specific antigen test to confirm the presence of cancer prior to a prostate biopsy, according to Paul Crowe, founder, chairman, and CEO of NuView Life Sciences.
NV-VPAC1 is a peptide construct that binds to the cell membrane of cancer cells, Crowe said. For in vitro use, a fluorophore has been attached to NV-VPAC1 that enables a fluorescence to be seen under a microscope around malignant cells, he said. NuView first licensed the technology from Thomas Jefferson University in 2009 and is developing the technology for other oncological diagnostic uses, Crowe said.
The PSA test has been controversial because it has been shown to significantly over diagnose potential prostate cancer, leading some organizations, such as the American Academy of Family Physicians to caution physicians about using it as a routine prostate cancer screen. Crowe estimates that approximately 1.4 million prostate biopsies every year end up being benign.
"The average biopsy costs about $3,000. Times that by 1.4 million and that's a lot of money wasted," he said.
The new phase of trials is intended to validate results of an earlier study showing that NV-PAC1 can significantly reduce overdiagnosis of prostate cancer, according to Crowe. The trials are tentatively scheduled to be conducted with Intermountain Healthcare in Salt Lake City, Utah; the University of California, San Francisco; and UC San Diego Health. NuView has engaged contract research organization Novella Clinical to assist with the clinical trial process, including helping to assemble data and assisting with the filing of paperwork necessary for applying for FDA approval.
Crowe expects this round of trials will take approximately nine months. The company will apply for FDA 501(K) clearance of the test following the completion of this round of testing, and is hoping to win clearance around the fourth quarter of 2018. If successful, NuView aims to seek approval for the diagnostic test in Europe, China, and India.
In a pilot study of 207 patients conducted by Thomas Jefferson University, NV-VPAC1 identified shed cancer cells in the urine of 139 of 141 patients with prostate cancer, according to Madhukar Thakur, director of radiopharmaceutical research and professor of radiology, urology, and radiation oncology at Thomas Jefferson University, who designed and led the study. The two other assays of patients with prostate cancer had tests that were technically unclear due to sediment in the urine. The team has since perfected a technique for clearing sediment from urine samples in order to get a clear read of assay results.
Ten patients in the study with benign prostatic hypoplasia (BPH) had negative NV-VPAC1 test results for prostate cancer. The BPH results were significant because patients with BPH often have high PSA test results even though no cancer is present, Thakur said.
"Your PSA goes up with this condition, but a PSA test does not distinguish between a benign and a malignant condition. The only way to determine the patient condition is to take a tissue sample for histology," Thakur said. "We can minimize a huge number of unnecessary biopsies," he said.
The pilot study also included a control group of 56 patients with nonmalignant diagnoses, of which 35 tested negative for cancer, 10 had technical failures due to sediment in urine, and 11 tested positive. The technical failures are expected to be reduced in future tests due to the improved method for preventing sediment from impacting test results.
The final diagnoses of the 11 patients with positive tests remains unknown, because the control group urine samples were collected from anonymous patients through an Institutional Review Board-exempt process. As a result, there was no way to access patient medical records to determine whether patients could have had latent prostate cancer. The new round of assays will be conducted with full IRB approval, to allow for verification the cancer status of control group patients, Thakur said. Results of the pilot study were published in the journal BJU International earlier this year.
Urologists acknowledge that there are problems with PSA tests but said it has so far yet to be unseated as the cornerstone for prostate cancer screening diagnostics.
"The test itself is an imperfect test. There are other things that can elevate the PSA, things like benign growth of the prostate and infection, and there are kinds of prostate cancer that don't generate PSA. We either overreact, or we sometimes even underreact," said David Penson, professor and chair of urologic surgery and director of the Center for Surgical Quality and Outcomes Research as Vanderbilt University Medical Center.
The degree to which PSA tests overindicate that patients are at risk for prostate cancer varies depending on the study. Penson estimated that 50 to 60 percent of men who have prostate biopsies likely did not have clinically meaningful cancer or cancer at all. Crowe estimated the percentage of unnecessary biopsies to be as high as 70 to 80 percent.
"There's a tremendous desire on the part of the urologic community to minimize the harms from prostate cancer screening and detection, and one of the real harms is the prostate biopsy itself," Penson says. "It's uncomfortable, you can have infection, and anything we can do to minimize that and make patients feel better and not worry as much is what we want."
Several new prostate cancer screening techniques have begun show promise in recent years, Penson said, adding that he has seen more growth in the prostate screening market in the past few years than in his entire career. Blood tests that have gained attention include Beckman Coulter's Prostate Health Index (phi) and OPKO Health's 4KScore.
Other urine tests include Hologic's Progensa PCA3 and MDxHealth's SelectMDx, Penson said. Still, while new tests have gained traction, in some cases issues such as availability and cost have slowed widespread adoption, he said.
Although NuView is initially positioning NV-VPAC1 as confirmatory test, Crowe expects over time the test could also be used as a screening test and to monitor response to therapy.
Preliminary lab research supports the utility of NV-VPAC1 for disease monitoring, according to Thakur.
"I have learned over the course of this study that the number of cancer cells shed into the urine can be a strong indicator for the intensity of the disease," he said, adding that more tests will be performed to further support early results.
If NV-VPAC1 is cleared, it is expected to be further developed for several other types of cancer screening. Preliminary research shows that the technology can be used as an in vitro screen for several other types of cancers using other body fluids, Thakur said. Pilot studies of groups of 10 or 12 patients with different types of cancer suggest the technology can detect head and neck cancer using saliva, lung cancer using lung lavage, and ovarian cancer using vagina lavage, among others.
Following positron emission tomography (PET) imaging studies in humans performed in the Thakur laboratory, NuView is also currently working to develop NV-VPAC1 for in vivo use in cancer screening.  A version of NV-VPAC1 that is bound to a radionuclide rather than a fluorophore, can be used to confirm and track cancer in patients using PET scans, Thakur and Crowe said.
"It's what I call a platform technology with a number of different applications," Crowe said.