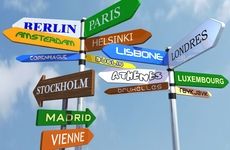 NEW YORK – By 2022, makers of in vitro diagnostics are supposed to have their tests approved under new European guidelines that have remade the regulatory landscape for IVDs and medical devices.
However, the lack of a ready infrastructure has some manufacturers spooked about a regulatory bottleneck as the date for compliance draws closer. In particular, Eudamed, a new database at the heart of the new regulations, has not yet been launched to handle submissions.
"In general, and ideally, manufacturers need at least 18 months of lead time between the finalization of Eudamed specifications and the date at which they legally must start interacting with the database," noted Oliver Bisazza, director of regulations and industry policy at MedTech Europe, a Brussels-based European trade association that represents IVD and medical device manufacturers. However, for all modules included within Eudamed, specifications are still being refined by the EC, he said.
"This is leading to widespread concerns of a crunch time, too few months, or even weeks, ahead of the deadlines, during which time manufacturers can meaningfully prepare to carry out their Eudamed duties," said Bisazza.
The European Commission published two regulations in 2017, completely remaking the regulatory landscape in Europe. While medical device and IVD manufacturers were largely able to sell their products on the clinical market via a self-certification process based on prior directives created in the 1990s, the new Medical Device Regulation (MDR) and IVD Regulation (IVDR) vastly increase oversight of medical products. They now require assessment by an accredited organization, called a notified body (NB) before gaining approval to sell tests for clinical use.
The regulations also called for the creation of a European database on medical devices (Eudamed) to allow the gathering of data about devices on the market, aspects of their conformity assessment by notified bodies, as well as performance studies and post-market surveillance information.
The aim of the database is to provide better access to the public and healthcare professionals about tests, as well as to encourage the flow of information between companies, NBs, EU member states, and the EC. The IVDR also stipulates that an internationally recognized medical device nomenclature be made available to manufacturers to mark their products within Eudamed. The EC published a draft version of specifications concerning this nomenclature, called unique device identifiers (UDIs), in May.
According to the EC, Eudamed is supposed to be up and ready for use by March 2020, two months before the MDR comes into effect, and two years before the May 2022 for gaining compliance under the IVDR. Given these looming deadlines, Bisazza said that the readiness of Eudamed is more of a "burning platform" for medical device makers than IVD firms for now.
Bisazza added that there will likely be two more versions of Eudamed before the IVDR comes into force to add modules on market surveillance and on clinical or performance studies, as well as other functions.
A spokesperson for the EC confirmed that the commission is currently working on implementing Eudamed for both medical devices and IVDs. The spokesperson noted the EC "aims to achieve full functionality of the system through progressive implementation of several releases." The first release is planned for March 2020 under the new MDR, the spokesperson said.
Despite this reassurance, MedTech Europe's Bisazza said there are numerous challenges facing the implementation of Eudamed in coming months. Planned testing of various modules within Eudamed will take place over the coming months, less than a year before the MDR comes into force in May 2020, he noted. Bisazza also said there are "inconsistencies" between Eudamed technical documentations released so far by the EC, discrepancies that have led to analytical errors.
There is also the issue of the two-month window between the release of Eudamed in March 2020 and the application on the MDR in May 2020 that will create a "two-month crunch" that will "present a major source of challenges for the MD sector."
There are also questions around registering legacy devices in Eudamed, Bisazza said, particularly around the use of UDIs connected to legacy products and transferring those identifiers to devices after they have been re-registered by an NB. These concerns are more applicable for medical devices, he pointed out, although "if the database has hiccups in the first months, these will need to be resolved while the IVDR date of application is drawing ever closer."
A 'perfect storm'
Questions around the rollout of the Eudamed database are not occurring in a vacuum, but rather in the context of the larger transition to the new MDR and IVDR. Companies are now dealing with a new regulatory process that is arguably more stringent than the path to regulatory clearance under the US Food and Drug Administration. Other issues that companies are facing relate to a lack of NBs to certify IVDs — none has been certified to date to do so — as well as uncertainty around the pending exit of the UK from the EU.
A representative for the London-based British In Vitro Diagnostic Association (BIVDA) said that even in the event of a no-deal Brexit, the UK would still aim to align with the EU MDR and IVDR, including the use of the Eudamed database, the readiness of which is a concern for the association.
"While the industry recognizes that the shift to a new system is a major task, more needs to be done, and with urgency, by the EC and member states to get the new system ready for patients' safety and to avoid wider impacts to healthcare systems, as products cannot be submitted for review without critical infrastructure, which is not yet in place," the representative said.
"The designation process for notified bodies also represents a key concern for industry, specifically around readiness and pace," the representative added.
Stewart McWilliams, global vice president of quality and regulatory affairs for Almac Diagnostics Services, said the UK company has continued to run clinical trial assays under the existing In Vitro Diagnostic Directive (IVDD) from 1998 as it prepares to transition by the 2022 deadline.
"It will be interesting to see how the implementation of the new regulation develops over the transition period to 2022," said McWilliams, "however Almac Diagnostic Services see this as an opportunity to ensure our global IVD development processes stay aligned with, for example, the US and specifically that there is one clear EU regulatory pathway from development to market."
McWilliams also expressed hope that the Eudamed database will be fully functional for IVDs by the time the transition period ends.
A number of other IVD makers contacted for this article referred queries back to their trade associations, MedTech Europe and BIVDA.
Several companies have recognized that IVD makers will require additional assistance around the new IVDR, and with regards to Eudamed in particular. Grant Thornton, a tax, auditing, and advisory services company headquartered in Chicago, recently launched two tools — SmartMDR and SmartIVDR — to guide companies through the process of gaining regulatory compliance under the new regulations.
Marty Zuzulo, director of compliance and risk advisory at Grant Thornton, said the new regulations, in general, are causing "significant consternation" to management of diagnostic firms as they assess the costs of bringing their products through the process of gaining compliance.
His experience has been that "with most major cases of legislation, that industry underacts initially," Zuzulo commented. "There is a fairly long lead time for the industry to appreciate the depth and impact of major pieces of legislation."
"This is probably the most sweeping set of regulatory changes since the [Medical Device Directive] was published 20 years ago," Zuzulo noted. "Eudamed and UDI are in and of themselves a massive effort," he said. "But labeling is a massive effort, getting clinical organizations up to snuff is a massive effort," he said. "With Eudamed, there is really a perfect storm that is making this even more complex," Zuzulo added.
Zuzulo said that some of Grant Thornton's clients have voiced concerns around Eudamed's readiness as well, but he has advised them to proceed based on the EC's current guidance and plans to date.
"The guidance to them has been to work on the assumption that Eudamed will meet currently stated target dates, and that they will need cleaner, more granular data, and that they will have to do more to get data clean and available for migration into the registry," Zuzulo said.
A 'monster' to be fed
One company, Eudamed.eu, was established recently to specifically assist companies with preparing their data for the new database. Richard Houlihan, CEO of the Brussels-based company, said that he formed Eudamed.eu after serving as technical manager of Eudamed for the EC.
"I was in Brussels for a working group, and the member state competent authorities were asking lots of questions about the future MDR," said Houlihan who founded the company last year. "Then I had a brainwave — there is going to be a lot of consultancy and help needed from medical device companies."
Eudamed.eu provides training to IT personnel to understand EC documents related to IT requirements, as well as to non-technical industry members to better understand what is required by Eudamed. The company also provides support to companies related to data issues, machine-to-machine requirements and access point management. Eudamed.eu also offers software as a service, providing companies with a template for submitting their data. The company maintains a second office in Sofia, Bulgaria, to assist with these IT questions.
Houlihan said that manufacturers are "screaming for information" about the new database, as well as other questions around the MDT and IVDR. "The industry feels like they do not have enough information to start their IT projects, he said. "This is not entirely true, they have a lot of information [but] they just don't understand it, which is why we are running the training courses."
He also said that he was certain the EC will deliver Eudamed by March 2020. "They have an incredible IT team working exceptionally hard on this for the past couple of years," he said. "Not every single piece of functionality will be there Day One, but there will be enough for economic operators (EO) to register and, after validation, to upload the required device and certificate information," he said. "Of this I have no doubt, it will be there and EOs need to prepare."
Houlihan also cautioned firms that believed that the data they prepared for FDA submissions could be used for European applications, or that preparing data for Eudamed is a minor aspect of the larger challenges they face to gain compliance.
"Companies should not underestimate the complexity of Eudamed and its requirements," said Houlihan. "Eudamed is a monster and one that legally has to be fed," he said. "If they wish to sell their product in Europe, then they must comply and this means populating Eudamed with the correct data."
One outstanding question is for what purposes all this data will eventually be used. Houlihan said that the biggest use of the data will be to inform the public. Members of the public will be able to assess on their own the safety of devices and tests. "Whereas currently the doctor says 'This one' and the patient just says 'OK,' because they are not well informed, Eudamed changes all that," he said.
However, for post-market surveillance, the data compiled in Eudamed will be invaluable, Houlihan said. "The EC and national authorities will be able to see if industry shops around for more sympathetic notified bodies for their specific device type," Houlihan noted. "The authorities will be able to react fast and run audits to see why," he said. "Patient safety is paramount and Eudamed is going to improve that."