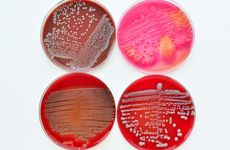 NEW YORK (360Dx) – To meet the provisions of the 21st Century Cures Act, signed into law in 2016, the US Food and Drug Administration in December introduced an initiative designed to enable diagnostic companies and healthcare professionals to obtain important updates regarding breakpoints for antibiotics and antifungal drugs.
The approach, part of an effort to combat antimicrobial resistance and involving the posting of content on the FDA's website, has implications for companies that are interested in updating test criteria and labeling for their antimicrobial susceptibility tests (AST), the FDA said.
Clinicians use AST results to help choose an appropriate antibacterial or antifungal drug to treat a patient's infection. These tests rely on breakpoints, or susceptibility test interpretive criteria, that help determine whether specific bacteria or fungi are susceptible to antibacterial or antifungal drugs. Bacteria and fungi change over time, increasing resistance and decreasing susceptibility to some drugs, and when this occurs, breakpoints may need to be updated.
Among the important outcomes of the FDA's initiative, companies developing ASTs should be able to obtain regulatory clearance for their products more easily, Romney Humphries, chief scientific officer of Accelerate Diagnostics, said in an interview. However, it is still uncertain whether these companies will take advantage of this new pathway in an era when healthcare professionals are eagerly awaiting new and improved tools to help them combat antimicrobial resistance, she added.
Accelerate is among several companies producing systems that provide antimicrobial susceptibility testing. In February 2017, its system, with an AST component, became the most recently cleared by the FDA for marketing in the US.
Humphries noted that the ability to more quickly and easily obtain clearance of ASTs relates to work on updating breakpoints completed by standards organizations, such as the Clinical and Laboratory Standards Institute (CLSI), a collaboration of volunteers from academia, government, and industry that includes representatives from diagnostic companies, the FDA, and non-voting pharma companies.
Under the new initiative, breakpoints established or updated by CLSI and other organizations still need to be approved by the FDA, and those that have been approved are then posted to its website. That, in turn, triggers a process by which antimicrobial susceptibility testing companies could apply for clearance for AST systems aligned with the drugs and breakpoints posted to the website, including those breakpoints tied to drugs that had been considered off-label.
Under the old approach, each drug manufacturer updated its drug labeling with new breakpoint information, and that had to be reviewed and approved by the FDA on a case-by-case basis, the FDA said, adding that only after the revised drug labeling was approved could a device manufacturer of a corresponding AST update its test criteria and labeling for its AST system. This process created an unnecessary delay in reaching healthcare professionals with the information, because each individual drug and device label had to be updated whenever breakpoints changed, the FDA said.
The agency noted that the new approach allows it to simultaneously update the breakpoints for multiple drugs that have the same active ingredient and share that information transparently on its dedicated web page.
Until now, breakpoints established and recognized by FDA have lived in drug labels, and breakpoints established by standards organizations such as CLSI have lived in documents that labs can use to update the breakpoints for their antimicrobial susceptibility tests if they decide to do so, Humphries said.
CLSI actively evaluates breakpoints and adjusts them as needed on an ongoing basis, said Humphries, who is a member of a CLSI subcommittee for antimicrobial susceptibility testing. The group meets every six months to vote on updating breakpoints, she said. However, until now, FDA has not had a process to quickly update these breakpoints.
Getting AST system clearance for a drug that is off-label means the test companies are no longer hampered by having to adhere to breakpoints for drugs cleared by the FDA for use with specific bacteria.
"That is a huge benefit for patients and clinicians, as we are seeing more and more resistance," Humphries said. "From a diagnostic manufacturer's perspective, it expands what we can submit to FDA for clearance."
The availability of updated breakpoints could be a defining moment for AST manufacturers.
In 2007, FDA started enforcing a rule that stated that diagnostic manufacturers couldn't do susceptibility testing for bacteria that were off-label for a drug. "You get claims for bacteria that you can treat with an anti-bacterial drug based on what you see in your pharma clinical trial," Humphries said. "However, there are a lot of clinically relevant bacteria that you would never expect to see in a clinical trial based on prevalence, and yet some of these bacteria are killing patients today. We also know that 40 to 50 percent of patients in any given hospital are being treated with an antibiotic that's off label."
Because of the 2007 rule, diagnostic manufacturers couldn't get clearance for an AST that evaluates an off-label drug-bug combination. Laboratories, on the other hand, test off-label drug-bug combinations, but they have to use either pre-2007 cleared tests, or laboratory-developed or research-use-only methods.
"That impact really had not been felt until recently because most of the tests that the labs use to do susceptibility testing had been cleared before 2007 — so they were grandfathered in and it didn't affect them," Humphries said.
However, it became an issue when a manufacturer recognized that they needed their system to test for an organism that was off-label, she said, adding that "it was very difficult for diagnostic manufacturers to update their systems and obtain clearance."  
That prevented improvement of existing diagnostic tests and, importantly, prevented the development of new technology, Humphries said, adding that any AST system that was cleared by FDA after 2007 was at an intrinsic disadvantage because of the number of bacteria that they would be allowed to test compared to the existing systems.
"The 21st Century Cures Act and the FDA website takes breakpoints out of drug labeling and decouples them from the indications for use, meaning that the requirement to test only the bacteria that are indicated is no longer an issue," Humphries said.
Still, a more convenient, available pathway to create AST diagnostics that can interpret the susceptibility and resistance of a broader array of drugs does not mean that the tests will be developed and commercialized. Humphries said that she believes the FDA website is "a big step in the right direction," but that clinicians and other healthcare professionals "need to remain diligent that this is just a first step."
Most diagnostic companies have a number of priorities before they develop ASTs, and while she is optimistic the FDA's approach can ease the pathway to developing such tests, she is unsure how much of an effect it will have on getting more tests onto the market.
Humphries noted that despite the FDA initiative, "a lot of things still need to change to get labs to use a consistent method to test for bacterial resistance and get tests [commercialized] in a timely fashion."
At the same time, she said, these advances are vital to helping mitigate antimicrobial resistance. "It's critical that these breakpoints are updated in a timely fashion so that we can get ahead of the problem," Humphries said, adding that getting updated breakpoint information in a timely fashion has been a serious challenge.
In 2010, CLSI updated breakpoints for antibiotics so that labs could better keep up with emerging bacteria and bacterial resistance.
"Fast forward to today and many labs still are not using those breakpoints because the systems that they use are not FDA cleared with the breakpoints," Humphries said. "As a result, we believe that these bacteria have been able to spread unrecognized."
Humphries with Janet Hindler, a senior specialist in clinical microbiology at UCLA Medical Center, described the challenge of antimicrobial susceptibility testing in the US regulatory landscape in a paper published in 2016 in the journal Clinical Infectious Diseases.
Although accurate and timely performance of antimicrobial susceptibility testing by the clinical laboratory is paramount to combating antimicrobial resistance, "the ability of laboratories in the United States to effectively perform ASTs is challenged by several factors," they wrote, adding that among the "man-made" challenges are "unnecessarily strict FDA limitations on how commercial AST systems can be used for diagnostic testing, the absence of up-to-date performance data on these systems, and the lack of commercially available FDA-cleared tests for newer antimicrobial agents or for older agents with updated breakpoints."
The FDA said it would not be able to respond to questions submitted for comment before deadline. FDA Commissioner Scott Gottlieb said in a statement that under the existing approach, it had taken "too long to update each individual drug's labeling with information needed for susceptibility testing and it was clear a more centralized approach was needed." He said that the FDA's "new tool is aimed at making this process more efficient and informed."
Gottlieb noted that healthcare professionals treating critically ill patients need as much information as possible about the pathogen the patient is fighting and the susceptibility of that pathogen to various treatments. Prescribing a drug that's only going to be met with resistance from the bacteria or fungus it's intended to treat doesn't help that patient, and it has broader public health consequences that cannot be ignored, he noted.
Its new content will provide direct and timely access to information about when bacterial or fungal infections are likely to respond to a specific drug, the FDA said, adding that the new approach is intended to enable healthcare professionals to make more informed prescribing decisions that will benefit their patients and prevent the spread of resistant bacteria.
As antimicrobial resistance and its consequences escalate, newer and faster technologies for rapid antimicrobial resistance and susceptibility testing are making their way to market.
FDA's clearance for Accelerate's Pheno system potentially offered a breakthrough in AST research. The platform enables bacteria and yeast identification from a positive blood culture and provides a measurement of antimicrobial susceptibility within seven hours. That compares to a testing process that can take up to 40 hours with existing ID-AST systems, according to Accelerate.
Most US laboratories already have automated in vitro ID-ASTs in place, including BioMérieux's Vitek 2, Becton Dickinson's Phoenix, Beckman Coulter's MicroScan, and Thermo Fisher Scientific's Sensititre. Labs have also been adopting rapid tests, including Luminex's Verigene and BioMerieux's FilmArray, that are genotypic tests and work well with blood samples in detecting antimicrobial resistance.
At the American Association for Clinical Chemistry meeting in San Diego in 2017, Stefan Willemsen, president and CEO of BioMérieux's US division, said that the company is responding to the global antimicrobial resistance epidemic by deploying diagnostics consultants within hospitals to support their decision-making around implementing tests that would augment antimicrobial stewardship programs.
Antibiotics and similar drugs, or antimicrobial agents, have been used for decades to treat patients who have infectious diseases.  Although the antimicrobial agents have greatly reduced illness and death from infectious diseases, they have been used so widely and for so long that the infectious organisms the antibiotics are designed to kill have adapted to them, making the drugs less effective.
Each year in the US, at least 2 million people become infected with bacteria that are resistant to antibiotics and at least 23,000 people die each year as a direct result of these infections, according to the US Centers for Disease Control and Prevention.