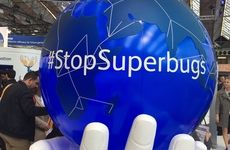 AMSTERDAM (360Dx) – As infections that require quick and accurate treatments become more prevalent, and antimicrobial resistance remains a global problem, a growing number of companies are developing new antimicrobial susceptibility testing (AST) platforms to address urgent clinical needs, executives said this week at the European Congress of Clinical Microbiology & Infectious Diseases (ECCMID) in Amsterdam.
At the conference several firms spoke about the seemingly intractable issue of antimicrobial resistance and new technologies being developed to tackle the problem.
One driver for many of the newer systems entering the market with claims of achieving AST results faster than current systems is widespread concern over how to better treat patients with sepsis, a condition that can be deadly if it's not detected and treated quickly, Marc Becker, laboratory director at the Labor Becker & Kollegen reference laboratory in Munich, said in an interview.
Emerging companies exhibiting AST technologies at ECCMID included Gradientech, Q-linea, and QuantaMatrix, which are advancing their platforms through clinical validation trials, and Accelerate Diagnostics, whose Pheno ID-AST system and kit for bloodstream infections has received US Food and Drug Administration clearance enabling commercial placements.
Established in vitro diagnostic industry companies with placements in hospitals and reference laboratories for antimicrobial susceptibility testing also had their systems on display. They included Beckman Coulter, BioMérieux, Becton Dickinson, and Thermo Fisher Scientific.
Paul Rhode, CEO of Specific Diagnostics, said in an interview that to achieve success in a market with unmet clinical needs and established players, his firm is focusing on important business drivers. New companies, he said, have to provide systems that are affordable and have a sufficient capacity to handle samples that the hospital considers urgent within a single work shift.
The new rapid AST systems are looking to cut down on the time between a patient giving blood and receiving the most optimal treatment, which can take at least two to three days. The systems operate after a positive blood culture has detected an infection, a process that can take a day or longer to complete, making obtaining an AST result more urgent for time-sensitive infections. Further, prior to making a treatment decision, clinicians look to identify the pathogen responsible for an infection, which adds more time to the overall process.
To detect growth, assess antibiotic efficacy, and determine a microorganism's identification, Specific Diagnostics' Reveal AST panel uses a 96-well microbroth dilution panel and small molecule sensor arrays that respond to volatile metabolic components produced by microorganisms.
The firm conducted a demonstration of its system this week at the Academic Medical Center (AMC) of the University of Amsterdam, near the ECCMID venue. In the demo observed by Becker, the AMC clinical lab ran an antimicrobial susceptibility test on two spiked positive blood cultures — one with E. coli and the other with S. aureus pathogens.
The laboratory provided results after about 4.5 hours and showed minimum inhibitory concentration (MIC) calls for a panel of antibiotics that are used to treat the pathogens.
In March, Specific Diagnostics announced that CARB-X had awarded $1.7 million in second-stage funding for development of its instrument, based on the firm achieving development and testing milestones. Rhode said that the firm is entering clinical trials to prepare for future regulatory submissions that would enable it to market its system.  
Meanwhile, South Korea-based QuantaMatrix said it is taking its dRAST platform, which received CE marking last year, through clinical trials in South Korea, Paris, Switzerland, Germany, and Denmark. The firm's strategic objective is to demonstrate the system's ability to provide clinical utility and save time in obtaining AST results.
Using microfluidics, dRAST consists of a gram-positive panel with 17 antimicrobial agents and a gram-negative panel with 19 antimicrobial agents.
During testing, a positive blood culture is mixed with agarose to immobilize bacteria cells for microscopic imaging. The platform consists of a patterned array of 96 wells with dried antibiotics that are rehydrated by adding a culture medium. Automated microscopic imaging and an image processing algorithm tracks bacterial growth, the firm said.
Two other companies based in Uppsala, Sweden, Q-linea and Gradientech, also had AST platforms on display at ECCMID.
Q-linea is developing the ASTar rapid phenotypic AST system to deliver MIC results within six hours after positive blood cultures. The platform consists of a panel of up to 48 antimicrobial agents and covers gram-negative, gram-positive, and fastidious pathogens.
The firm doesn't anticipate developing a pathogen identification system for its platform, Mats Gullberg, Q-linea's vice president of intellectual property and research, said this week. Instead, for pathogen identification, laboratorians need to link ASTar with a proven molecular or MALDI-TOF system supplied by another company. The ASTar system is in clinical trials, and the firm anticipates launching it in Europe early next year, pending CE marking, and later in the US, pending FDA clearance.
Looking to outperform new companies in enabling a fast turnaround time for an AST result, Gradientech is developing its QuickMIC microfluidic phenotypic system to provide precise MIC values in two hours or less from a positive blood culture, leveraging antibiotic panels for gram-positive and gram-negative bacteria.
With a fast turnaround for an AST result, the system could prove especially useful in providing same-day results and in testing sepsis patients who need to quickly receive the most appropriate therapy, the firm's CEO Sara Thorslund said in an interview.
The instrument is being developed to analyze a single patient sample against a panel of 12 antibiotics per test run. Several instruments can be stacked to increase capacity, an approach that should be suitable and cost effective for small and large laboratories, the firm said.
Thorslund declined to discuss specific pricing for her firm's system and its assays (other vendors also declined to discuss pricing) but she said that the overall cost to customers of Gradientech's products will be substantially lower than costs associated with some products currently in the market.   
In April, Gradientech closed a $4.6 million capital raise after closing $2.2 million in August last year.
Like Q-linea, the firm doesn't intend to provide pathogen identification with its platform but expects laboratorians will use established systems for that purpose. Thorslund said Gradientech is collaborating with T2 Biosystems to conduct clinical studies that combine use of T2's direct-from-blood pathogen identification system with use of Gradientech's AST platform.
By eliminating the need to do blood cultures, the T2 Bio approach is enabling laboratorians to identify pathogens within about six hours. Combining Gradientech's two-hour AST system following a positive blood culture with T2's ID platform, and running the systems in parallel, could lead to one of the fastest end-to-end ID-AST workflows in the market, according to Thorslund.
With clinical validation trials ongoing, Gradientech expects to receive CE marking around the end of this year and achieve FDA clearance in 2020, Thorslund said.  
AST competition
Laboratories looking to evaluate companies entering the market will evaluate the new systems alongside products that have already achieved adoption, including Accelerate Diagnostics' Pheno system and bloodstream infection kit, which received FDA clearance in February 2017.
The system uses genotypic technology to identify infectious pathogens and phenotypic technology to conduct antibiotic susceptibility testing. The instrument and kit can identify bacteria or yeast from a positive blood culture in about 1.5 hours and perform antimicrobial susceptibility in less than seven hours.
While most of 2018 proved challenging for the company as it struggled to place its instruments, Accelerate reported an uptick in the rate of commercial placements during the fourth quarter. Andy Chasteen, its director of global corporate and marketing communications, confirmed this week that the firm is continuing to see better traction with placements of its ID-AST system and kit. Further, the firm is placing an emphasis on generating peer-reviewed publications that describe use cases and demonstrate clinical benefits for the platform.
Chasteen said that Accelerate is kicking off US clinical trials for its pathogen identification and antimicrobial susceptibility test for severe pneumonia, or lower respiratory infections. The test received CE marking in January 2018.
Accelerate anticipates the path to commercialization and adoption for the respiratory panel to be far smoother than it has been for the bloodstream infection panel, he said. Adoption should be quicker in part because the firm has paid close attention to the challenges it encountered on its entry into the diagnostics market, and it can apply what it has learned in driving acceptance of the new panel, Chasteen said.
Also at ECCMID Beckman Coulter promoted the launch of new assays for its MicroScan AST business that it purchased from Siemens Healthineers, then Siemens Healthcare, in 2015. The firm's gram-negative AST panel provides MIC values for 33 antimicrobial agents and enables testing for multidrug-resistant organisms.
Additionally, the system provides testing for two new antibiotics, ceftazidime/avibactam and ceftolozane/tazobactam, designed to treat carbapenem-resistant antimicrobial agents.
To combat antibiotic resistance, pharma companies are continuously developing and launching new drugs, said Barbara Zimmer, principal scientist in clinical microbiology at Beckman Coulter, who added that the firm is getting ready to add meropenem/vaborbactam to the panel in the US and will launch it later in Europe.
Each new drug assay on the firm's AST system can take 18 to 24 months as it conducts validation studies and obtains FDA clearance, and timing is impacted by the speed at which drug companies are able to bring their products to market.
Beckman Coulter has reduced its time-to-market post-FDA approval of antimicrobial agents by 65 percent, said Joseph Repp, vice president and general manager of its microbiology business.
"It is very important to enable the right therapies, faster, for patients," Repp said. "It's our responsibility to increase the breadth and speed of our own technologies and also work with the small companies that are emerging in this space to accelerate time to achieving an AST result."
Christine Gionocchio, vice president of global medical affairs for BioMérieux and the firm's BioFire business, noted that emerging companies may find it most challenging to compete with established companies on cost and breadth of menu. The firm provides its own end-to-end ID-AST system, using Vitek mass spectrometry for identification and Vitek 2 AST. Its system operates with several types of specimens and its menu covers the majority of what laboratories need to perform routine identification and antimicrobial susceptibility testing. The system can provide AST results in less than six hours from a positive blood culture, at a price that will be difficult for new companies to beat, Gionocchio said.