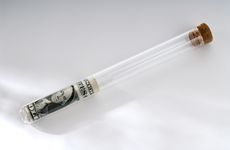 This article has been corrected from a previous version to note that Thermo Fisher Scientific doesn't market LDTs, it only sells lab tools to the lab industry.
MOUNTAIN VIEW, California (GenomeWeb) – The Centers for Medicare & Medicaid Services' broad draft national coverage policy for next-generation sequencing cancer panels has some industry players wondering whether commercial payors will take a similar position.
In response to Foundation Medicine's parallel review application for its FoundationOne CDx, CMS issued a draft national coverage determination (NCD) last year for the entire class of NGS cancer profiling tests. The government payor has proposed covering NGS testing that the US Food and Drug Administration has approved as companion diagnostics for personalizing specific cancer treatments. CMS has proposed a coverage with evidence development (CED) scheme for NGS tests that the FDA has cleared or approved as tools for guiding treatment strategy, when cancer patients are included in a prospective registry to track their outcomes. Lastly, for NGS tests lacking FDA's blessing, CMS has said it would provide CED only when they're part of a National Cancer Institute study.
At the Personalized Medicine World Conference here this week, executives from two large commercial payors, UnitedHealthcare and Humana, were asked what they would do in light of CMS' coverage policy, soon to be finalized after a recently closed public comment period. They both said that they would generally follow CMS' lead with respect to Medicare plans they administer. According to Humana CMO Roy Beveridge, 90 percent of the insurer's work is with Medicare and Medicare Advantage plans.
However, beyond the Medicare setting, it is still unclear the extent to which commercial payor policies will align with the agency. "In the commercial space, we'll look at the merits of the test," Lee Newcomer, senior VP of oncology, genetics, and women's health at UHC, said at the conference. "I believe CMS has been, let's say, not standard in their review. We'd look at each test and try to figure out whether there is evidence to support it or not."
While Newcomer quipped that UHC's lawyers would approve of his statement at the meeting, in publicly posted comments to CMS' draft NCD, Jennifer Malin, UHC's senior medical director of oncology and genetics, was more critical, writing that the draft coverage policy as written is too broad and vague, and would encourage use of unproven, off-label therapies. 
"[The draft NCD] would result in a broad expansion of coverage criteria for cancer therapies beyond their current FDA-approved or compendia-supported indications," she wrote, "because it implies that any therapies with a mechanism of action that may theoretically have a biological impact on a genetic alteration identified by the test will be covered regardless of evidence of safety or efficacy in the clinical scenario in which the test is being performed."
Such a broad NCD, in her view, would disincentivize labs from doing the necessary studies to prove the safety and efficacy of drugs in specific molecularly defined subpopulations, increase healthcare costs, and "potentially expose beneficiaries to treatments where the benefits and harms are unknown."
The majority of the lab industry has taken the opposite view and criticized the draft NCD for being too narrow since CMS has proposed covering NGS tests without FDA clearance or approval only in a very limited circumstance ― when they're part of an NCI-sponsored study. Oncologists at academic labs and cancer centers with internally developed NGS cancer profiling tests have argued that CMS' focus on FDA approval and clearance for NGS tests would hinder patient access to personalized medicine.
"CMS watchers knew that the Foundation Medicine NCD was coming up, but I think very few people would have guessed that it would block coverage of LDTs abruptly," said Medicare policy expert Bruce Quinn at the meeting. At the same time, he suggested that CMS' coverage provisions are also an attempt to finally incentivize the lab industry to pursue the time-consuming and costly process of FDA clearance or approval at a time when regulators have expressed concern about the oversight of lab-developed tests.
Whether CMS' coverage approach toward NGS cancer panels will influence commercial payors remains to be seen, however. Foundation Medicine, which garnered FDA approval as a companion diagnostic for more than a dozen drugs across five tumor types, is hoping that CMS' policy position will ease the path with commercial payors. "What resonates with all payors of all types is FDA approval," Foundation Medicine CEO Troy Cox told analysts during a call last year to discuss the draft NCD.
Melanie Nallicheri, Foundation's chief business officer, noted at the meeting this week that most patients today aren't receiving NGS to personalize their cancer therapy, or at most, are getting single-gene testing. "We hope that the parallel review process and the NCD paves the way for commercial payors to see that if they're not going to follow suit, then we'll end up with a disparity in care between those patients who are Medicare covered and those covered by commercial plans," she said. "That's really the last thing you want."
However, the reimbursement environment around NGS testing has been challenging on the commerical payor side. Payors, such as Anthem and UHC, last year put in place broad prior authorization programs to rein in their spending on genetic testing, particularly NGS.
"If we look across the country there are plenty, dozens of payors today, that still don't cover NGS when it comes to somatic mutation testing in cancer," Rob Dumanois, manager of reimbursement strategy at Thermo Fisher Scientific, said at the conference.
Thermo has taken the position that CMS' draft coverage policy will harm patients by limiting access to lab-developed NGS tests without FDA clearance or approval. While Thermo would benefit from the coverage determination since it has FDA approval for its Oncomine Dx Target Test as a companion diagnostic, it also sells lab tools to the lab industry.
As to how commercial payors will respond to CMS' policy, Dumanois said there is too much variability in insurers' coverage and coding policies around NGS tests to draw any definitive conclusions.
Meanwhile, even if commercial payors follow CMS' lead only for the Medicare plans they administer, it may advance perverse incentives and unanticipated cost increases if certain provisions in the draft NCD are finalized.
For example, in order to receive coverage with evidence development, CMS has asked that patients tested with an FDA-cleared/approved NGS test be enrolled in a registry and their treatment outcomes, such as response rate and progression-free survival, be tracked. As Quinn pointed out, however, in order to gather this data, patients would have to receive repeated imaging costing between $10,000 to $20,000 annually per patient.
Charles Mathews, principal at consulting firm ClearView Healthcare Partners and an attendee at PMWC, observed that commercial payors are required to cover interventions in the NCD for Medicare plans, which, therefore, will drive adoption of NGS testing in the Medicare population, but they aren't required to pay the same amount as CMS. "If CMS decides to use certain [CPT] codes and those codes have CMS rates, then it is possible that Medicare Advantages plans will use those rates," he said. "However, it is also possible that they will pay different amounts for the service as a result of a negotiation with the provider."