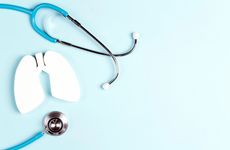 NEW YORK – The US Food and Drug Administration on Monday approved Regeneron Pharmaceuticals and Sanofi's PD-1 inhibitor cemiplimab-rwlc (Libtayo) as a front-line treatment for advanced non-small cell lung cancer patients with high PD-L1 expression in their tumors.
Simultaneously, the agency also approved Agilent Technologies' PD-L1 IHC 22C3 pharmDx as a companion diagnostic for identifying NSCLC patients eligible for cemiplimab treatment based on a PD-L1 expression tumor proportion score (TPS) of at least 50 percent. Patients with metastatic or locally advanced NSCLC can receive the drug only if their tumors cannot be surgically removed or treated with chemoradiation. Their tumors also cannot harbor EGFR mutations, or ALK and ROS1 rearrangements.
The agency approved the treatment based on data from a 700-patient Phase III trial comparing cemiplimab against platinum-doublet chemotherapy. Treatment with the PD-1 inhibitor reduced the risk of death by 32 percent compared to chemo, with a median overall survival of 22 months versus 14 months, respectively. Median progression-free survival was 6.2 months in the cemiplimab arm compared to 5.6 months in the chemo arm.
Per the FDA's request, the sponsors also conducted a prespecified analysis in patients with a confirmed PD-L1 TPS of at least 50 percent using the Agilent test. In that group, as published in The Lancet, cemiplimab reduced the risk of death by 43 percent compared to chemotherapy. Median overall survival was not reached in the cemiplimab arm and was 14 months in the chemo arm, and median progression-free survival was 8 months and 6 months, respectively. 
Naiyer Rizvi, director of thoracic oncology and co-director of cancer immunotherapy at Columbia University, said in a statement that in the pivotal trial that led to cemiplimab's approval, patients in the chemo arm could cross over to the cemiplimab arm, which allowed frequently underrepresented patients with pretreated, stable brain metastases, and patients with locally advanced tumors who couldn't get chemoradiation, a chance to receive the PD-1 inhibitor. "This gives doctors important new data when considering Libtayo for the varied patients and situations they treat in daily clinical practice," said Rizvi, who was also a steering committee member of the pivotal trial.
First-line, advanced NSCLC is a competitive indication for companies marketing checkpoint inhibitors. Merck's pembrolizumab (Keytruda) is approved for advanced NSCLC patients with a PD-L1 expression TPS of at least 1 percent. Genentech's atezolizumab (Tecentriq) is approved for metastatic NSCLC patients with PD-L1 expression in 50 percent or more of tumor cells or who have PD-L1 stained tumor-infiltrating immune cells covering at least 10 percent of the tumor area. Bristol Myers Squibb's nivolumab (Opdivo) in combination with ipilimumab (Yervoy) is also approved in the frontline metastatic NSCLC setting for those with PD-L1 expression in at least 1 percent of tumor cells.