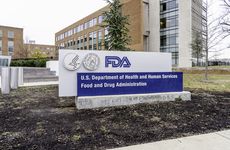 This article has been updated to include additional information about the Ventana MMR RxDx panel.
NEW YORK – The US Food and Drug Administration on Thursday granted accelerated approval to GlaxoSmithKline's anti-PD-1 antibody dostarlimab (Jemperli) for patients with mismatch repair deficient, or dMMR, recurrent or advanced endometrial cancer that has progressed after a prior platinum-based regimen.
The FDA also approved Roche's Ventana MMR RxDx immunohistochemistry panel as a companion diagnostic to select endometrial cancer patients for treatment with dostarlimab. This approval is a label expansion for the Ventana MMR IHC panel, which was approved in 2017 to screen colorectal cancer patients for dMMR and Lynch syndrome. The endometrial cancer panel targets four MMR-associated proteins: MLH1, PMS2, MSH2, and MSH6.
The drug approval, which is contingent upon confirmatory trials, was based on results from the cohort of 71 patients with dMMR recurrent or advanced endometrial cancer in the Phase I/II GARNET trial. In that cohort, the overall response rate was 42.3 percent, with a complete response rate of 12.7 percent and partial response rate of 29.6 percent. The median duration of response was not reached in the trial, with 93 percent of patients having durations longer than six months.
Patients in the trial were screened for dMMR status using either immunohistochemistry, polymerase chain reaction, or next-generation sequencing, and participant eligibility was determined by MMR immunohistochemistry results. In the trial, 34 percent of patients experienced a serious adverse reaction while being treated with dostarlimab. The most common adverse reactions were fatigue/asthenia, nausea, diarrhea, anemia, and constipation.
In February, the European Medicines Agency's Committee for Medicinal Products for Human Use recommended approval of dostarlimab for patients with dMMR and microsatellite instability-high endometrial cancer.
GSK has several ongoing trials for dostarlimab. In the Phase III RUBY trial, researchers are evaluating dostarlimab in combination with carboplatin-paclitaxel in an all-comer advanced or recurrent endometrial cancer population. GSK is also studying the combination of dostarlimab and its PARP inhibitor niraparib (Zejula) in a Phase II study of patients with advanced or relapsed ovarian cancer who don't have a BRCA1/2 mutation.