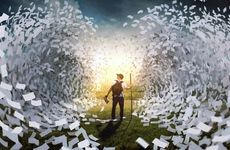 NEW YORK – New European regulations that oblige most in vitro diagnostics companies to achieve regulatory clearance for their tests may be hitting smaller and medium-sized enterprises particularly hard.
European test makers have until May 2022 to bring their products into compliance with the new In Vitro Diagnostic Regulation. While most IVDs were self-certified under 1998's In Vitro Diagnostic Directive, under the new IVDR, most tests have to be cleared by organizations called notified bodies (NBs) that are certified to review IVD submissions.
To gain and maintain clearance, manufacturers are expected to provide data on the analytical validity and clinical utility of their IVDs, as well as postmarket surveillance data and an array of other information. With the significant overhaul of the European regulatory landscape underway, some fear it may disproportionately affect small and medium-sized IVD companies.
"It feels like a seismic shift in the level of regulatory burden for us," said Steve Chatters, director of medical affairs at Oxford Gene Technology, a British molecular genetics company that sells products for use in constitutional cytogenetics, cancer screening, and reproductive genetics, among other indications. "For us as an SME, [the IVDR] is an incredible concern," he said.
"It makes it a higher entry barrier for smaller companies," said Dharminder Chahal, CEO of SkylineDx, a Dutch molecular diagnostics firm that develops and sells tests for cancer. "I think it will be a hurdle for a lot of companies," Chahal said of the IVDR. "Because of [the IVDR], I had to increase my head count by 5 percent," he said. "We have the funding, but I think many diagnostics companies, especially in Europe, struggle to fundraise, and to increase your headcount for this is difficult."
New hires are certainly part of the equation. In June, the European Commission published a guidance related to the IVDR that compels companies to employ at least one regulatory compliance specialist. It does allow smaller firms with less than 50 employees and annual sales of less than €10 million ($11.3 million) to subcontract its responsibilities to a third party, so long as the third party is located in the EU.
"Larger companies have more resources and are able to pull or redeploy people within the company to do the regulatory work," noted OGT's Chatters. "That's a big difference." He added that a company's work is not done when it gains clearance for a test either. IVD makers are expected to provide more postmarket surveillance data and risk assessment data than before.
"In smaller companies, the expertise might not be there to be able to carry out continual postmarket surveillance," said Chatters. "It's going to require a real sea change in management and senior management needs to realize that this is a huge burden," he said.
A seat at the table
SMEs also must deal with a lack of certified NBs for clearing their IVD products. To date, no NB has been certified to clear IVDs under the new regulations although several — BSI and TÜV-SUD, among them — have said they expect to be certified in the next few months. When they do get the go-ahead to certify IVDs, it's likely that larger firms will not only have their paperwork in order, but a preexisting relationship with the NB to expedite the process.
"The larger, more multinational companies are probably better prepared and have put more resources into understanding what's coming down the line and the changes," noted Gary Slack, senior vice president of medical devices for the London-based BSI Group, which maintains a Dutch subsidiary, BSI Netherlands. Because of concerns around Brexit, BSI has elected to move most of its IVD resources to the Netherlands.
"If I have any concern, it would be for the smaller manufacturers in the IVD space who probably don't have the expertise and resources in house to be prepared for what is going to be a very significant change going forward," Slack said. "The bigger companies will have to spend a lot, but they also have the skill and resources to do so," he added. "But I think the regulations could be quite challenging, particularly for small and medium-sized companies."
"Any traditional diagnostics or devices company has an entire army of regulatory experts working for them, so I am sure they will be fully prepared, and they will have collected the data, because it's what mature companies do," said Jill Hagenkord, chief medical officer and cofounder of San Jose, California-based MDisrupt, a medical diligence company that advises firms on, among other things, regulatory strategy.
"Many of the smaller companies I work with though mostly don't know what they don't know about regulatory issues," she said. "Historically, it was fairly easy to get a CE-IVD mark, and I don't think many have realized that they have to submit all the paperwork they have to submit yet," she added. "Many of them do not have the evidence that the new directive expects in order to be on the market."
According to Slack, it has taken BSI roughly 22 months to negotiate the rigorous certification process, and BSI is at the head of the pack of roughly a dozen organizations that are seeking certification. "We expect we are at the forefront of the IVDR, but many are behind us," Slack said. "There is a genuine concern that will lead to a lack of capacity going forward and we can understand the concerns of industry."
Managing the new regulation "is a huge gap for the NBs as well," acknowledged Ann-Sofie Andersson, sales and marketing manager for Uppsala, Sweden-based Gradientech, which is developing an IVD platform called QuickMic for rapid antibiotic-resistance testing. "I think everyone in the field recognizes this is a huge burden and there is a lot of work to be done." She noted that Gradientech will hire at least one more person to deal with regulatory questions connected to the IVDR. "It's a huge shift in regulatory control and we need extra resources to manage the transition," she said.
Even if SMEs do have their submission data together, larger companies might have better access to NBs once they are certified to clear IVDs in Europe, though.
"As a larger company, you might get better access to a notified body and I think that is going to be crucial in the next 12 months," said OGT's Chatters. "If you are a small company, and notified body numbers are limited, you might not get a seat at the table," he said. "If you don't get a seat at the table with an NB, you're not going to get certification. It's a real worry."
Paul Kinnon, CEO at Cambridge, UK-based PredictImmune, voiced similar concerns about access to NBs. "As a small and evolving company, competing against larger well-known companies for notified body time and resources may well present a real challenge in the future, especially considering to date that there are still no notified bodies designated under the IVDR within Europe," he said.
The lack of NBs overall has industry rattled. Oliver Bisazza, director of regulations and industrial policy at MedTech Europe, a Brussels-based European trade association that represents IVD and medical device manufacturers, said that the readiness of the new regulatory system, particularly the lack of NBs for IVDs,  is a "primary concern" for IVD makers.
"The potential impact of this on the IVD industry is enormous, as there is a considerable increase in the number of IVDs needing notified body review for the first time," Bisazza said. He called on the EU to produce guidance documents to support the rollout of the IVDR in a harmonized manner. Bisazza underscored that these moves were important for SMEs in particular, which he called the "backbone of the industry" and said account for 95 percent of test makers.
Strategy and history
While the size of a company is certainly relevant in the race to gain compliance under the new IVDR, it is by no means definitive. Companies that are for the first time preparing products for launch might have an easier time negotiating the new regulatory system as opposed to IVD firms with extensive back catalogues of tests. There are also those firms that have been accruing significant amounts of data in order to prepare for an eventual 510(k) submission to the US Food and Drug Administration.
"The big divider is whether you have approved products on the market or not," said Karl Bergman, CEO of Elypta, a Stockholm, Sweden-based company developing a liquid biopsy platform for cancer detection. According to Bergman, companies that had other regulatory strategies in place based on the old IVDD have to adapt to the new IVDR, whereas newcomers like Elypta have been preparing their tests with the new regulations in mind.
"In our case, we've always known this regulation is something we need to adapt to, so both the analytical validation and the clinical validation were always planned for at that level," Bergman said. "Furthermore, we planned for a 510(k) in the US, so the level of evidence we need is similar," he said. "It doesn't make me sleep less at night."
While firms wait for NBs to be certified to handle IVD submissions, they are also self-certifying under the old regulations before the 2022 deadline. It gives them faster access to market, as well as acts as a "perfect stepping stone" for preparing their IVDR submissions, Bergman noted. 
Manchester, UK-based Genedrive is close to doing just that. The company aims to achieve a CE-IVD mark for a pharmacogenomic test for antibiotic-related hearing loss this fall. CEO David Budd said that the company decided to pursue a CE-IVD mark under the IVDD because there are no NBs available to review submissions under the IVDR yet, "simple as that."
According to Budd, the impact of the IVDR is more dependent on the regulatory history of the company in question, as well as its back catalogue, than its size.
"There will be companies whose catalogue is largely self-declared products for which their clinical claims and indications just come from the scientific literature, and the company has made no or little effort to justify the claim themselves," Budd said. He said that there could potentially be a "huge body of work" to do to generate the data required for submissions under the IVDR. Companies with large antibody portfolios, for instance, might be particularly impacted.
In contrast, for companies that have always generated clinical data, moving to IVDR is less of a challenge, Budd said. "More than likely you also have more robust, postmarket surveillance systems and risk management," he said.
PredictImmune's Kinnon noted the firm has incorporated some of the new regulatory requirements into the product life cycle of PredictSure IBD, its CE-IVD-marked test for predicting the prognosis for people recently diagnosed with Crohn's disease or ulcerative colitis. That foresight will aid with the transition to the IVDR in the future, he said.
SkylineDx's Chahal said he is actually "quite comfortable" with the new regulations. He noted that SkylineDx's test for multiple myeloma, MMprofiler, has a CE-IVD mark under the IVDD and the company has a transition plan in place for the test, while it is generating the data necessary to support the submission of a new melanoma test for clearance under the IVDR.
Meantime, OGT's Chatters noted that smaller companies might actually have an advantage in that they are arguably closer to their customers, making it easier for them to obtain data that can be used in regulatory submissions.
"I think that will be key in the next few months, working with customers to glean the clinical evidence that is required," said Chatters. "Having talked to them, had that conversation, all companies will have to take a realistic look at their portfolios," he noted.
Concerns for patients
There is some concern, though, that given the transformation of the European regulatory framework for IVDs, it might take longer for new tests to reach patients. While Europe was in the past often the first region where new IVDs were cleared for clinical use, ahead of the US or some Asian markets, now the regulations are as stringent for the European market as elsewhere.
That could mean that it becomes more difficult for SMEs to bring new technologies or tests to market.
"One of our worries is that we will lose our agility to move with the market," Chatters acknowledged. "The genetics world is fast-moving, and we have to think about how IVDs are placed," he said. "We are worried that manufacturers might lose the agility to put products on the market quickly."
BSI's Slack agreed with that assessment.
"I think there is a concern that you could wind up with small manufacturers that have niche products that are relatively important in themselves, even if they aren't widely used," Slack noted. "It would be negatively impactful to patients if some of those products didn't get to market," he added. "We talk about customers, but we, at the end of the day, are actually talking about patients. It's people's healthcare and that is a potential risk with both regulations."