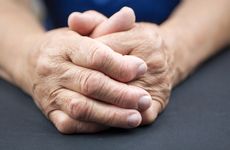 NEW YORK – Myriad Genetics is hoping new data and the recent inclusion in society guidelines will drive adoption and payor coverage of its Vectra proteomic test for rheumatoid arthritis.
The company's Myriad Autoimmune business unit presented a pair of studies at the American College of Rheumatology/Association of Rheumatology Professionals annual meeting last month that demonstrated the ability of the test to predict a patient's risk of radiographic progression and risk of suffering a major cardiovascular event.
Additionally, last month, the ACR added Vectra to its list of tests considered adequate for measuring RA disease activity, a development that Elena Hitraya, chief medical officer for Myriad Autoimmune, said could help convince more payors to cover the test and could boost adoption among physicians.
As Barclay's analyst Jack Meehan observed in an investor note commenting on the inclusion of Vectra in the ACR guidelines, "Myriad's progress at driving adoption of the test has been limited by lack of guideline support for the test."
Meehan was skeptical that the ACR development would prove a boon for Vectra, however, noting that while the test was included as one of 11 tools deemed adequate by ACR, it was not included as one of the five "recommended" measures, a group consisting of the Clinical Disease Activity Index (CDAI), the Simplified Disease Activity Index (SDAI), the Routine Assessment of Patient Index Data 3 (RAPID3), the 28-Joint Disease Activity Score with Erythrocyte Sedimentation Rate/C-Reactive Protein (DAS28-ESR/CRP), and the Patient Activity Score II (PAS-II).
Detailed in a paper published in Arthritis Care & Research, the guidelines give insight into what the rheumatology field views as Vectra's strengths and weaknesses. The test received strong scores for its content and structural validity and moderate scores for hypothesis testing and responsiveness but a score of "unknown" for reliability, which the guideline authors said reflected that "studies only of poor methodological quality" were available to inform this score.
Vectra also scored lower on feasibility than the five "recommended" tests, largely due to the fact that it requires outside lab work and takes a matter of days for results to be returned.
In the final evaluation of the 11 tests considered adequate, nine ACR members rated each test to determine which of those 11 would be deemed "recommended." In the case of Vectra, seven of the nine scored it as "not recommended," while one scored it as "sometimes recommended," and one scored it as "essential."
"We believe that the ACR's updated list of disease activity measures will serve as another headwind to broader adoption of Vectra," Meehan wrote of the ACR guidelines.
Hitraya, however, described inclusion in the guidelines as a potentially significant step forward for the test.
"Anytime you speak to private payors there is always this question of, are you in the ACR guidelines," she said. "And now we can happily say that, yes, we are. I think that is a meaningful step for us."
Myriad also hopes the new developments it presented on at the ACR/ARP meeting will help drive sales.
Vectra, formerly known as Vectra DA, measures the levels of 12 proteins in patient serum to provide a disease activity score for rheumatoid arthritis patients that can help doctors predict the likelihood that a patient will see worsening of their disease as assessed by measures like radiographic progression.
At the end of 2017, Myriad Autoimmune adjusted the test to account for patient age and adiposity, both of which it had observed affected test scores. At the recent ACR/ARP meeting, the company and its academic collaborators presented data detailing the ability of this adjusted Vectra test to predict radiographic progression over one year.
Notably, Hitraya said, the researchers used the data to, for the first time, generate a risk curve plotting change in patient risk of radiographic progression as a continuous variable against their Vectra score, which ranges from 0 to 100.
"So, for each patient knowing their score you can plot it on the curve and see what is their individualized risk of radiographic progression," she said, noting that the company has seen demand from physicians for this sort of more fine grain information. Currently, Vectra test results are reported as a score of 0 through 100, which is designated as either high, moderate, or low, but the results do not provide a percent risk of radiographic progression.
"Many physicians have told us [a specific risk percentage] would really help them to have conversations with patients," Hitraya said. "It's meaningful when they can tell the patient and patients can understand and kind of know their number."
Myriad and its collaborators also presented a poster at the conference that found Vectra plus the biomarkers leptin, MMP-3, and TNFRI along with clinical information could help identify RA patients at high risk of cardiovascular events within the next three years. According to Hitraya, cardiovascular events are a major cause of mortality for RA sufferers.
Hitraya said that ACR and the rheumatology community have been discussing the importance of monitoring RA patients for risk of cardiovascular events, but there are few tools available for assessing risk in this population specifically.
She said that for patients identified as being at elevated risk, doctors could work more aggressively to control their inflammation as well connect them with a cardiologist.
Myriad plans to add both the personalized radiographic progression risk data and the cardiovascular risk data to Vectra test reports, with the radiographic progression data to be added in fiscal year 2020 and the cardiovascular data coming after it is published in a peer reviewed journal. It does not plan to charge additional money for this information.