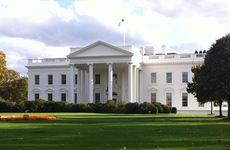 NEW YORK – The White House Office of Science and Technology Policy on Wednesday laid out priorities to advance biotechnology and biomanufacturing in the US over the next 20 years, including goals for health monitoring, multiomics, cell therapies, artificial intelligence-driven drug development, gene editing, microbial genome sequencing, and synthetic biology.
The report outlines non-binding goals to improve biotechnology and biomanufacturing across several areas, including human health, climate change, the food and agricultural sectors, and the supply chain. It identifies areas for investment by the federal government as well as from the private sector and state, local, and tribal governments.
A section devoted to human health, authored by the Department of Health and Human Services, suggests advancing health monitoring through the discovery of next-generation biomarkers of health within the next five years, including developing sensors and sensor arrays to detect novel bioindicators of health, longitudinal studies and clinical trials to facilitate biomarker discovery and validation, and analysis of real-world electronic health record data to identify health biomarkers. In the next 20 years, the government hopes to develop and distribute a home diagnostic assay kit based on the biomarkers of health discovered in this research.
The report also outlines efforts to more widely collect multiomic data through novel sensors, such as in vivo DNA-based recorders, that allow for passive, longitudinal data collection, and investment in novel high-throughput technologies, including synthetic biology and cell-free approaches, to drive down costs. The government aims to develop standards and benchmarks for multiomics in consultation with federal agencies that support and approve diagnostic assays. It also aims to develop multiomics data security and privacy standards, standardize data collection, and integrate multiomics data into EHR systems.
The report's goals for cell therapies include efforts to increase the efficacy and manufacturing scale of these treatments. Pharma companies with approved CAR T-cell therapies have struggled to meet demand for the treatments due to manufacturing constraints. Research in this area could include the development of next-generation cell therapies, exploring novel non-viral delivery vehicles to use in these therapies, examining shipping protocols and storage technologies to keep cell therapies at high viability, and developing clinical and genomic indicators to identify good candidates for cell therapies or predict outcomes. To improve manufacturing, the government suggests efforts to identify source cells, such as allogeneic cells, that may be more reproducible and less costly than patient cells, and to standardize methods across cell therapy manufacturing facilities.
To advance AI-driven drug manufacturing and design, the report suggests developing a national network of biomanufacturing resources, including autonomous laboratories and a cloud-based virtual research organization to connect the labs. It also proposes creating data accessible to researchers to help expedite biotherapeutic development and developing novel AI methods to design therapeutics of every class including small molecules, biologics, and cell-based therapies.
Gene editing and gene therapy efficacy and scale should also be improved. This research could include developing standard assays in partnership with the research community to assess editing efficacy in vitro and in vivo; developing novel gene delivery vehicles, gene editors, and editing systems; and creating unified gene-editing standards. To improve manufacturing capacity for gene therapies, the report suggests working with contract research organizations and contract manufacturing organizations to address gaps in their ability to handle gene therapies, develop gene-editing platforms that can work at scale, work with patients and communities on pricing of gene therapies, and work with major hospitals to encourage the use of gene therapies.
Another section of the report, authored by the National Science Foundation, calls for an increased understanding of biodiversity. To that end, the genomes of a million microbial species should be sequenced within five years, and the function of at least 80 percent of newly-discovered genes should be understood.
Moreover, in five years, researchers should develop methods to read and write any genome, epigenome, transcriptome, and proteome and to construct and measure single cells within 30 days. Over 20 years, the goal should be to build a synthetic minimal plant that can be used as a backbone for the production of food, chemicals, or pharmaceuticals, according to the report.
With the administration's goals outlined, the Office of Science and Technology Policy will now lead the development of an implementation plan to address the research and development needs outlined in the report.