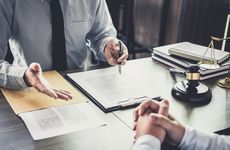 NEW YORK (360Dx) – Intended to combat the nation's opioid crisis, the "Substance Use Disorder Prevention that Promotes Opioid Recovery and Treatment for Patients and Communities Act," or SUPPORT Act, passed Congress in October of last year backed by large bipartisan majorities.
An anti-kickback provision within the larger law has clinical laboratories concerned, however, as it appears to outlaw for clinical labs various business practices that are standard within the healthcare industry, such as paying sales staff on commission or placing phlebotomists in physician practices.
According to industry representatives, the SUPPORT Act has clinical labs treading carefully as they navigate the uncertain legal landscape created by the new law while at the same time pushing for either a change to the language of the statute or promulgation of rules and guidance from the US Department of Health and Human Services.
At issue is the "Eliminating Kickbacks in Recovery Act of 2018" (EKRA), which was passed as part of the SUPPORT Act with the intention of outlawing patient brokering in the addiction treatment industry. Patient brokering refers to the practice of drug rehabilitation centers paying third parties to direct patients to their facility.
Under EKRA, it is now a federal crime punishable by a fine of up to $200,000 and/or imprisonment for up to 10 years per offense to knowingly and willingly solicit or receive "any remuneration (including any kickback, bribe, or rebate) directly or indirectly, overtly or covertly, in cash or in kind to induce a referral of an individual to a recovery home, clinical treatment facility, or laboratory; or in exchange for an individual using the services of that recovery home, clinical treatment facility, or laboratory."
As written, the law "potentially serves to criminalize practices that are fairly routine and common" in the clinical laboratory business and which have been considered acceptable under existing federal anti-kickback laws, said Sharon West, vice president of legal and regulatory affairs for the American Clinical Laboratory Association (ACLA).
Perhaps most obviously, EKRA could impact the practice of paying sales staff on commission, which West said has historically been fairly common in the clinical lab business. In fact, the law explicitly states that employees cannot be paid according to "the number of individuals referred to a particular recovery home, clinical treatment facility, or laboratory," or to "the number of tests or procedures performed."
According to David Gee, a healthcare attorney and partner at law firm Davis Wright Tremaine, the Social Security Act already contains anti-kickback laws covering federal healthcare programs, but while EKRA references those laws, it does so in a way that appears to say practices permitted under the Social Security Act are not necessarily permitted under EKRA, stating that the law "shall not apply to conduct that is prohibited under section 1128B of the Social Security Act."
It would make more sense had that sentence read that EKRA "shall not apply to conduct that is not prohibited under section 1128B," Gee noted, as this would mean the carve-outs in existing anti-kickback law would have remained.
"But what they did is, rather than reference or incorporate by reference the 30-plus years of carve-outs and exceptions and guidance that the federal government has provided in this area, they worded [EKRA] to say that the law does not apply to conduct prohibited by the federal anti-kickback statute," he said. "That's the part that has everyone scratching their head. There's a lot of confusion just because of, I think, the sloppy language."
The history of how clinical laboratories came to be covered under EKRA is somewhat murky. The bill was originally introduced in the Senate by Sen. Marco Rubio, R-Fla., in July 2018, but that version of the bill covered only recovery homes and clinical treatment facilities, not clinical labs. On Sept. 25, Rep. Ted Deutch, D-Fla., introduced a version of the bill in the House of Representatives that covered clinical laboratories in addition to recovery homes and treatment facilities. The following day, Rep. Steve Knight, R-Calif., introduced another version in the House that again excluded clinical labs. On Sept. 28, Rep. Greg Walden, R-Ore., introduced the set of House amendments to the SUPPORT Act that would ultimately make it into the final bill, including a version of EKRA that included clinical labs.
Gee said passage of the law occurred "sort of under the radar of the lab industry," though the Congressional Record does suggest that the lab industry reached out prior to the bill passing. During discussion of EKRA on Sept. 28, 2018 Rep. Frank Pallone, D-N.J., noted that since the introduction of the Deutch version of the bill on Sept. 25, "multiple stakeholders have raised concerns that the language does not do what we think it does," and added that "it may have unintended consequences."
The EKRA provision, he said, "was added at the very last minute" and "did not go through regular order and was not properly vetted."
"The industry has certainly taken note of the law and recognized its potential breadth of application," said Charles Dunham, a member of the firm Epstein Becker Green who has written on the possible effects of the law.
He said that he could not speak to his clients' actions specifically but said that EKRA "is certainly something that is being considered by the general counsel, chief compliance officers, and the governing bodies of clinical labs. It has to be,because on its face, it's a law that applies to all labs and all lab services."
Gee said the uncertainty could be particularly challenging for smaller lab companies trying to launch tests, such as firms offering newer molecular assays.
"They are now saddled with trying to figure out what to do with a law that most of the legal counsel who work in this area are still trying to figure out," he said. "They might be based in one part of the country and have a very specialized test that they want to get out into the marketplace, but they don't have the sales force that a [Laboratory Corporation of America] or a Quest [Diagnostics] does. This law makes it even more complicated for them to know what to do."
Quest and LabCorp declined to comment on the bill and, instead, referred questions about its impact on their business to ACLA.
While the law has created difficulties for clinical labs, it could prove advantageous for private insurers as it provides these payors some of the anti-kickback protections that under the Social Security Act applied only to federal health care programs.
"EKRA is a federal criminal statute that commercial payors will cite," in disputes with clinical laboratories over alleged fraud and overpayments, Dunham said. "They often use these kinds of criminal statutes to support their positions for clawing back money or denying a claim."
EKRA "brings in a whole cast of characters that couldn't be part of the [pre-existing] enforcement regime," Gee said. "Although [commercial insurers] have pursued litigation in state courts against some of the companies that were engaged in practices they didn't like, they didn't have the same recourse that the federal government did. This, frankly, puts them in the driver's seat if they choose to be."
Gee said that recent high-profile lab fraud cases, like the kickback scheme orchestrated by now-defunct Health Diagnostics Laboratory, have drawn the attention of the federal government and commercial payors, but he noted that much of the focus has been on abuses committed by third-party as opposed to in-house sales forces.
"My advice [to clients] consistently has been to avoid these kinds of [third-party] arrangements and move towards a bonafide W-2 employee sales force so that you have line of sight on what they are doing," he said.
EKRA, however, appears to make it illegal to pay even in-house sales staff on a commission basis. Even performance-based bonuses for sales reps could fall afoul of the new law, Gee said.
It remains unclear whether or how the bill may be changed to address the lab industry's concerns.
In response to a request for information on the anti-kickback statute released by the HHS Office of the Inspector General, ACLA in October sent a letter to Daniel Levinson, IG of the HHS, detailing its concerns about EKRA and suggesting fixes to the bill.
Speaking at the beginning of February, ACLA's West said the organization had received indication from Congress recognizing that the bill is perhaps overly broad, but she added that while "verbal assurances are helpful, it's what's in writing that matters, and so we continue to push and advocate for a correction" to the law.
This week she noted that the organization has "been communicating with Congress in an effort to ensure the provision targets the bad actors associated with the opioid crisis, as was intended."
West said that ACLA believed a change to the language of the law would be the cleanest fix.
Dunham said he believed a direct change to the law was unlikely but noted that it was "a possibility, because there is some poorly drafted language."
He added that the law also allows for HHS to promulgate rules and provide interpretations of the law to clarify what practices it is intended to prohibit. That process can be a slow one, however.
"There's an administrative procedure that requires any regulation be submitted for public comment for 60 days, and then the agency has to review the comments and issue a final rule, and that takes time," Dunham said.
The office of Sen. Rubio declined to comment on whether Congress was exploring any ways to address the lab industry's EKRA concerns. Rep. Deutch's office did not respond to requests for comment, while Rep. Walden's office directed questions regarding the bill to the House Energy and Commerce committee, which did not respond to a request for comment by press time.