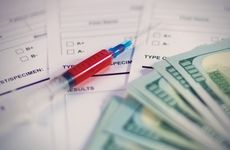 NEW YORK (GenomeWeb) – While lab industry groups expressed disappointment at the Centers for Medicare & Medicaid Services' preliminary 2018 prices for clinical lab tests under the Protecting Access to Medicare Act, the reaction of the stock markets Monday indicated that not all labs equally shared the pain.
In the short term, most analysts agree the biggest losers are the industry's two large lab behemoths, Quest Diagnostics and Laboratory Corporation of America, both of which were trading lower on Monday. Quest was down nearly 9 percent in midday trading on the Nasdaq to $93.33 per share.
LabCorp was faring slightly better. After an initial drop of more than 5 percent to $146.68, the stock rebounded slightly to $149.94, or down about 4 percent, around midday on the Nasdaq.
The effect of PAMA pricing on LabCorp may be slightly tempered compared to the effect on Quest because of LabCorp's growth strategy. When LabCorp completed its acquisition of Chiltern this fall, Canaccord Genuity analyst Mark Massaro noted that the acquisition could further mitigate the effect of PAMA's cuts. LabCorps' "growth from acquisitions, organic growth, ongoing cost reduction initiatives and share buybacks" were all expected to help offset the expected effects of PAMA, he noted at the time.
Overall, Massaro note that preliminary PAMA rates suggest that LabCorp and Quest could see cuts in the range of 8 to 10 percent above his initial estimates of 4 to 6 percent cuts before preliminary PAMA prices were released.
Piper Jaffray Analyst William Quick estimated an 8.3 percent drop in Quest and LabCorp's Medicare revenue in 2018, based on preliminary PAMA prices. What may be more painful is that he predicted years of continued revenue decline, with an estimated greater-than-8 percent cut to the companies' Medicare revenues in both 2019 and 2020 followed by a cut of more than 4.4 percent cut in 2021. By contrast, Quick noted, Wall Street had previously estimated the companies would see Medicare revenue loss of around 6 percent in 2018 and flat revenues thereafter.
Raymond James today downgraded Quest on the PAMA news to Market Perform rating from an earlier Outperform rating. The firm said it revised its recommendation because the PAMA rate cuts were "steeper than anticipated."
Both Quest and LabCorp issued official objections to the proposed cuts on Monday. LabCorp Chairman and CEO David King said in a statement that the proposed rates "do not reflect the intent of Congress when it directed CMS to implement market-based Medicare rates for lab testing."
LabCorp's King called on Congress to "take swift action to prevent the harm that will occur if these rates take effect." Both companies said they would support the American Clinical Laboratories Association's efforts to explore all options including legal action, if necessary.
Quest Chairman, President, and CEO Steve Rusckowski said CMS' rates were "derived from flawed market data collection that excluded key components of the lab market."
Some potential PAMA winners, according to Canaccord's Massaro, include Genomic Health, Veracyte, and CareDx, all of whom have proprietary tests, which allows them more control over the pricing. In midday trading, Genomic Health was up 1 percent to $31.30; Veracyte was trading up a fraction of 1 percent to $8.54; and CareDx was up almost 9 percent to $3.34.
Other diagnostic firms saw little change in their stock prices. Luminex was down less than 1 percent to $19.90 per share. Myriad inched up to $34 per share, a less than 1 percent increase, and Nanostring ticked up slightly to $15.65 per share.
Meanwhile, even if rates stay as they are, for Quest and LabCorp there might be a silver lining. Massaro said the real losers long term may be "mom and pop" smaller labs that lack the scale and the other offsets to insulate them from the brunt of these cuts. As a result, Massaro noted, he expects the pressures on these smaller firms may allow LabCorp, Quest, and even Genomic Health to consolidate weaker players.