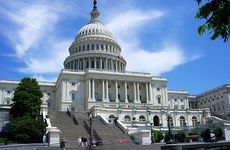 NEW YORK (GenomeWeb) – The US House of Representatives last night voted overwhelmingly in favor of the 21st Century Cures Act, approving the sweeping biomedical research funding legislation by a vote of 392 to 26.
The Senate is set to vote on the bill next week.
Key provisions of the act include an additional $4.8 billion over 10 years for the National Institutes of Health to fund key programs, with $1.4 billion earmarked for President Barack Obama's Precision Medicine Initiative, $1.8 billion for Vice President Joe Biden's Cancer Moonshot, and $1.6 billion for the BRAIN initiative. The bill would also provide $500 million to the US Food and Drug Administration.
The act has received strong support from both sides of the aisle in Congress, as well as from President Barack Obama, but has faced a number of hurdles since it was first passed by the House in mid-2015. The Senate Committee on Health, Education, Labor, and Pensions (HELP) chose to vote on separate narrower bills related to the act's different aspects, eventually passing a total of 19 bills. All the while, Republicans and Democrats wrangled over how to pay for the legislation.
Last week, congressional health committee leaders
released
a revised version of the bill, indicating that the issues holding up the legislation had largely been resolved.
"The real winners today are American families whose lives stand to be improved by the Cures legislation passed overwhelmingly today by the House and that we should pass by a wide margin in the Senate," Senate HELP Chairman Lamar Alexander (R-TN) said in a statement yesterday. "This bipartisan legislation — which Majority Leader [Mitch] McConnell has called "the most important legislation Congress will pass this year" — will help us take advantage of the breathtaking advances in biomedical research and bring those innovations to doctors' offices and patients' medicine cabinets around the country."
In a statement, the White House noted that while the Cures Act is "not perfect … the legislation offers advances in health that far outweigh these concerns. The Senate should promptly pass this bill so that the President can sign it."