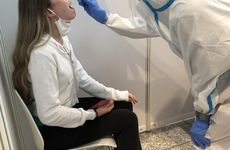 ESSEN, GERMANY – Germany last weekend started a new COVID-19 testing program that aims to catch new cases coming from abroad by making tests available free of charge to all travelers returning from another country. In the near future, testing will become mandatory for those returning to Germany from a high-risk country, including the United States.
Compared to other nations, Germany has handled the coronavirus crisis comparatively well so far. As of Tuesday, the country, with a population of about 83 million, had 212,000 total COVID-19 cases and just over 9,000 deaths. By comparison, the United States, with a population of 328 million, had almost 4.7 million total cases and about 155,000 deaths as of Monday.
But the summer months enticing people to leave their homes, and the fact that many Germans decided to travel abroad for their vacations despite the pandemic, have meant that cases have crept up in recent weeks. In the past seven days, for example, the country reported about 4,600 new confirmed cases, after a low of just over 2,300 cases per week a couple of months ago.
In its daily situation report on Tuesday, the Robert Koch Institute, Germany's national public health institute, wrote that the number of new cases has increased across many states over the past two weeks. While some local outbreaks could be traced back to family celebrations, workplaces, and healthcare facilities, "COVID-19 cases are increasingly being identified among people returning from abroad," the institute wrote. "This development is very concerning and will continue to be monitored very closely by the RKI. A further worsening of the situation must be avoided."
To nip new infections coming from abroad in the bud, Germany's Federal Ministry of Health issued an order last Friday making SARS-CoV-2 testing freely available to travelers from abroad within 72 hours of entering the country. The state of North Rhine-Westphalia, which accounted for 40 percent of Germany's new infections over the past week, had already made free testing available a week earlier for those returning from high-risk areas.
Alternatively, travelers returning to Germany from countries posing high risks of SARS-CoV-2 infection can quarantine for two weeks at home, which local health authorities are supposed to verify with random checks, based on forms with contact information travelers need to fill out upon entering the country. The RKI maintains a long list of countries it deems high risk, which is updated on a regular basis and currently includes the US, Russia, India, Brazil, Iran, and Iraq but not China, the UK, Australia, Japan, South Korea, and most European countries.
Testing can be performed directly at the airport, and most German airports have opened testing centers over the past couple of months. Travelers can also seek free COVID-19 testing from doctor's offices or local health departments at their destination within 72 hours, though such testing has not been widely available for asymptomatic individuals so far.
Several players have set up centers for COVID-19 testing at German airports. Centogene, for example, said in late June that it had struck a deal with Lufthansa and Fraport, the operator of Frankfurt Airport, to offer COVID-19 testing to passengers arriving at or leaving from the airport. Testing was initially offered for a fee but became free of charge last Saturday for travelers returning to Germany, when the health ministry's order took effect.
Centogene didn't disclose how much the German government is paying it for the free testing service, but customers seeking to get tested before leaving Germany need to pay the company €59 ($69) for a standard test that takes 8 to 10 hours for results to get back and €139 for a test that guarantees results within 4 hours. A doctor's note accompanying the test and a document verifying the identity of the person tested are available for additional fees.
According to a draft of the German health ministry's order, the country's public health insurance system expects additional costs of €50.5 million in lab diagnostic service fees and €15 million in sample collection physician fees per million additional tests, translating to €65.5 per test. By preventing COVID-19 cases, the extra testing will avoid expenses of an unknown amount for the health system, according to the draft.
On Sunday morning at 6 a.m., a long line of travelers had formed in front of the Centogene test center in Frankfurt, located between the airport terminals and the central train station. Centogene employees directed passengers returning to Germany who wanted to take advantage of the free testing offer to a second center specifically designated for this group of travelers.
By 6.15 am, both centers had opened their doors, 45 minutes earlier than the official opening time. Customers, who were asked to register for their test online in advance, were quickly checked in at what appeared to be a former airline check-in counter and sent to a row of seven testing cabins, where medical professionals wearing personal protective equipment took their throat swab within less than a minute.
Results were promised to be available in the online portal within 24 hours – a conservative estimate, as results came in after just 13 hours for this reporter.
According to a company spokesperson, Centogene has analyzed samples from approximately 3,000 customers per day at Frankfurt Airport since testing started in June and has seen an uptick in demand after testing became free, which added another 8,000 to 10,000 tests in the first three days.
She added that Centogene is "in intensive discussions" with potential partners to offer testing at other locations in Germany, such as airports or train stations.
It remains to be seen whether testing returning travelers will actually help detect new COVID-19 cases early and contain the spread of the virus. Some have argued that testing upon entry will only catch a fraction of cases because travelers who caught the virus recently might not have detectable viral loads yet. The German health ministry, on its website, admits that a negative test result only represents a "snapshot" and recommends a second test within five to seven days after the first one, the costs of which are also covered by the German government.
According to local news reports, North Rhine Westphalia tested 19,100 returning travelers at the state's airports last week, 329 of whom tested positive so far (some results are still pending).
As of the end of Tuesday, Centogene had tested more than 50,000 individuals at its Frankfurt Airport testing center in total, with more than 240 positive results.