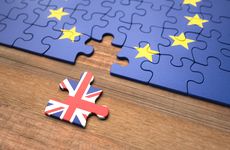 NEW YORK – The past few years have been uncertain ones for European in vitro diagnostics manufacturers, who have had to contend with transitioning to the EU's new In Vitro Diagnostic Regulation (IVDR), as well as the fallout from the UK's exit from the EU and what regulatory scheme will take root in post-Brexit Britain. 
Things became clearer last month when the UK government released a guidance setting out its vision for regulating IVDs after the transition period, which ends Jan. 1, 2021. According to the guidance, IVDs will require new certification in Great Britain, defined as England, Scotland, and Wales, while companies will still be able to sell IVDs in Northern Ireland under existing EU regulations. As such, a new regulatory curtain will descend across the Irish Sea, placing one part of the country under EU regulations and the other part of the country under new regulations.
The UK will also create a new conformity assessment mark, the UKCA, for approved IVDs, and will rely on standards organizations, called approved bodies in the guidance, to clear new tests.
While the guidance was welcome after years of uncertainty, regulatory experts say it does not provide enough detail for IVD manufacturers, and some are waiting for additional guidance, which could come later this year.
"BIVDA members would welcome more practical guidelines in some areas," said Helen Dent, chief operating officer of the British IVD Association, a trade organization that represents UK IVD manufacturers. "Whilst overall, the information is provided, it is sometimes not detailed enough to make a practical application when there are still many areas of the future regulations requiring clarity," she said.
According to Dent, BIVDA has worked closely with the UK Medicine and Healthcare Products Regulatory Agency (MHRA) during the Brexit transition. The UK voted to leave the EU in 2016, and after years of stalled negotiations officially left the now 27-member political and economic bloc earlier this year. But various deals governing future relations between the UK and the EU remain under negotiation, and any kind of mutual recognition agreement, where the UK and EU would recognize IVDs for clinical use in their respective markets, has not been reached.
Against this shifting background, BIVDA has been pushing for a UK regulatory system that is "recognized globally and continues to ensure patient safety," while not overburdening companies designing tests to sell into different regulatory systems, said Dent. Technically, therefore, a newly designed regulatory system in the UK is not necessarily a bad thing, as it allows the country to deliver on UK strategies with regards to diagnostics and the National Health Service, she said.
"A positive outcome would be to accelerate the adoption of innovation and remove multilayered aspects which prove in practice to be restrictive," she said. Yet even given the new guidance, Dent said there is still much to be worked out for BIVDA members to make use of it. In particular, they are concerned about differences between the UK regulations and the new IVDR.
"The challenge for industry is not the capability to deliver the requirements, but to understand the requirements in parallel [with] other global requirements to ensure preparedness," she noted. As many IVD makers already sell to markets beyond Europe, such as in the US, that have similar regulatory systems, preparing for yet another submission, this time in their home market, shouldn't be too much of a burden if there is synchronicity between the systems, meaning data generated for one submission could be used for another. Yet that might not be the case, she said.
There is also the issue of Northern Ireland, which will remain an island of the EU within the UK, while the three other UK countries will operate a different system administered from London.
"This is one of the areas that BIVDA and our members are concerned about," said Dent. "Currently there is no definitive guidance as there is not a full understanding of what this will look like and how the government intends this to work," she said. "Ensuring clarity in other areas of the requirements would allow companies to be prepared when the final outlook is known."
Stuart Angell, a cofounder of UK IVD and medical device consultancy IVDeology, agreed with Dent that the IVD sector is still "very much in the dark" about the new regulatory system taking shape in Great Britain and Northern Ireland. "There is a lot of new information that has come out as part of the guidance," Angell said. "Ultimately, the devil is in the details. We don't have that."
He noted that the system laid out in the guidance still requires parliamentary ratification and might be tweaked in coming weeks. Yet, fundamentally, Angell is advising clients that this is what the post-Brexit UK regulatory system will look like. "We are confident that what they have in place here is what we will have going forward and we will have to adjust to that," he said.
Still, he called timelines for the transition "very aggressive," as companies that want to sell IVDs into the UK will have to obtain a UKCA mark by the end of a transition period that wraps up in June 2023, whereas across Europe companies are transitioning to the IVDR at the same time, which will come into force in May 2022. As such, Europe, including the UK, will undergo a major concurrent regulatory transition in about two years time. "It's a challenge," Angell said.
Angell added that IVD makers now need further guidance from MHRA, preferably before the start of next year. "There must be an update before January and I hope in the next 30 to 60 days we'll get clarity."
A border over the sea
Some of the most intriguing questions surround the fate of Northern Ireland, a country of 1.9 million in the north of the island of Ireland, separated from Great Britain by the Irish Sea. While population-wise, Northern Ireland is a tiny slice of the 68 million people who live in the UK, it has an advanced and active IVD sector, and major UK players like Randox Laboratories, the Almac Group, Fortress Diagnostics, and others, are all based in and around the capital Belfast.
Moreover, under the terms of the withdrawal agreement between the UK and the EU, Northern Ireland will remain politically within the UK, but will also be able to apply for IVD clearance under European regulations. Northern Ireland firms will also have unfettered access to the UK market without regulatory checks, meaning that a company that obtains clearance under the IVDR can sell the same assay into Great Britain, a situation that may give Northern Ireland's IVD manufacturers a special status in the future, one that they are preparing to take advantage of.
"I think the fact that there will be a border over the sea is an interesting one," acknowledged Angell. "If you are in Northern Ireland, you have a degree of flexibility. You can get the CE-IVD mark on one side, but also register your products with the MHRA." That flexibility, however, depends on any divergence between the UK and European regulatory models, he cautioned.
Stewart McWilliams, global vice president of quality and regulatory affairs for Almac Diagnostic Services, said that his company is poised to act as a "one-stop shop" with access to both the EU and UK for clinical trial support and companion diagnostic development and commercialization under the envisioned regulatory system.
"The Northern Ireland Protocol will offer Northern Ireland-based companies, like Almac, the opportunity to effectively act as if they are still within the EU with respect to compliance with [the IVDR] while still being able to easily access the UK market," McWilliams said. "In other words, the best of both worlds."
Seamus Kearney is CEO of ARC Regulatory, a consultancy based in Moneymore, Northern Ireland that focuses on IVDs and companion diagnostics and is deeply familiar with the local IVD market. He said that it's too early to speak with confidence about a silver lining for Northern Ireland's IVD sector as part of the Brexit process.
"Things are still in the air," said Kearney. "Until we see a deal struck between the UK and EU sides, I think there is still a lot of trepidation here in Northern Ireland, certainly politically and from a business perspective, as well," he said.
At the moment, Kearney is advising clients to prepare their IVD regulatory strategies based on the guidance that MHRA published. "We still don't know if there will be a mutual recognition agreement," said Kearney. ""A lot of industry players are still preparing for the IVDR," he said. "They hope that with the IVDR they will still be able to place their tests on the UK market."
Preparing for fragmentation
Amid these discussions, there is also the question of how attractive the UK market might be for international diagnostics companies if selling there involves navigating two different regulatory systems. In the past, given its shared history, culture, and language, US, Canadian, Australian, and other Anglophone countries saw the UK as a springboard to Europe, setting up their headquarters in the UK, and obtaining regulatory clearance via UK-based notified bodies. But a Great Britain disembodied from the EU might be less appealing to IVD makers that might choose to locate in Ireland instead, as other multinational technology companies have done.
"If you are a US company, the easiest route to Europe has been to have a UK site," noted Angell. "All of a sudden, you have to ask yourself, is that the right model?"
These changes are not only happening between Britain and the EU, noted Erik Vollebregt, a medical devices expert at Amsterdam-based law firm Axon Lawyers. Currently the EU is also renegotiating various agreements with Switzerland, and relations with Turkey are arguably fraught. Regulatory systems across Europe are being challenged by politics, Vollebregt said.
"What I advise my clients is that it's all really political," Vollebregt said. "You have to watch developments carefully," he said. "The decisions the politicians are making these days are not the smartest ones, so I have told my clients to prepare for fragmentation."
That fragmentation could also spread within the UK, he noted, particularly if negotiations stall. "If the UK decides to conclude a mutual recognition agreement with the EU, like Switzerland has at the moment, that would be the more optimistic scenario," said Vollebregt. Yet there could be a "more disorganized scenario," he speculated, one where Northern Ireland could leave the UK and reunite politically with Ireland. Or Scotland, which held a narrowly defeated independence referendum in 2014, could vote to leave the UK – a "realistic option," he said.
As such, relations between the UK and the EU could soon devolve into the kind of trade and tariff wars that have ensnared the EU and China or China and the US as of late. Given this backdrop, making a move to Ireland or some other EU country might be a safer bet for IVD firms that wish to safeguard their operations faced with political and economic uncertainties, he suggested.
"Facebook is in Ireland, Microsoft is there, Google is there," noted Vollebregt. "Ireland is a great place to be as a tech company," he said. "It's a small step to hop across the border, go into Ireland, and be in the EU again."