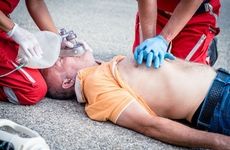 NEW YORK (360Dx) – King's College London researchers are developing a point-of-care blood test to diagnose heart attacks that uses cardiac myosin-binding protein C as an alternative biomarker to high-sensitivity troponin used in laboratory testing.
Presenting the results of a study last week at the British Cardiovascular Society Conference in Manchester, UK, the researchers said that levels of cMyC in the blood increased more rapidly after patients had a heart attack than in the lab-based troponin tests, which take a few hours to show results.
In patients that present with myocardial injury, cMyC protein is "much more abundant than cardiac troponin," Tom Kaier, one of the lead researchers at King's College London, said in an interview. "We're seeing up to 10 times more cMyC than troponin, and with more molecules of the marker in the bloodstream, it is substantially easier to detect."
A commercial point-of-care platform and assay could be five years away, but the researchers said that a handheld, point-of-care test could enable quicker and better care for people at imminent risk from a heart attack, and quickly rule out patients with chest pain, reassuring worried patients in emergency departments. Such a device could save hundreds of thousands of pounds per hospital every year in the UK alone by freeing up bed space in hospitals, Kaier said.
In their study supported by an undisclosed amount of funding from the British Heart Foundation, the King's College researchers noted that an international team took blood samples from 776 patients in Denmark traveling to hospital by ambulance. The King's College researchers then retrospectively tested the samples for cMyC protein and found that in patients who suffered heart attacks, the protein was present in high enough concentrations for an on-the-spot diagnosis 95 percent of the time.
In October 2017, the researchers published a study in the journal Circulation that suggested cMyC could be used as a diagnostic and prognostic tool to assess patients presenting with possible acute myocardial infarction.
In that study, which looked at 1,954 patients, they described a "rule-in/rule-out pathway" using cMyC to compare its discriminative power in a clinical setting. They also concluded that the diagnostic accuracy of cMyC for acute myocardial infarction was similar to that of lab-based high-sensitivity cardiac troponin T and high-sensitivity cardiac troponin I, but cMyC was superior to high-sensitivity cardiac troponin T for those with chest pain of less than three hours, called early presenters. The sensitivity levels achieved in the trial for the antibody used in the cMyC test allowed the researchers to "quantify cMyC levels in pretty much anyone, even healthy individuals," Kaier said.
To rule out myocardial infarction, the group decide that it needed to detect 10 nanograms per liter, or more, of cMyC, which is far higher than the limit of detection they were able to achieve using the Singulex Erenna laboratory platform, Kaier said. In the Circulation study, the researchers were able to detect miniscule levels of cMyC, down to 0.4 nanograms per liter, low enough for a point-of-care test that could exclude or diagnose heart attacks, he said.
According to Paul Collinson, a professor of cardiovascular biomarkers at St George's University of London who is not involved in developing the test, the ability to rapidly exclude heart attacks is crucial for treating people with chest pain safely and efficiently. Most people that present with chest pain do not have a heart attack.
Chest pain and other symptoms associated with acute myocardial infarction account for about 8 million emergency room visits in the US alone, but more than two-thirds of people presenting with these symptoms don't have a heart attack.
"Very rapid testing by a sensitive point-of-care test is therefore an important goal," Collinson said, adding that because myosin-binding protein C is released by damaged heart muscle earlier than troponin, it could be a more suitable very early marker than troponin for such a point-of-care test.
Richard Body, a professor of emergency medicine at the University of Manchester who also is not involved in the test's development, said that if the King's College researchers can develop an assay "for use with a portable point-of-care testing platform that performs as well as the assay used in this study … there is great potential to improve patient care in crowded emergency departments and other acute care environments."
The King's College researchers believe that they can successfully translate their findings and proof-of-concept developed on the lab-based Erenna Singulex platform to use at the point of care, and that a device could be available for use in ambulances and emergency departments in about five years.
Clinicians wouldn't have to wait for samples to be sent to and returned from hospital labs, and the device could be particularly useful when ambulances must drive considerable distances to get patients to the nearest hospital, the researchers said.
When patients present to an emergency department with chest main they usually receive two tests — an electrocardiogram and a blood test that measures troponin levels. Under current UK guidelines, for example, people suspected of having a heart attack are tested for high blood troponin levels when they arrive at the emergency department and again after three hours. Up to 85 per cent of those people remain in hospital for further tests to rule out a heart attack, the researchers said.
Big heart attacks are often easy to diagnose with an ECG, but smaller heart attacks, which are more common, are more challenging, Jeremy Pearson, associate medical director at the British Heart Foundation, said in a statement. "The troponin test has been used for around 20 years and is currently the most powerful tool we have for diagnosing such heart attacks, but there is always room for improvement," he said.
Kaier noted that in current clinical practice, you need a highly sensitive laboratory test such as the Troponin T assay from Roche to diagnose acute myocardial infarction. If the troponin level is higher than an established threshold, clinicians need to repeat and track levels over time.
Several companies have tried to develop point-of-care troponin platforms, he noted, adding that the Abbott iSTAT "is decent for rule-in and diagnosis of myocardial infarction, but it doesn't achieve a limit of detection that is remotely close to the laboratory platform for ruling out."  He noted that Philips removed its Minicare handheld cardiac assessment system from the market last year, because the limit of detection of troponin wasn't at the level of sensitivity needed to rule out myocardial infarction.
"We often find that there is limited appetite or financial backing to try out a relatively novel marker on a point-of-care device," Kaier said. "In essence, to be successful, a point-of-care device would have to achieve the same level of sensitivity as a large laboratory analyzer, and detecting a couple of molecules of troponin in a blood sample has not been achieved at the point of care so far."
Even in the lab, the US could be as much as five years behind the rest of the world in the adoption of high sensitivity heart testing because of reluctance on the part of regulators to approve such tests. In recent years, the US Food and Drug Administration has cleared only one high-sensitivity troponin immunoassay, the Roche Elecsys Troponin T Gen 5 Stat blood test, Collinson said.
The test had been available in the rest of the world for seven years and its clinical diagnostic utility supported by more than 600 peer-reviewed publications, Roche said when it announced that it had received FDA clearance in January 2017.
However, more high-sensitivity cardiac troponin assays may be approved for use in the US soon. Siemens Healthineers announced the availability outside the US of its Advia Centaur High-Sensitivity Troponin I assay last May. Abbott's Architect Stat High Sensitive Troponin-I assay is available outside the US, and Beckman Coulter announced that its Access hs Tnl high sensitivity assay received a CE mark in November. Further, in November, Singulex applied for 510(k) clearance for its Clarity cTnl assay running on the Singulex Clarity system.
Kaier and his colleagues will eventually look to obtain not only CE marking that would enable them to market their device in Europe and other countries that accept the designation, but also FDA clearance to market it in the US. As a next step, the group plans to conduct a large prospective clinical trial that compares the utility of cMyC against troponin. Clinicians involved in the study would not know which marker they were using, he said.
In their quest to develop a point-of-care platform, the King's College researchers have already collaborated with AgPlus Diagnostics in Bedfordshire, UK. The firm conjugated their antibodies with nanoparticles to help them ascertain whether they could achieve a limit of detection sensitive enough for point-of-care testing. "At the moment this is all done on a wet assay, but it would be migrated on to dried-down cartridges for use on a point-of-care instrument," Kaier said. The group is looking to collaborate with commercial parties interested in moving it to the point of care and has spoken to potential partners in the UK and US, but it hasn't locked one in yet, he said.