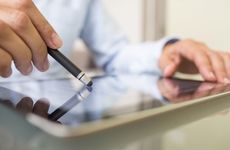 CHICAGO (360Dx) – It was 1817 when English physician James Parkinson published a seminal essay on the tremors, stiffness, and bradykinesia — slow movement — closely associated with the disease that now bears his name. Parkinson based his work mostly on observations of people walking through a London park.
A full 200 years later, little has changed in how the disease is diagnosed. While there may be some cognitive tests for Parkinson's disease symptoms, there are no definitive objective tests that are clinically available and diagnosis is still largely based on visual observation by professionals.
A team of researchers from Australia, however, have developed a technology based on a patient's handwriting, offering potentially a new tool to aid physicians in diagnosing the disease.
The problem with the current tried-and-true method is that tremors — not present in all Parkinson's patients — might not appear for a decade after the onset of the disease.
"By the time people go to a neurologist … it is typically 10 years after the actual disease might have started," according to Dinesh Kumar, a professor of electrical and biomedical engineering at RMIT University — formerly the Royal Melbourne Institute of Technology — in Melbourne, Australia, and who led the work to create the new method. "By the time people test [for Parkinson's], around 80 percent of the neurons have already been destroyed."
In a paper published this month in the journal Frontiers in Neurology, Kumar and his team describe their technology, which seeks to aid in the early, accurate diagnosis of Parkinson's, based on the fact that handwriting changes can indicate the degenerative disease.
Specifically, micrographia, or unusually small handwriting, manifests itself far earlier than tremors or visible muscle rigidity, and patients rarely come in for testing at that point.
"Because we fear the worst, if we see it happening to us, we can consciously try to make a change in that," Kumar said. "As a result, many times the micrographia does not set in or does not appear. We somehow manage to disguise it for a significant period of time."
Even if a patient does go in for a handwriting test, the doctor may not know what that person's handwriting had been earlier, Kumar noted. This makes conventional testing an inexact science.
So the RMIT team, working with a private neurology clinic in Melbourne, developed an electronic test, whereby patients trace spiral sketches on the screen of a tablet with a digital pen, rather than write words.
Because the researchers did not know what participants' handwriting was like prior to the study, they matched people with the disease to those of a similar age in the control group. The specific cohort in Melbourne had language issues, though; many trial participants were Russian immigrants, Kumar said. "They were very uncomfortable writing long sentences in English."
Also, handwriting varies so much among people, so it was difficult to group some of the trial subjects. Instead of handwriting, they followed the example of previous Parkinson's-related trials that used simple sketches, and asked participants to join dotted lines to form spirals, rather than drawing freehand.
"What we tried to do is use the dynamics of the writing," Kumar said. "Not the shape of what comes out, but the stroke and the speed and the acceleration and pressure."
Previous research found that sketching speed and pen pressure were associated with Parkinson's, but were not all that accurate in discerning the severity of the disease. To counter that, the Melbourne team developed a metric they dubbed the Composite Index of Speed and Pen-pressure (CISP)
Using tablet-based software that they developed and the CISP, Kumar and his colleagues were able to spot the presence and severity of Parkinson's disease with 93 percent accuracy, according to the paper.
"With the availability of digital devices that are suitable for recording hand-sketching, there is the potential for machine-based assessment of writing and sketching," they wrote in Frontiers in Neurology. "These devices are also suitable for obtaining the dynamic features of handwriting, which are suitable for real-time and reliable analysis. These features can be obtained automatically, allowing rapid online assessment of patients and developed for applications such as biometrics and indicative markers for PD."
The aim of their work, they said in the study, is to create a "reliable computer-based spiral sketching method" that can be used to evaluate the severity of Parkinson's in a patient. The method, they added, "proposes a new feature with stronger association with the severity of the disease."
The tablet device cost just a few hundred dollars, potentially making it feasible for low-resource parts of the globe, as well as in urban, post-industrial centers like Melbourne. Kumar believes this could help general practitioners detect signs of Parkinson's before referring patients to neurologists, saving the scarce resource of neurology appointments in much of the world.
Indeed, the idea for the electronic test came from when Kumar visited the Amazon jungle while on a fellowship. "You've got to have technology that works everywhere, and not just in Melbourne or L.A.," he said. The test can be administered while offline, so it works in areas with spotty internet access.
Also, the method could address a pressing need in Parkinson's treatment and management — early detection. There is no known cause of Parkinson's, and while dopamine-promoting drugs like levodopa can control parkinsonian symptoms to a certain extent, it is less effective as the disease progresses.
"It doesn't serve much of a purpose when most of the water has gone under the bridge," Kumar said. "Hence, the need of the day is to identify the disease ahead of what happens."
RMIT University is now looking to commercialize the technology, either through investors or partnerships.
Regulatory approval is not in the plans, however. "We do not want to classify it as a diagnostic tool," Kumar said. Instead, it is meant to assist general practitioners by flagging a key Parkinson risk factor to suggest that a referral is in order.
"We also don't want to be making enemies with neurologists," Kumar quipped.
Meanwhile, the research is continuing at two sites in Melbourne.
"At the moment, we are conducting experiments to see if we can differentiate between pre- and post-medication [states]," he said. Each dosage of levodopa is supposed to last about a day, so the researchers can test in the morning before the patients have had their medication."
The plan is to complete a longitudinal study over the next three years and to diversify the study cohort, Kumar said.
The RMIT University team wants to add sites beyond Australia and expand the study pool to more ethnicities, a key consideration because Kumar devised the idea while in Amazonia. "Ideally, we would like to do it in Asia as one of the primary places," he said, adding that Latin America is also of interest.
RMIT University provided this short video about the technology: