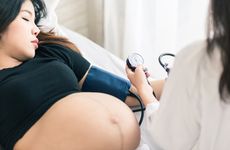 NEW YORK ─ Momm Diagnostics is developing a point-of-care test for preeclampsia, with the hope that it can be used by physicians to rule out the risk of developing the condition on the spot.
The Basel, Switzerland-based firm's approach is based on its electrical biosensor technology and runs on a blood sample using a test cartridge and handheld reader, not unlike a lateral flow test. The company believes its detection capabilities, paired with a low-cost offering, will enable it to serve a sizeable market, as between 10 and 20 percent of pregnant women develop the condition.
Momm Diagnostics is currently benchmarking its offering against other tests for preeclampsia, while courting investors to support a new phase of development, according to CEO Mathias Wipf, with an eye on reaching the clinical market in Europe in the next two years.
"The end of 2024 is realistic," said Wipf, who cofounded the company in 2018. "It depends on how quickly we can get investment and how quickly we can partner with bigger players," he said. Currently, Momm Diagnostics is running a performance study based around its feasibility prototype, but the next step will be to develop an alpha prototype for pilot testing, Wipf said.
"Then comes the whole regulatory path," he continued, which again is linked to financing, potential partnerships, as well as the regulatory landscape both in Europe and in the US.
Wipf began to work on the firm's electrical biosensor technology, called eFlow, together with cofounder Oren Knopfmacher while they were students at the University of Basel. He later worked with Knopfmacher at Avails Medical, an in vitro diagnostics company based in Menlo Park, California, where they focused on developing tests to combat antibiotic resistance and hospital-related infections. Knopfmacher is the CEO and cofounder of Avails. Some of the IP related to eFlow was filed by Avails in the US and later licensed to Momm Diagnostics.
Wipf relocated to Basel from Silicon Valley to further develop the technology and apply it in reproductive testing. In collaboration with Empa, the Swiss Federal Laboratories for Materials Science and Technology based in Dübendorf, he worked on the concept of an electrochemical immunoassay readout, which provided the cornerstone for Momm Diagnostics' platform.
Momm Diagnostics' focus on preeclampsia came from the firm's cofounders, who also include Meike Herget, CTO of Avails, and Michael Laufer, who sits on Avails' board of directors. "The idea to look into preeclampsia came from my cofounders, who have worked previously with preeclampsia biomarkers and have connections to people involved in the Preeclampsia Foundation," Wipf noted.
According to Wipf, the eFlow platform enables the measurement of low-abundant markers from a blood sample, down to the picogram per milliliter or nanogram per milliliter level, with a turnaround time of less than 20 minutes. Its preeclampsia assay measures two protein biomarkers associated with the condition, sFlt-1 and PlGF. The markers are printed on a paper strip, which is contained in a cartridge that can be inserted into and read by an electronic reader. 
The company's detection technologies rely on ion-sensitive electrodes printed onto lateral flow test strips, which are used to monitor reactions generated by a nanocatalyst that is proprietary to the company. The catalyst binds to the analyte, and the higher the analyte concentration, the more nanocatalyst and reaction rate. The company's platform employs the chromatographic effect of lateral flow assays for multiplexed analyte detection, Wipf said.
The reader meanwhile records the voltage generated by the electrodes, which eliminates the need for any optical components, making it cheaper than conventional lateral flow assay instruments. The use of the nanocatalyst allows Momm Diagnostics to improve on the limit of detection of conventional lateral flow assays, Wipf claimed.
"That gives us on one hand a higher analytical sensitivity, so we have a higher limit of detection than today's lateral flow tests, Wipf said, adding "For example, with the two markers we are using for preeclampsia, we have a hundredfold better limit of detection compared to conventional lateral flow strips." 
"For the markers we are using, it is important," he said.
Wipf said the current reader is about the size of an Apple iPad, though the company plans to reduce the size of the reader to that of a smartphone. He likened the reader to a blood glucose monitor and said that the reader could cost about €150 ($172). The price per assay has been estimated at €2.
By operating at that price point, Momm Diagnostics will allow obstetricians, gynecologists, and general practitioners to perform longitudinal testing of women with signs and symptoms of preeclampsia, which can include hypertension or swelling in the limbs, and may be due to other causes. Early treatment of the condition often includes low doses of magnesium or aspirin, but more urgent situations may lead to premature delivery.
Momm's test could thus support early diagnosis and medical intervention, and reduce health risks and healthcare costs, Wipf said.
Funding and the future
Since incorporating, Momm Diagnostics has supported its activities via several European and Swiss government grants. The company received €100,000 ($114,000) through the EU's Horizon 2020 program to lead PEDPOC, an effort to develop its handheld reader for detecting biomarkers associated with preeclampsia. That project commenced in May 2019 and ended in October 2020.
In January 2020, Momm Diagnostics received a CHF 1.2 million ($1.3 million) Swiss Innovation Agency grant to develop its prototype. That project will end in June. The company also received CHF 300,000 from the Swiss Nanoscience Institute's Nano Argovia program in January 2021 to develop an electrochemical biosensor for protein detection. The Nano Argovia project will run through December. The two Swiss projects also involve the University of Applied Sciences and Arts Northwestern Switzerland, and the Neuchâtel-based Centre Suisse d'Electronique et de Microtechnique.
"With these projects we financed the development of our prototype," said Wipf. "Now, we are looking for investors to take it to the next level."
Momm Diagnostics is currently carrying out a performance study to compare its test to other laboratory tests for preeclampsia that are already on the market in Europe. Thermo Fisher Scientific offers two immunofluorescent assays for measuring the PlGF and PAPP-A biomarkers associated with the condition using its benchtop Brahms Kryptor instrument. Both assays are CE-IVD marked. Roche similarly offers two CE-IVD immunoassays for measuring sFlt-1 and PlGF that run on its Cobas e 411, e 601, and e 801 electrochemiluminescence-based instruments.
"Our markers are set and the assay is set," said Wipf. "We want to benchmark our test and compare it with theirs." Wipf noted that these tests are run in labs and not at the point of care.
"We do consider them as competitors, but also as potential partners," Wipf said of existing tests on the market. "We see the potential that our rapid test to rule out preeclampsia during pregnancy checkups and in emergency settings is a sweet add-on to their central-lab based tests."
In terms of Momm Diagnostics' regulatory pathway, the company will seek clearance under Europe's new In Vitro Diagnostic Regulation, which is set to come into force in May.
Momm Diagnostics is interested in reaching the US market too, but its path to compliance is unclear. Wipf noted that Progenity is currently seeking US Food and Drug Administration clearance for a test, called Preecludia, for preeclampsia, and should it achieve clearance, it could impact how quickly Momm Diagnostics' test is assessed.
"Depending on whether we will have to go with a de novo application, or just follow a previous application, it will change the speed of how quickly we can get into the market," said Wipf.
The company is also interested in expanding its test menu into other pregnancy-related indications. "That will definitely be a focus," said Wipf. But the firm's technology could also find application in other disease areas. "Anything that needs higher analytical sensitivity compared to today's technologies is very interesting for our platform," said Wipf. "We can detect protein biomarkers sub-picomolar," he added. "That opens up possibilities for point-of-care solutions."