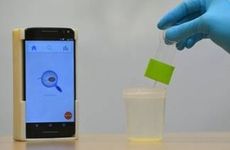 NEW YORK (360Dx) – Smartphone accessories can be a lot more useful than selfie extensions. One new add-on — a diagnostic test prototype — may help men determine whether they're fertile or not. 
The cell phone accessory analyzes sperm concentration and motility with 98 percent accuracy, a level that competes with computer-assisted testing and is better than manual testing, Hadi Shafiee, a principal investigator at Brigham and Women's Hospital, a nonprofit teaching affiliate of Harvard Medical School, said in an interview. 
Shafiee and his colleagues at BWH have teamed with investigators at Massachusetts General Hospital to develop the prototype, which may lead to a diagnostic test that men can use in their homes to get a result in less than five seconds. 
Their prototype, described in a paper published Wednesday in Science Translational Medicine, uses a disposable microfluidic chip that's also a semen sample container and is easily inserted into the phone attachment. The attachment slides onto the phone, and its optical components — lenses and an LED — align with the camera. Software with detection algorithms enable video recording of the sample on the chip. From the video, the system identifies live and dead sperm cells and monitors their movement to calculate concentration and motility. 
Concentration reflects the number of sperm cells in a sample, while motility reflects the velocity with which they are traveling, Shafiee said. 
The system compares its results with World Health Organization thresholds for abnormal semen samples and can then report whether the sample is abnormal or not. 
The investigators believe that test uptake may be driven by men and couples exploring why they are not able to conceive, and that the assay may foster compliance among men who have vasectomies and are unsettled about attending required follow-up tests in clinics. 
More than 30 million men worldwide are infertile, according to research collaborators at the Cleveland Clinic, Northeast Ohio Medical University, and Miami University, who have developed a way to calculate the distribution of male infertility around the world. And although male infertility is just as common as female infertility, it often goes undiagnosed.
A major restraint preventing test uptake is the requirement to provide semen samples at a hospital or clinic, Shafiee said. Standard-of-care testing can lead to stress and embarrassment, he added, and the tests are time-consuming and subjective. 
Shafiee and his colleagues want to help couples better pinpoint the source of infertility by developing a test that makes male testing "as simple and affordable as home pregnancy tests."
He noted that the new test, which operates without the need for a central laboratory, costs around $4, as it uses inexpensive polymethylmethacrylate materials that can be injection molded and hot embossed, and it doesn't require surface chemistry fabrication or chemical reagents in the chip. 
Injection molding and hot embossing used for mass production are different from the 3D printed method that the investigators used to produce the lab prototype, but switching to the new fabrication methods should be relatively easy and just as inexpensive, Shafiee said. 
The investigators said that their work shows that "the integration of microfluidics, optical sensing accessories, and advances in consumer electronics, particularly smartphone capabilities, can make remote semen quality testing accessible to people in both developed and developing countries who have access to smartphones." 
An alternate test — computer-assisted semen analysis — also analyzes concentration and motility as well as other parameters, and is used mostly in hospital clinics. However, the system is expensive, putting it out of the reach of consumers, and can cost clinics more than $50,000, he said. 
More advanced genomic and DNA-based tests are also available, but they are most suitable for people who are ready to decide on a course of therapy, he added. 
Celmatix, for example, is taking a different yet complementary approach to the smartphone assay by leveraging clinical and genomic data to surface insights that might better help couples struggling to conceive. 
"It has been well established that semen analysis performed in a clinical setting is subject to large degrees of variability," Celmatix CEO Piraye Yurttas Beim said in an e-mail. "Not all centers are as thorough and not all technicians are as experienced as others. Minimizing the impact of human error and variability the way this new technology is proposing to do will be a big step forward for addressing male factor infertility." 
Beim adding that "not all forms of male factor infertility are apparent in a semen analysis." Celmatix is developing a multi-gene panel test for subclinical male factors that contribute to infertility and other reproductive conditions, such as recurrent pregnancy loss. The company's Fertilome genetic test takes a similar approach and is already on the market. 
An over-the-counter fertility test for men is available at a price between $40 and $50, Shafiee said, but it does not measure motility, and that's an especially important parameter in providing accurate results. 
Medical Electronic Systems, a firm that produces an automated line of sperm quality analyzers used in hospital labs, universities, and fertilization centers, is offering the smartphone-based Yo home sperm test. The test is cleared by the US Food and Drug Administration and CE-marked, and can be ordered online for $49.95. It measures the concentration of moving sperm within three minutes and provides a video. It is 97 percent accurate, and inaccuracies are often due to user error, according to the firm. 
Although automation is available and the most accurate way to determine male infertility, most sperm analysis is done manually with the use of a slide and microscope, so the process when conducted in this way is highly subjective, Shafiee said. 
Of the various tests available, the BWH/MGH smartphone test would compete directly with over-the-counter fertility tests, Shafiee noted.  
"We are going to target direct-to-consumer, at-home use, and there may be a strong case for early adoption among men who have had vasectomies," he said, adding that around 500,000 vasectomies are performed annually in the US. 
Men who have received vasectomies are required to return to a clinic for semen analysis and to find out if the procedure was successful. "There is poor compliance around it," Shafiee said. 
The investigators may be ready to produce a commercial test and apply for clearance with the FDA within two years, but that depends on whether they receive the go-to-market funding they need — around $5 million, Shafiee said. 
Broadly, cell-phone solutions haven't had much success in medical diagnostics. 
For example, the Instant Blood Pressure app sold for $4.99 and was a top-50 seller in the Apple App Store before Apple removed it. By placing smartphones over their chests and one finger over the phones' cameras, users of the app could measure their blood pressure. 
But a study published in JAMA Internal Medicine last year reported that both systolic and diastolic blood pressures measured by the app were "highly inaccurate," compared to a standard blood pressure monitoring device. As a result, nearly 80 percent of users of the app with high blood pressure will be told incorrectly that they have low blood pressure. 
As of mid-2016, more than 200 medical and health apps have been approved or cleared by the FDA, an agency official said recently in an interview. That's less than 1 percent of all such apps. 
The semen analyzer under development by BWH and MGH has software that guides the user through each step of testing, but its features and capabilities extend far beyond what the app provides. 
To evaluate the device, the research team collected and studied 350 clinical semen specimens at the MGH Fertility Center. It also evaluated use of the test by trained and untrained users, and found that untrained users effectively implemented the test. 
The developers expect that the test can have a positive impact for the more than 45 million couples worldwide that grapple with infertility. 
"The ability to bring point-of-care sperm testing to the consumer, or health facilities with limited resources, is a true game changer," John Petrozza, a co-author of the study and director of the MGH Fertility Center, said in a statement.