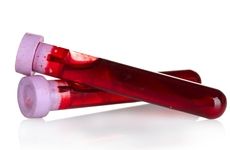 NEW YORK (GenomeWeb) – Israeli firm Sight Diagnostics is hoping to capture a piece of the $35 billion complete blood count market with the launch of its OLO point-of-care diagnostics system in Europe and other non-US countries.
The OLO system, a third-generation instrument from Sight, uses digital fluorescent microscopy and machine-learning algorithms to capture and analyze images of blood drawn from a finger prick. According to the company, founded in 2010, the artificial intelligence that conducts the analysis bases its evaluations on around half a petabyte of blood image data amassed over five years of clinical work.
An earlier version of the instrument, called Parasight, has been available in 24 countries for diagnosing malaria and has performed more than 600,000 tests. But the company is now turning its attention to commercializing the latest iteration of the device for gauging complete blood count (CBC) at doctors' offices and emergency rooms in the US, Europe, and in developing countries.
CBC, one of the most commonly performed tests when patients go in for a wellness visit, measures different components of blood, including red and white blood cells, hemoglobin, hematocrit (proportion of red blood cells to plasma), and platelets. Doctors use these measurements to evaluate a patient's overall health, as well as diagnose or monitor diseases and infections.
Based on the results of a recently completed clinical trial conducted at Israel's Shaare Zedek Medical Center, the company is now able to commercialize the instrument for CBC in European countries with a CE mark, as well as in other non-US countries.
The company also plans to launch OLO in the US. Daniel Levner, co-founder of Sight and chairman of its scientific advisory board, said the company has partnered with Boston Children's Hospital and Columbia University Irving Medical Center to do the analytical and clinical validation necessary for US Food and Drug Administration clearance of the device for CBC.
Because CBC is so often ordered by doctors, who want the results quickly to diagnose or monitor serious conditions and decide treatment, there is a need for point-of-care applications that can reduce wait times for results from outside labs, which can be at least 24 hours but can stretch up to a week. Last year, the FDA granted a CLIA waiver to Sysmex's XW-100 Automated Hematology Analyzer for CBC, which uses a 15 µL sample of venous blood to classify and quantify 12 different blood characteristics. According to Sysmex, the turnaround time for results on its system can be as little as three minutes. 
Before Sysmex received a CLIA waiver for its system, it had garnered 510(k) clearance for its XW-100 analyzer as a point-of-care system in 2015. The subsequent CLIA waiver, however, allows the analyzer to be operated at doctors' offices, clinics, and other healthcare facilities by a wider range of support staff. In order to receive this regulatory status, Sysmex had to show substantial equivalence to the 2015 model, provide simple instructions for test operators when results are outside a specified range, and reduce the number of hematology parameters gauged from 17 parameters to 12 to do away with results that are more prone to inaccuracy or warrant additional testing.
With OLO, Sight will pursue a similar strategy, pursuing FDA 510(k) clearance to first run its system as a point-of-care device in clinical labs, but subsequently, seek CLIA-waived status to enable broader access.
The design of the recently started US study will mirror the trial that Sight just completed at Shaare Zedek Medical Center's hematology lab in Jerusalem for CE marking. That study compared OLO's performance against Sysmex XN, and also demonstrated that OLO gives the same results when testing the same samples repeatedly, that it gives the same results on the same samples when different instruments are operated at different sites, and that it can detect a range of blood abnormalities.
The samples that powered this study came from 287 individuals between three months and 97 years old who were healthy and sick with ailments, such as cancer, anemia, iron deficiencies, and viral and bacterial infections. Because this study is slated for peer-reviewed publication, Sight is not disclosing the study findings.
The Israeli and US studies are designed to show the OLO point-of-care CBC test is substantially equivalent to the Sysmex XN automated hematology analyzer, which is performed in a lab. Sight is comparing its system to the Sysmex XN, instead of comparing it to the XW-100, Levner explained, because the aim is to demonstrate OLO is capable of lab-grade accuracy.
"Sysmex XN, being the superstar of lab-based instruments, was the highest bar that we could pick," he said, adding that because XW-100 gauges a limited set of blood parameters, it wouldn't allow Sight to test many of OLO's capabilities.
According to Levner, the company's goal is not to make any compromises with its point-of-care system, and give doctors "the full range of [CBC] parameters and the diagnostic accuracy you'd get form a central lab."  Sight claims its CBC test can accurately gauge 19 parameters from two drops of blood from a single finger prick (under 30 µL of blood) and reports results in 10 minutes.
The company has a patented sample preparation method that it claims has allowed it to overcome the challenges of finger-prick testing. OLO, however, can analyze both blood drawn from a finger prick and the veins. The company said it has data showing that both methods yield equally accurate CBC test results, and will further demonstrate this within its US clinical trial.
Before entering the CBC testing space, Sight gained experience with an earlier version of its point-of-care system, called Parasight, which tested for malaria. According to the US Centers for Disease Control and Prevention, in 2016, there were 216 million clinical cases of malaria  worldwide and 445,000 deaths, the majority of which occurred in African countries.
Microscopy, although the gold standard in malaria testing, involves experienced laboraticians evaluating blood smears on slides and is subjective. PCR is accurate, but costly, time consuming, and requires lab expertise. While rapid diagnostic testing has its advantages in remote areas, it is also limited, for example, in terms of being able to detect malaria when parasites are present in very low levels in the blood.
Aiming to improve on these limitations with its system, Sight conducted a number of clinical trials to evaluate the Parasight system against microscopy, PCR, and rapid diagnostic testing. Based on these studies (several of which have been published here, here, and here), the company claims Parasight, which can determine the parasite species and count, has a sensitivity and specificity of more than 98 percent at a limit of detection of 50 parasites/µL. 
With every study, Sight used its growing database of positive and negative samples to improve the performance of its algorithms. The company also made updates to the device. For example, the first-generation device could hold five samples, but the company expanded the capacity of the second version to hold 30 samples, suitable for operation in a medium-sized lab.
In a study published in 2017, the company reported using a lower limit of detection (20 parasites/μl in stead of the 50 parasites/μl in promotional materials), and the study authors noted that the company is aiming to get the limit of detection of the Parasight malaria test down to 5 parasites/μl. "We prefer to be conservative when reporting diagnostic accuracy, since we take medical claims very seriously," Levner said. "Accordingly, we picked the most conservative limit of detection to post" on our website.
Though Parasight uses blood draws, OLO and Parasight require a similar amount of blood and use the company's patented sample-prep method for digitizing blood and digital fluorescent microscopy. In developing OLO, however, Sight made a number of changes, because while Parasight was intended for mid-sized labs in India and Africa, OLO was developed for use in a doctor's office from the start.
OLO analyzes one sample at a time and features a hemoglobin analyzer that is important for CBC testing. The system has been engineered so it can be more compact and offered at a price point that enables its use in a doctor's office (though the company didn't provide pricing details.) And because the goal is to ultimately seek CLIA-waived status in the US, OLO has an interface that Levner described as having an "iPhone-like simplicity and user experience."
With the malaria test, the company learned a lot about the diagnostics markets in developing countries, for example, the level of support a lab in remote location in India may need to run its platforms. The company also had to figure out low-cost manufacturing methods that allowed it to operate in resource-poor locales. However, Levner acknowledged that "malaria is a tough market to build a company on."
While Sight will continue to sell its malaria test in Europe and developing countries, the company is hoping to grow its business with the CBC test in Western markets. With the CE marking in place for the OLO system, the company is working on its first sales agreement in Europe. In the US, Levner said the company may independently commercialize the platform at first, but will also explore partnerships as a way to expand its footprint.
In the future, Sight envisions being able to run a host of tests on its system, so the doctor can have a point-of-care testing hub in the office. Under a grant from the US Army Medical Research Directorate Kenya, Sight claims to have shown that its platform can perform both the malaria test and CBC on the same sample, in one test cartridge, and retain high accuracy in malaria detection.
While the company hopes to commercialize a platform that can do both these tests simultaneously, it has more clinical validation to do. "We do intend to clinically validate the malaria test on OLO in the future and offer it commercially," Levner said. "We will not make the claim that OLO can perform the malaria test until we've completed rigorous clinical trials to prove this capability."
Sight is aware that its product, a point-of-care device using a finger-prick blood draw, as well as its overarching aim to ease access and reduce cost of lab-quality testing, may sound a lot like what the once highly-valued Silicon Valley start-up Theranos promised but failed to deliver. "We're all reading Bad Blood," Levner quipped, referencing the popular book on the Theranos saga. "But we're doing things fundamentally in a different way."
"Internally, we have a whole pipeline of tests we're interested in pursuing, but we're being diligent," he said. "We're launching them one by one, and developing them with scientific rigour and validating them clinically."