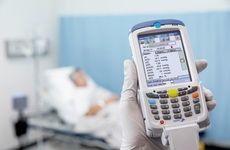 NEW YORK (360Dx) – Encouraged by the clinical utility that its recently acquired point-of-care system is showing in hospitals, Siemens Healthineers will soon launch a broader menu for its Epoc platform. Further, it anticipates that the POC system will strengthen a diagnostics portfolio that in the most recent financial quarter experienced challenges to financial growth.
In hospital systems, the overall, broad menu on the Epoc system benefits services that routinely perform blood analysis, including critical care units, the emergency department, radiology, cardiac catheterization labs, and outpatient centers, the firm said.
The handheld system is part of Siemens Healthineers overall point-of-care division, which brings in about 12 percent of its diagnostics segment revenues annually. The company reported last week that its laboratory and POC products were down 4 percent year over year for its fiscal Q3, and profits were held back by "significant currency headwinds and lower profitability in the diagnostics business resulting from the continuing rollout of the Atellica [laboratory] platform."
However, Epocal revenues grew in the double digits in Q3, Siemens Healthineers said. At the 70th American Association for Clinical Chemistry Scientific Meeting & Clinical Lab Expo in Chicago held last week, company officials said that the business, along with the firm's new laboratory products, will be crucial to the diagnostics business delivering on the most important pillars of its business strategy.
Michael Reitermann, president of the diagnostics segment, Siemens Healthineers, said during a presentation that expanding precision medicine, transforming care delivery, improving patient experience, and digitalizing healthcare were the most important goals of its overall strategy.
As one example of the potential of the company's products to achieve such goals, Kristie Campbell, the manager of point-of-care testing at Huntsville Hospital Laboratory in Alabama, said during Siemens Healthineers' presentation that mortality rates there dropped around 50 percent within the initial six months after the hospital implemented Epoc at the point of care, as part of a sepsis protocol, to test patient lactate levels in the diagnosis of sepsis.
"As we began to grow as a hospital and provide more complex care to our community, the need for point-of-care testing became very clear," she said, adding that the Epoc platform enabled clinicians at the hospital to get results within minutes compared to the 30 minutes required by the hospital's advanced, highly-automated system that it uses for central laboratory testing.
Lactate is one of 13 measurements that can be performed on the Epoc system. The others include pH, partial pressure of oxygen, partial pressure of carbon dioxide, sodium, potassium, ionized calcium, hematocrit, glucose, lactate, creatinine, chloride, blood urea nitrogen, and total carbon dioxide.
Siemens Healthineers purchased the Alere Epocal business that produces Epoc from Abbott late last year, and in February it added new markers to the handheld device. Siemens Healthineers also received US Food and Drug Administration clearance for use of the markers, which are blood urea nitrogen (BUN) and total carbon dioxide (TCO2), to aid in the diagnosis of renal diseases and metabolic imbalances.
According to the company, the purchase of the Epoc device provides it with a complete offering for blood-gas diagnostics, including benchtop and central-lab systems as well as the handheld platform.
In the longer term, Siemens Healthineers could look to place the Epoc handheld system outside hospitals in settings such as physicians' offices and clinics, Peter Koerte, president, point of care, Siemens Healthineers, said in an interview at the AACC meeting. "By adding BUN, we completed the basic metabolic panel, which is significant because it is frequently used by doctors," Koerte said.
At the time of the Epocal acquisition, the handheld Epoc was one of two instruments with similar menus on the market, the other being Abbott's i-STAT handheld point-of-care system. Both the Epoc and i-STAT instruments were invented by Imants Lauks, the founder of Epocal.
After developing i-STAT and selling it to Abbott, Lauks started investigating ways to create a POC system with alternate design elements, and that led to Epoc, Koerte said.
The Siemens handheld system has a broad array of sensors embedded in a cartridge that can test for a range of analytes simultaneously. Among the most useful benefits is that its cartridge is temperature stable, so "people throughout the hospital don't have to track and control temperature with all of its associated issues," Koerte said.
The point-of-care system provides results within minutes to clinicians treating patients with critical illnesses wherever they are located in the hospital. Clinicians are also using the system in the diagnosis of chronic diseases, and around half of the US adult population has one or more of these conditions, Reitermann said.
In critical-care testing, time is of the essence, and in chronic disease testing a point-of-care system must also enable more convenient tracking of patient conditions than is possible with laboratory testing, Koerte said.
Having control over point-of-care testing in a hospital system is also critical, and the Epoc analyzer's data can be integrated with data from many manufacturers' point-of-care analyzers within hospital information systems with its POC ecosystem, Koerte noted.
The largest hospital systems have up to 2,000 point-of-care devices that are distributed throughout different facilities and operated by users at various levels of expertise by healthcare staff. "To know where the point-of-care devices are and what they are doing is really important," he said. To that end, with its acquisition of Conworx Technology in 2016, Siemens Healthineers obtained an informatics solution that can integrate information into a single data depository from more than 170 different POC devices, including Epoc systems, and these systems are provided by more than 140 manufacturers.
With respect to the purchase of Epocal from Abbott, Koerte noted that antitrust authorities believed that purchasing Alere would give Abbott 100 percent of an important part of the point-of-care diagnostic market. "They looked at it, they concluded that it had to be put up for sale, and the rest is history," he said. In acquiring the point-of-care business from business rival Abbott, "we had to climb some hurdles, but in the end we prevailed."