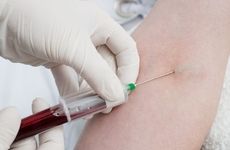 NEW YORK (360Dx) – With a new €2.5 million ($3.1 million) grant, PixCell Medical Technologies aims to have its test on the European clinical market by early next year, followed by a launch in the US.
Yokneam, Israel-based PixCell was awarded the grant recently by the European Commission. With it, the firm plans support the development of its point-of-care testing device called HemoScreen, which it claims enables users to perform a complete blood count analysis within minutes.
CEO Avishay Bransky said that the grant will support the completion and commercialization of the device, "specifically in evaluating its clinical benefit and economic benefit to physicians and users," and will allow PixCell to scale up production of its disposable cartridges.
The grant, which will run for two years, was made via the EU's Horizon 2020 program for small- and medium-sized enterprises. "The incentive of this grant is to support new innovation that will have a significant impact on the European economy, and also improving healthcare of European citizens," noted Bransky.
Bransky cofounded PixCell in 2009 to commercialize a method he developed called viscoelastic focusing (VEF), a physical phenomenon he observed as a biomedical engineer at Technion Israel Institute of Technology. VEF is based on the concept that specific fluidic properties cause particles to align in the center of a flow, forming a single layer plane or file. Once they are in focus they can be detected and analyzed using imaging and machine-learning algorithms.
"We have an image of the cell, which includes its morphology, stain property, the size and so forth," said Bransky. "We actually extract a hundred properties of the cell, which allows us to identify cancerous cells, abnormal cells, different blood disorders, in a very small portable device," he said. "This is because we use AI rather than the standard approaches."
Based on the features it extracts from the cells using its imaging techniques, PixCell's AI algorithm creates a "hyperplane within a hyperspace of properties," where the cells are clustered according to various properties based on datasets created by human experts. "Humans classify the cells based on different images;" said Bransky. "The algorithm learns and creates a mathematical model, which is later used in real time to classify real cells in our product."
PixCell has worked to encapsulate the approach in a microfluidic cartridge that can then be read by a handheld instrument at the point of care. Its debut assay is for complete blood count, a test ordered by physicians that provides basic information about the cells present in a patient's blood. Currently, a CBC test is typically carried out using either microscopes and blood smears or, in laboratories using laser scattering, a method that has been in use since the 1960s.
According to Bransky there is an unmet need for a portable version of such a test.
"There are almost a billion CBCs done in the US and these types of tests are usually done only in the lab requiring physicians and requiring maintenance and supervision," Bransky said. "Using our device is ... like using a smartphone," he said. It's made possible by the company's disposable cartridges that contain the reagents and fluids necessary to carry out the assay on the spot.
"The sample is automatically prepared inside the cartridge without any user intervention," said Bransky. "The device … can be operated in ambulances, in the field, at home," he added.
This has also enabled the company to sell HemoScreen for roughly $5,000, as it requires no investments in liquid handling tools, which would raise its price. Equivalent systems, he estimated, might run between $20,000 and $40,000.
According to Bransky, the resulting HemoScreen test is already being used at some beta sites in Denmark and Sweden where point-of-care testing is more common and there are more early adopters. This will be followed by a limited rollout early next year in "specific segments and countries in Europe" where it is more likely to be adopted first, such as Belgium, Denmark, Holland, Sweden, and Switzerland.
PixCell obtained a CE Mark for HemoScreen five years ago, but has not yet commercialized it to date, because it lacked the ability to produce a large amount of cartridges and wasn't ready to deploy the device, Bransky noted.
PixCell then plans a larger-scale international launch, including in the US, later in 2019, once PixCell is able to achieve US Food and Drug Administration 510(k) clearance for HemoScreen. Bransky noted that PixCell has already completed a few studies in the US with partners toward generating the data necessary to make it through the 510(k) process.
According to the firm, the trials involved untrained operators testing "thousands of blood samples covering a variety of blood disorders showing excellent correlation to high-end lab analyzers." They were carried out with partners at the University of Maryland and the University of Mexico, Bransky noted.
The company however is not building a ground operation in the US, and will instead look for partners among entrenched players on the hematology analysis market to sell its platform. Bransky named Roche Diagnostics, Abbott Laboratories, Sysmex, and Siemens as companies that might be interested in commercializing HemoScreen.
The companies continue to bring new hematology platforms to market. In January, Abbott gained a CE Mark for its Alinity h-series system, a high-throughput instrument that can process 133 CBCs per square meter. In November, the FDA provided Sysmex with a CLIA waiver for its automated XW-100 Automated Hematology Analyzer, allowing it to be used in a variety of settings, including doctors' offices and clinics.
"All of these large companies have invested in similar products that have ended for some reason or other. Others are still pursuing such a product, and there are a few companies that are developing similar products," noted Bransky. "It's a widely recognized, unmet need."
Indeed, a number of other companies are also planning to debut POC blood tests to market. Irvine, California-based FluxErgy, for instance, has developed a portable microfluidics system for blood testing, with HIV as a primary assay. Abbott Diagnostics has also developed a handheld system called i-STAT that supports a menu of common blood tests. The FDA cleared the system, which relies on quantitative amperometric technology, for the measurement glucose oxidase, last year.
Given PixCell's "razor blade sales model" of supplying cartridges for use on the HemoScreen device, other assays are in development. Bransky said the assay closest to commercialization, after CBC, will be for measuring the presence of C-reactive protein, a marker of inflammation, in blood. "Together with the CBC, it's a very good predictor for a physician on whether or not to prescribe antibiotics," he said.
Bransky said the company should have its CRP test ready within six to eight months in a different cartridge, while other tests will follow. He said the company is also interested in developing an assay for hemoglobin A1c, a marker used for gauging blood sugar levels in diabetics during a two- or three-month period.
"This is a platform technology," said Bransky. "Our vision is to transform blood testing and to make it accessible to everyone everywhere, not only to developing countries, remote communities, or rural areas," he said, citing oncology departments as potential users for such tests.
PixCell is also eyeing applications in the veterinary testing market, Bransky added. "People actually pay more for companion animals than for humans," he said of veterinary testing. To support these ventures, the company, which has raised more than $10 million since it was founding, will likely seek additional funding later this year, Bransky said.