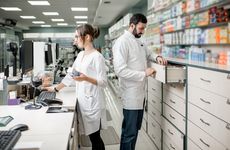 NEW YORK – Advocates of pharmacy-based diagnostic testing are looking to build on momentum generated during the COVID-19 pandemic.
While point-of-care testing was a growth area for pharmacies even before the pandemic, the centrality of pharmacies to specific initiatives like the federal government's Test to Treat program for COVID-19, and to COVID-19 testing, generally, has raised their profiles as sites for diagnosing and treating a variety of conditions, said Michael Klepser, a professor of pharmacy at Ferris State College of Pharmacy.
"I think [the pandemic] has definitely raised the awareness of what kind of things can be done in the pharmacy," he said, noting that industry organizations are now pushing to expand pharmacies' testing and prescribing authority.
According to Vince Stine, director of government affairs at the American Association for Clinical Chemistry, as of 2021, pharmacies comprised more than 8 percent of the country's CLIA-waived labs, second only to physician offices. He noted that there are currently more than 26,000 CLIA-waived pharmacy labs, up from around 240 in 1995.
Rules governing pharmacists' ability to offer testing and prescribe medication based on the test results are largely handled at the state level, with state laws varying widely. According to the National Alliance of State Pharmacy Associations (NASPA), five states currently give pharmacists direct prescribing authority, meaning they can prescribe drugs for certain conditions (typically those that can be diagnosed via a CLIA-waived test). Thirteen states currently allow pharmacists to prescribe medications for certain conditions diagnosed via CLIA-waived tests provided they have entered into a collaborative practice agreement — a legal arrangement between a doctor and a pharmacist (or other provider) under which the doctor delegates certain aspects of medical practice.
With regulations varying state by state, organizing a broad push for more pharmacy-based testing has been challenging, Klepser said. He suggested, though, that growing interest among large national pharmacy chains could help drive that effort forward.
Klepser said that NASPA recently signed an agreement with "one of the large chain pharmacies in the country" to train roughly 2,400 pharmacists on point-of-care testing using a training program he and colleagues developed.
"Pharmacists have never really been trained to collect specimens — throat swabs, nasal swabs — to run these tests, and so we developed this program as a way to give pharmacists the confidence and experience to do these tests and to develop disease management services supported by these [testing] activities," he said.
Klepser noted that while roughly 7,000 pharmacists in total have been through the program, individual training sessions have typically been for relatively small numbers of pharmacists and confined to a single state. The recent NASPA training agreement, by contrast, will involve thousands of pharmacists across multiple states.
"Usually, when we've trained with chains, it's been like, 'OK, we can train the pharmacists in this state,'" Klepser said. "And they would pick one state like Michigan or Florida, whereas this is a multiple state commitment."
Large chains, he added, want to do it in several states once the program has started rolling out. "They want to take it everywhere they are at, because it makes it easier for them," he said. "So, when you get people like this involved, hopefully it moves the needle on some legislation and opportunities."
According to a roundup of pending legislation published by NASPA in August, 167 bills related to pharmacists' scope of practice have been introduced in 38 states in 2022, including a number covering collaborative practice agreements and point-of-care testing and prescribing of therapy.
At the federal level, the 21st Century Cures 2.0 bill, introduced last November by US Rep. Diana DeGette, D-Colo., would provide coverage for pharmacogenetic consultations performed by pharmacists.
Klepser said that from his perspective, a model state-level arrangement is similar to one in Idaho, where pharmacists have direct authority to prescribe therapies for conditions that can be diagnosed or otherwise monitored using a CLIA-waived test.
Collaborative practice agreements are "the next best thing," he said, though he noted that finding physicians to partner on such agreements can be challenging, particularly for smaller pharmacies. Additionally, in some states, collaborative practice agreements only apply to patients of the physician with whom the pharmacy has entered the agreement, making them somewhat limited tools. That restriction also constrains pharmacists' interactions with individuals who don't have a primary care provider, Klepser said.
During a presentation at the Next Generation Dx Summit in August, Kenneth Hohmeier, associate professor of clinical pharmacy and translational science at the University of Tennessee Health Science Center, suggested that an ongoing transition in the business models of large chain pharmacies was driving increased interest in pharmacy-based testing.
"There is a really big shift happening in the C-suites of most chain pharmacies, and it is the realization that the prescription product is not a viable business model," he said, predicting that over the next 10 to 20 years, drug prescriptions would cease to be a major part of these firms' business.
This has led to "a real urgent need to shift or at least diversify the way that pharmacies get their bills paid," he said.
Also speaking at the Next Generation Dx Summit, Nicole Schreiner, owner of Streu's Pharmacy in Green Bay, Wisconsin, suggested that independent operators view the situation similarly, noting that her business is "definitely looking for revenue diversification" and sees point-of-care testing as one promising option.
"The typical community pharmacy has a very difficult time making ends meet based on prescription reimbursement alone," she said. "So we need to be service oriented and we need to have a diversification of services."
Schreiner said that prior to the COVID-19 pandemic, her pharmacy had been "dabbling in point-of-care testing for years," offering hemoglobin A1C and cholesterol testing. During the pandemic, the pharmacy brought on COVID-19 testing, using LumiraDx's SARS-CoV-2 rapid antigen test. She said the store now plans to add flu, strep, hepatitis C, HIV, and INR testing.
Hohmeier said that another important shift within the industry has been an increase in the number of pharmacists with doctoral degrees driven by changes in licensing standards. This, he noted, has created a population of highly trained pharmacists, many of whom are working "at the very bottom of what their training allows them to do."
This combination of a shift in business models, a highly trained workforce, and the fact that, according to Hohmeier, the average American visits the pharmacy more than twice as often as they do a traditional medical provider, makes for a "kind of perfect storm" around pharmacy-based testing, he said.
To date, pharmacy-based testing has largely focused on infectious diseases like flu, strep throat, HIV, hepatitis C, and, more recently, COVID-19. Hohmeier, however, believes pharmacies can play a larger role in areas like medication and chronic disease management and public health.
Hohmeier also highlighted a number of considerations for point-of-care vendors looking to supply pharmacy labs, noting that these settings differed in key ways from more traditional settings like physician offices.
For instance, he said, the decentralized nature of the pharmacy business brings with it unique purchasing and procurement needs. A chain may have 50 or more locations across a large urban center, each with different and shifting levels of demand, he said, noting that this requires more flexible solutions for inventory management.
Additionally, pharmacies are often looking for turnkey solutions, including training materials for technicians and workflows adapted specifically for the pharmacy environment, as opposed to a traditional medical office, Hohmeier said. "We really do need kind of a soup-to-nuts entire package, because there just isn't the time to create an entire implementation strategy."