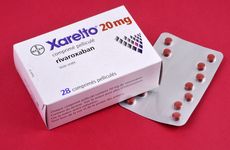 NEW YORK –Perosphere Technologies hopes to fill a testing gap in emergency rooms with a rapid point-of-care instrument that can determine the coagulation status of patients taking any anticoagulant, including a direct oral anticoagulant (DOAC).
Unlike the tests currently used to detect warfarin or heparin activity, the Danbury, Connecticut-based firm's PoC Coagulometer is a drug-agnostic infrared spectroscopy instrument used to identify a patient's coagulation status without reagents. Perosphere CEO Sasha Bakhru said that while a prothrombin time (PT) test is good for determining whether a patient is taking warfarin and an activated partial thromboplastin clotting time (APTT) test is good for determining whether a patient is taking unfractionated heparin, neither of those tests provides an overall view of coagulation status nor can they indicate whether a patient is taking a DOAC such as Xarelto (rivaroxaban), Eliquis (apixaban), and Savaysa (edoxaban).
"With our coagulometer, you get a clotting time, and you get that in roughly three to eight minutes, depending on if the person is normal or anticoagulated," he said. "If the clotting time is in the normal range, roughly 200 to 300 seconds, they're normal. If they have a clotting time that is significantly elevated, they're anticoagulated, they're abnormal."
According to Bakhru DOACs have been displacing warfarin in anticoagulant prescriptions, leaving an unmet need for tests, especially in emergency departments, and he expects DOAC use will rise further as generic options come to market.
An article published two years ago in the Journal of the American Heart Association indicates DOAC prescribing has risen as warfarin prescribing has declined, a decision supported by study results that indicate DOACs are more effective and generally safer than warfarin. Medicare and Medicaid data indicate that, from 2014 to 2019, anticoagulation claims rose from 23.5 million to 30.6 million prescriptions annually driven by increases in Eliquis and Xarelto prescriptions, yet warfarin prescriptions declined during that period from 17.2 million to 10.4 million claims.
Dr. Nicholas Cozzi, EMS medical director at Rush University in Chicago, said it's typically easy to determine the coagulation status of a patient who is on warfarin using an internal normalized ratio (INR) measurement, whether that patient is presenting to an ER following a stroke or is undergoing routine monitoring. But identifying whether a patient has been taking a DOAC is much more difficult, he said.
"We don't have a specific blood test that will help us determine what the blood level is at or if the patient is actually taking that medication," Cozzi said.
Cozzi, who is not affiliated with Perosphere, said a test that could pick up that altered coagulation status would help doctors determine whether to administer blood thinning medications to an unresponsive patient who arrives in the ER with classic symptoms of stroke. That treatment could reverse much of the effects of the stroke, but the doctors first need to determine whether the patient is on any anticoagulant drugs and, if so, when they last took their medication.
Perosphere's battery-operated handheld instrument is designed to be kept at a patient's bedside. It uses a disposable cuvette, which is warmed inside the instrument to body temperature before a 14 microliter sample, a drop of blood, is added. The instrument uses infrared spectroscopy to determine the time to fibrin clot formation. Bakhru said the company has found that the instrument has provided precise anticoagulation level readings in studies with DOAC and heparin drugs and it has developed reference intervals across patient ages, races, and genders.
The firm is finishing development of its coagulometer and planning to commercialize the technology with the backing of a pair of grants totaling $2 million from the National Institutes of Health. The firm announced last month it received a Direct Phase II Small Business Innovation Research (SBIR) grant from the NIH National Heart, Lung, and Blood Institute and an award through an Atlanta Center for Microsystems Engineered Point-of-Care Technologies Center Grant from the NIH National Institute of Biomedical Imaging and Bioengineering.
Perosphere Technologies is a spinout from a company Bakhru founded in 2011, Perosphere Pharmaceuticals, which developed the DOAC reversal agent Ciraparantag (aripazine). While developing that agent, the company needed a way to measure the reversal effect and found no commercially available options, he said.
Perosphere Pharmaceuticals was bought by AMAG Pharmaceuticals in 2019, and Covis Pharma bought AMAG in 2020.
Bakhru's team at Perosphere Technologies used in its early clinical trials the Lee-White clotting time testing method of placing blood tubes in a body-temperature water bath and tilting the tubes to check for clots, but he said that method is impractical in an ER.
"We weren't going to train folks in emergency departments to tilt test tubes in a water bath," he said.
The firm tested several methods and found coagulation status could be measured using infrared spectroscopy and differentiate between patients who were taking anticoagulants and controls.
Perosphere secured in May 2021 CE marking for use of the PoC Coagulometer to test patients on DOAC and heparin therapies and Bakhru said the firm is identifying target markets in Europe ahead of a commercial launch there sometime in 2024. Bakhru declined to estimate how soon the instrument will be available in the US but said the company is currently trying to determine the best pathway to gain US Food and Drug Administration marketing clearance.
"There's significant DOAC usage in all of the major Western markets as well as a number of other markets around the world," he said.
Emergency department physicians in Germany, for example, have indicated they see a need for a test capable of identifying the patients who are taking DOACs and whether they are anticoagulated.
Cozzi, from Rush University, said a test such as Perosphere's could close information gaps about whether a patient has normal coagulation status. If he were to use a test, he would want to know that it was not only sensitive enough to indicate a patient has been taking a coagulant but also that the results provide doctors with information they can use when deciding whether to administer a reversal agent. When a patient has been taking warfarin, he said, he can see from the INR results what dosage of the reversal agent is needed.
Cozzi said that giving doctors more actionable information quickly at the bedside helps them determine the best treatment plan and deliver personalized medicine.
Perosphere may have competition in the DOAC testing space. University of Pennsylvania spinout FloBio recently announced it received FDA breakthrough device designation for a point-of-care automated hemodynamic assay that would also provide information on a patient's blood clotting status, including anticoagulation from DOAC use. A research team in Europe wrote last year in the journal Thrombosis and Haemostasis about the potential to create a point-of-care test to detect effective anticoagulation by DOACs in urine using a CE-marked colorimetric reagent strip for qualitative determination of oral thrombin and factor Xa inhibitors.
Perosphere is also looking further down the road at development of its next assays starting with a lysis time assay that would use the same instrument to measure fibrin clot breakdown time to help guide tissue plasminogen activator therapies in stroke patients, The company has begun studies toward development of that test.
The firm is yet to set a price for the instrument but Bakhru said it will be in-line with other handheld laboratory and point-of-care testing instruments. The cost per test, too, will be in-line with similar specialized tests, he said.
"I think there's a significant patient population that could benefit from this, and, again, I think the unmet need today is the same as it was almost a decade ago" when Perosphere Pharmaceuticals was conducting its clinical trials for Ciraparantag, he said.