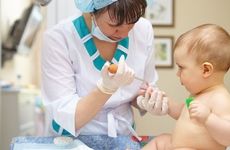 NEW YORK – Drawing blood may be a primary enabler of diagnostic testing, but the procedure can be especially problematic for premature babies. That's why researchers at the University of Strathclyde in Scotland are looking to validate a proof-of-principle prototype that measures and monitors blood chemistry levels through the skin without the use of needles.
The system uses a skin patch fitted with gel-based electrodes to collect and measure levels of glucose and lactate — clinical values that are frequently required for premature and sick babies.
The approach underpinning the measurement system is made possible by the skin's permeability to small molecules and its nanoporous and microporous structure, Patricia Connolly, a professor of biomedical engineering at Strathclyde who is leading the test's development, said in an interview.
The sensor extracts biological molecules and ions across the skin and measures the rate of flow by unit area as well as skin permeability before using Bluetooth to send associated glucose and lactate levels to a mobile phone. The patch is being designed to be placed on a baby's stomach and to take measurements in real time while transmitting values that can be read within 30 seconds.
"We have found that it is quite easy to readily collect levels of glucose, lactate, and the electrolytes — potassium, sodium, and chloride — through the skin," Connolly said.
Connolly is the CEO of Strathclyde University spinout Ohmedics, which is developing the test for commercialization. She said the firm anticipates positioning the device as an alternative to repeated blood draws obtained from pricking heel capillaries or veins that can cause distress in premature and sick babies and create health risks. The device may also be used for testing blood chemistry in adults, she said, adding that the group has done preliminary clinical testing in that patient population.
She and her colleagues have been developing the test for 10 years and published a description of its design and operation. For the first time they are seeking to validate use of the technology with premature babies by taking measurements in a clinical setting.
They kicked off validation testing for the proof-of-concept tool at the Neonatal Unit of the Royal Hospital for Children in Glasgow in December and anticipate completing the trial by the end of this year.
The investigators are taking several measurements from each of 20 babies during the course of the trial, Connolly said. The babies generally remain in the ICU for weeks or months.
If all goes as expected with the current clinical trial, the researchers expect to be able to advance the development of their current proof-of-concept prototype and make available a test for use at the point of care within about two years, Connolly said.
"The new approach may enable noninvasive and continuous monitoring of glucose, lactate, and other clinical parameters for future use in hospitals," Neil Patel, a pediatrician working in the neonatal unit of the Royal Hospital for Children in Glasgow who is testing the device, said in an interview.
The device may prove especially useful during the treatment of babies who are born prematurely for several reasons, he said. Current procedures to track levels of electrolytes such as glucose, lactate, sodium, and potassium require blood draws, which can be distressing for babies and deplete them of blood at the time when they are already vulnerable, he said, adding some babies he treats in the intensive care unit need to have blood samples taken four or more times every day.
Clinicians are concerned about long-term development effects on the lives of babies from frequent blood draws, Patel said. Further, frequent blood draws can necessitate blood transfusions that carry health risks for babies. The new sensor by its very nature could help reduce that frequency of transfusions, he said, adding that its use beside the patient could enable testing in settings with little or no access to clinical laboratories.
Strathclyde University, Royal Hospital for Children, and Ohmedics have been developing the new device with the support of a grant for an undisclosed amount obtained through the Grand Challenges Explorations initiative of the Bill & Melinda Gates Foundation.
Connolly said she believes that the completion of the current trial will bring the research phase of the test's development to a close, validate it as a proof-of-concept, and enable the company to engage in developing it as a commercial test. An extensive clinical trial will then be required prior to submitting the test for approvals with US and European regulatory authorities, she noted.
Glasgow Children's Hospital Charity provided an undisclosed amount of funding for the preparation of the current validation trial.
Ohmedics is currently completing the final design of the product and tooling up for manufacturing, Connolly said. The firm, founded in 2009 to commercialize sensor-based, portable medical devices and diagnostic tools, has a product in the market for wound dressing monitoring in Europe and the Middle East. It has a third product in development, Connolly said, that uses an electrical method for identifying bacteria and for which the firm intends to target testing in the home.
With its test for premature babies, the firm is in discussions with "major healthcare companies" interested in marketing and distributing the device to hospitals in the US and Europe, Connolly said, adding that the firm is also in discussions with other potential partners about marketing and distributing the device to consumers for testing of glucose levels and other parameters in homes.
Shona Cardle, chief executive of Glasgow Children's Hospital Charity, said in an interview that around 1 in 10 babies born in Scotland require care in a neonatal unit, of which many need blood draws regularly for testing. Almost 2,000 each year are treated in one of Glasgow's neonatal, special care baby, or neonatal intensive care units.
"Each one of these babies faces a daily fight for life that requires all of their strength," she said. "Developments such as [Ohmedics' device], which can minimize the distress of invasive blood tests, are a huge step forward in helping to ensure these babies are given every opportunity to win their fight."