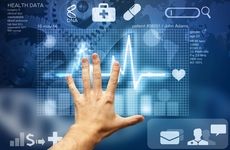 CHICAGO (360Dx) – The elusive goal of interoperability of electronic healthcare information has gotten ever so closer to being realized with the release of a new standard meant to link structured, coded data directly from in vitro diagnostic devices to laboratory information systems and other health IT.
Last month, the IVD Industry Connectivity Consortium (IICC), a group tasked with standardizing data exchange between medical devices and information systems, published a specification called LIVD, for LOINC IVD. This specification maps IVD test results directly to Logical Observation Identifiers Names and Codes (LOINC), a code set for identifying lab procedures and results.
"The main issue from a laboratory point of view," explained IICC President Serge Jonnaert, "is that there wasn't always a one-to-one relationship between a LOINC code and a test you would run on an instrument."
LIVD is meant to complement the Laboratory Analytical Workflow (LAW) profile created by Integrating the Healthcare Enterprise (IHE) International, an initiative for promoting interoperability of electronic healthcare data. The LAW profile contains rules for exchanging orders and results between IVD devices and health IT systems.
LIVD and LAW are "two synergistic standards that together offer a plug-and-play system," according to Jonnaert.
"We always had aimed to make that a fully plug-and-play solution," Jonnaert said of the LAW profile. However, LAW did not cover vocabulary. "That was a LOINC/Regenstrief issue," he said.
The Regenstrief Institute, an Indianapolis-based health technology research organization, developed the freely available LOINC code set in the 1990s. Daniel Vreeman, director of LOINC and health data standards at the Regenstrief Center for Biomedical Informatics, said that harmonization of IVD outputs with lab coding was part of the early vision of LOINC developers.
According to Jonnaert, development of the LIVD standard took nine years. Only last year did work accelerate, when the IICC held discussions with multiple parties inside and outside of the US government. Participants came from the National Institutes of Health, the Food and Drug Administration, the Office of the National Coordinator for Health Information Technology, Regenstrief, IVD makers, and software vendors, in a quest to "guarantee a one-to-one relationship," said Jonnaert, who is also managing partner of technology marketing consulting firm Tensei, based in San Clemente, California.
Vreeman said that the motivation for the final push came from the vendor side. "When they hear it from their customers, they pay attention," he noted.
In the early part of this decade, Vreeman started seeing vendors make the association between LOINC and LAW codes in their own product documentation, usually as optional PDF files accompanying technical manuals for operating IVD devices. "It picked up steam to where most of the major vendors had some associations," he said.
Still, PDF instructions on how to associate LOINC codes with laboratory information systems necessitate manual processes, a common source of errors. "This [new standard] allows it to be automatable," Vreeman said.
By following the LIVD standard, IVDs will be capable of automatically sending structured lab values to the electronic health records rather than merely transmitting plain text or non-machine-readable PDF reports.That makes LIVD an important link in the quest for EHR interoperability.
"The lab is one of the largest sources of structured clinical data," Jonnaert said. "Yet, it's often overlooked as part of the overall health IT picture."
Lab interoperability "is always seen as a lower priority" in the bigger EHR interoperability picture, he noted. "This is about getting structured data out of the lab." And because the data is structured, it is ready to be run through an analytics engine, Jonnaert said. 
"Now, pretty much everybody will use the same format and same type of reporting," he added.
"If you can move the standardization effort upstream, then everyone downstream who uses the data will benefit," Vreeman explained.
Currently, instrument managers and end users of IVD devices are able to download device-specific versions of the LIVD specification from manufacturers that make such files available. Jonnaert said there has been discussion about creating a web portal to act as a centralized repository of files, but there has been no agreement so far.
Vendor participation is voluntary, so there also is no guarantee all will join. Vreelman indicated that most of the major players took part in the standards development process. "But the proof is in the pudding," he said.
Abbott Laboratories, Roche and BioMérieux are among the companies that have said LIVD will available on product websites for labs to download.
BioMérieux announced in April that it had updated its Vitek 2 system — for automating biochemical microbial identification and antibiotic susceptibility testing — to support the LAW profile. The new Vitek software version 8.01 also supports LOINC coding, the French devicemaker said at the time.
BioMérieux was unable to make a representative available for comment on this story.