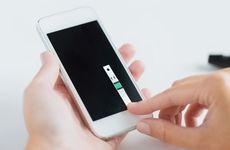 NEW YORK (360Dx) – Geisinger is partnering with Healthy.io and the National Kidney Foundation to run clinical trials on a smartphone-based test to determine the utility of the device to detect chronic kidney disease in patients with high blood pressure.
According to Alexander Chang, an assistant professor and clinical researcher at Geisinger, CKD is typically defined as either having persistently low glomerular filtration rate (GFR) or as presenting kidney damage due to preexisting conditions. If untreated, CKD can progress to the point where a patient would need dialysis or a kidney transplant. An increased risk for cardiovascular disease is also a consequence of CKD.
Current diagnostic tests for CKD usually involve a whole-blood or urine-based test to detect the level of albumin, a protein that leaks into the urine during CKD. Urinalysis tests, the cheapest method for CKD identification, examine the ratio of albumin to creatinine, a waste product of the body, in the person's urine. If the ratio is above 30, the person can be considered to have macroalbuminuria and, therefore, chronic kidney disease.
According to Chang, patients often do not complete normal screening because they may not be able to provide urine at the clinic, or they are unaware of the need for testing. If the disease is detected earlier using diagnostic tools like Healthy.io's smartphone app, patients can receive appropriate care to lower their risk of developing end-stage kidney disease and cardiovascular disease.
Healthy.io CEO Yonatan Adiri said that he founded the firm in 2014 based on a trend he identified as "selfie economics" — as social media becomes more photo-based, phone companies are developing higher quality smartphone cameras to match the demand for the growing use of selfies. Adiri saw that the improved hardware combined with artificial intelligence could allow digitization and decentralization of medical diagnostics without compromising clinical quality.
The result is Healthy.io's Dip.io technology, which uses a smartphone's camera to capture high-quality images of a patient's urinalysis results and immediately send it off for clinical diagnosis.
As part of the ongoing research studies on the device, Chang and his colleagues have identified 1,000 patients with hypertension who have not received a urine screening test and are in the process of enrolling them in their research.
"Each patient with chronic kidney disease has a team of nurses and informaticists that keep track of the tests they need," Chang explained.
If patients do not complete the screening test in the office, the researchers will then randomly ask patients if they would like to potentially receive Healthy.io's Dip.io smartphone urinalysis testing kit. Containing a standard urine dipstick, a urine receptacle, and the firm's color board, the smartphone kit turns the smartphone camera into a semi-quantitative urinalysis device.
For patients who choose to use the at-home smartphone testing kit, the researchers will randomly mail half of the group a testing kit, and then text message a link to download the smartphone app. The patient fills the cup, dips the stick in urine, and places the container on the accompanying color board. When the patient takes a photo of the dipstick, the app analyzes the picture and compares the data to additional images on Healthy.io's cloud-based database.
Chang believes the test will be useful because the smartphone automatically uploads the data to the patient's electronic medical record on a HIPAA-compliant server, allowing the patient's clinical provider and researchers to examine the results immediately and confidentially.
If researchers find any abnormal lab results, they will follow up with the patient's doctor to perform additional tests at the primary care clinicians' office to verify the results. The group will then give the patient the option to work with a pharmacist to treat early CKD, including blood pressure control, statins for high cholesterol, and inhibiting the renin-angiotensin-aldosterone system.
Because the at-home urinalysis kit requires a smartphone, Chang's group is targeting patients who use the MyGeisinger patient portal and have mobile cell phones.
While Adiri declined to disclose information about the test's clinical sensitivity and specificity, he said that the Dip.io CKD test is "substantially equivalent to existing point-of-care urinalysis devices and adheres to the relevant regulatory framework ... in every commercial territory."
He noted that the firm has also applied for US Food and Drug Administration 510(k) clearance for the CKD test.
In addition to CKD, Healthy.io's Dip.io tests cover 10 other clinical parameters used to detect liver disease, multiple sclerosis, urinary tract infections, preeclampsia, and ketosis, or gestational diabetes. The firm ultimately aims to offer customers the ability to do more than just the Dip.io test at home. Adiri explained that the firm's goal is to simplify and streamline the sharing of medical data to speed up rapid diagnosis, treatment, and prevention of a number of conditions.
Besides Geisinger and the NKF, Healthy.io's early adopters include Johns Hopkins University, with whom it is partnering in a study to use the Dip.io for prenatal care.
Alexander Logan, a professor of medicine and staff nephrologist at the University of Toronto, who with colleagues has developed a similar smartphone-based system to improve self-care clinical management for patients with late-stage CKD, cautioned against the overuse of the test as a tool for CKD diagnostics — though he also expressed optimism about Healthy.io's app.
He explained that the US previously pushed an initiative that used serum creatinine function to calculate the estimated glomerular filtration rate in patients' kidneys, which would give a measure of how well the kidneys were functioning. Family doctors then began flooding nephrologists with requests to look at samples that fell below a certain filtration rate threshold. According to Logan, however, many of the results were either mild or trivial and did not need to be examined.
"Smartphones are ubiquitous, [and] they really have great storage and analytic capabilities," Logan noted. "But any screening program ... will [initially] overwhelm nephrologists' overall workflow."
In addition, Logan noted that nephrologists may not look at results because they worry about legal and liability issues that they might deal with, such as a patient claiming that they missed earlier diagnosis CKD diagnosis because they didn't know about the smartphone app diagnostic.
Aydogan Ozcan, an electrical engineering and bioengineering professor at the University of California, Los Angeles, and his colleagues have also recently developed a lightweight and portable device that detects levels of albumin in patients' urine.
Ozcan's kit includes an opto-mechanical phone attachment, disposable test tubes, and an Android app to transfer the software. The device projects beams of visible light through two small fluorescent tubes attached to the device, one containing a control liquid, and the other a urine sample mixed with fluorescent dyes. The smartphone's camera captures the fluorescent light, which allows the app to process the raw information almost immediately and deliver results to a database or healthcare provider. The test can detect to within less than 10 micrograms per milliliter.
In a statement, Ozcan estimated that the test, which his lab has also developed into an iPhone app, could be produced commercially for $50 to $100 per unit. Adiri, however, was unwilling to disclose expected pricing for the Dip.io tests.
While Healthy.io's app is currently used only in limited clinical trials in the US, it received CE marking as a Class II in vitro diagnostic device for self testing in the EU in 2016. According to Adiri, the technology is commercially available in Israel and the UK for prenatal monitoring, self-management of urinary tract infections, and management of long-term conditions such as renal and neurological diseases. The UK's National Health Service has also selected Healthy.io's CKD diagnostic test as a key technology for broad adoption across the country.
Adiri believes that Healthy.io is in an ideal position to take advantage of the leap in smartphone camera quality that occurs every three to four years. Based on current improvements in 3D capabilities and machine learning technology, the firm is currently developing a smartphone-based product for improved, standardized chronic wound management.