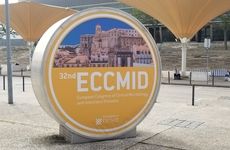 LISBON, Portugal ─ The Lancet Commission on Diagnostics expects to launch an international diagnostics alliance next year to support and monitor recommendations from a recent report that analyzed barriers to diagnostic test adoption in low- and middle-income countries (LMICs).
The alliance would implement recommendations from "The Lancet Commission on diagnostics: transforming access to diagnostics," a report published in The Lancet last November.
"The commission provided 10 recommendations, which we now take as 10 commandments in the field of diagnostics, and we really need to ramp up and work on these," Mikashmi Kohli, scientific officer at Geneva-based nonprofit FIND, said during a presentation here on Sunday at the 32nd European Congress of Clinical Microbiology and Infectious Diseases (ECCMID).
Kohli, a commissioner on the Lancet Commission on Diagnostics and an author of the report, outlined some of the report's important findings.
She noted the Lancet Commission on Diagnostics comprises a group of experts in pathology, laboratory medicine, and diagnostic imaging. Research for its report began in 2018 and was conducted by 25 commissioners from 16 countries. The researchers included former ministers of health for low- and middle-income countries as well as experts in pathology, in vitro diagnostics, radiology, and patient advocacy.
Among its recommendations in The Lancet, the commission advised that individual LMICs create a national diagnostics strategy; make tests available for important indications at primary-care centers; and invest in workforce expansion and training. It also called for the establishment of a national regulatory framework, and to roll out a national financing strategy to support test adoption.
According to the commission, diagnostic testing needs to be made more affordable, and technologies need to be developed and used that can benefit not just high-income countries but others as well. Testing organizations in general need to continue to raise the profile of diagnostics, prioritize funding for test development, and address the needs of people living in conflict situations, the commission said in its report.
Kohli noted that prior to making recommendations, the commission first evaluated LMIC test adoption for specific conditions — diabetes, hypertension, HIV, tuberculosis, syphilis, and hepatitis B, which account for a large share of the global burden of disease.
The commission found that "47 percent of the global population has little to no access to diagnostics," Kohli said, adding, "Only 19 percent of the people in low- and middle-income countries have access to simple diagnostics" to detect such conditions as malaria and pregnancy.
Lowering the amount of people without access to diagnostics to 10 percent of the population would reduce the annual number of unnecessary deaths in LMICs by 1.1 million per year, Kohli said.
Among its recommendations to address barriers to adoption, the commission advised that LMICs develop an Essential Diagnostics List based on testing priorities for specific indications in each country.
"It is critical to implement this list nationally," Kohli said, adding that the Lancet Commission on Diagnostics has developed a template for countries seeking to develop such lists, and the World Health Organization and FIND are creating tools that describe the steps needed to generate such lists.
To encourage adoption of diagnostic testing, LMICs also need to embrace innovations in digital health, point-of-care testing, and self-testing, Kohli said, adding that individual countries need to reprioritize their budgets and allocate more funding to diagnostic testing.
Further, to address the testing needs for nations in conflict, military and humanitarian organizations, as well as public and private organizations, should collaborate to develop solutions that ensure people get access to testing, Kohli said.
The COVID-19 pandemic, she said, has made more people aware of diagnostic testing and taught us that infections "are not just a problem for one specific country or region." To contain future outbreaks, countries need to collaborate and leverage an integrated approach to testing, she noted.
One of the greatest barriers to test adoption in LMICs is the overall low visibility of diagnostics, according to Kohli. It took more than 40 years after the WHO released its first Essential Medicines List to release its first Essential Diagnostics List, she noted.
The Essential Medicines List consists of medications the WHO considers to be most effective and safe to meet health system needs, while the Essential Diagnostics List consists of in vitro diagnostic tests that the WHO believes should be available at the point of care and in laboratories worldwide.
In LMICs, the physical infrastructure is also a barrier, with a lack of stable sources of electricity and issues related to dust, temperature, and humidity hampering diagnostic testing. Healthcare workforce shortages, a lack of testing quality and safety procedures, and an absence of education and training programs for healthcare workers in many countries also present challenges, Kohli said.