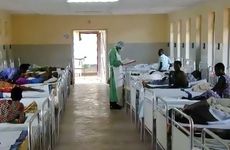 NEW YORK (360Dx) – A team led by researchers at Boston University School of Medicine and Becton Dickinson has developed a point-of-care test for Ebola based on surface-enhanced Raman scattering (SERS).
In a study published last week in Science Translational Medicine, the scientists used the test to evaluate 190 patient samples from the 2014 West African Ebola outbreak, finding that it could detect Ebola infection with sensitivity of 90 percent and specificity of 97.9 percent while distinguishing it from diseases like malaria and Lassa fever virus that can present similarly.
The assay could serve as a more accessible alternative to the PCR-based tests commonly used to detect Ebola during outbreaks, said John Connor, associate professor of microbiology at BU and an author on the study.
While PCR-based Ebola tests are highly accurate, they can be difficult to deploy rapidly in resource constrained areas, Connor said.
"The technology required to run these assays usually limits where they can be used," he said. "You need a steady power supply, [and] a cold supply chain for some of the reagents that are used in the assay. And that can make it very difficult to move [the test] to the point of need with any speed."
Patients infected with Ebola are often identified first by clinical symptoms, Connor said. However, the disease, particularly in its early stages, presents similarly to other infections, such as malaria, which makes confident clinical diagnosis even more difficult.
"So there's a strong need for molecular diagnosis in order to differentiate patients," he said.
In the absence of a confident diagnosis, individuals suspected of having Ebola are often quarantined, which Connor said can lead in some cases to infected and uninfected individuals being quarantined together.
"So the speed of diagnosis is really important," he said, noting that if clinicians have to send samples to "a diagnosis center that is removed from where the need is, that can lengthen the amount of time until you get a diagnosis, which means people are sitting in quarantine for longer."
During the 2014 Ebola outbreak, the US Food and Drug Administration and World Health Organization gave emergency-use authorization to 15 different Ebola diagnostics, 10 of which used real time RT-PCR to diagnose the disease.
The other five used lateral flow immunoassays to detect Ebola proteins in patient samples. Such tests are simple and can be quickly and easily deployed to areas affected by outbreaks, but Connor said that they are not as accurate as the PCR-based test, typically lacking both their sensitivity and specificity.
He and his colleagues aimed to address these limitations through the use of SERS, which has been developed over the last several decades as a biosensing technology and potential alternative to conventional immunoassays.
SERS relies on the inelastic scattering of monochromatic light to detect changes in analytes' molecular state. This allows them to be used to read out, for instance, antibody-antigen binding events. Detection via SERS is done on special surfaces — typically gold nanoparticles — to enhance the normally weak Raman signal.
SERS spectra are more easily distinguished from one another than the fluorescent emissions commonly used for reading out immunoassays, making higher levels of multiplexing possible. In the case of the Ebola test, this allowed Connor and his collaborators to combine their assay for the Ebola antigen with assays for antigens from other similar infectious agents, which boosted the test's specificity.
The authors noted, as well, that the reagents used in SERS-based assays don't require cold storage and that the assay requires no sample prep or wash steps, making it well suited for rapid deployment in resource-constrained settings.
"The steps are very simple," Connor said. "You take a small amount of blood, and you put it into a tube that has some reagents in it along with an activation buffer. Then you rotate it for a few minutes, and then you put it into an automated reader."
The reader uses a laser to excite the Raman reporters, which then emit distinct signals based on the target analytes present in the sample. In the STM study the researchers used a prototype reader that is battery powered and fits into a backpack, Connor said.
Evaluating the test on 190 clinical samples collected from the 2014 West African Ebola outbreak, as well as 163 samples positive for malaria and 233 healthy controls, the researchers found that it detected Ebola with 90 percent sensitivity and 97.9 percent specificity, and malaria with 100 percent sensitivity and 99.6 percent specificity.
Gerald Kost, director of the point-of-care testing center for teaching and research at the University of California Davis School of Medicine, noted that the 90 percent sensitivity figure the test achieved didn't meet the threshold for effectiveness in the field.
"Until the SERS approach is improved to yield a sensitivity of 95 percent or better, it is dangerous for field applications [because] it will miss cases," he said.
Kost, who was not involved in the research, added, though, that "the researchers are headed in the right direction, as good POC tests are badly needed."
Nathan Ledeboer, medical director for the clinical microbiology and molecular diagnostics laboratories at the Medical College of Wisconsin, said that the actual clinical performance of the Ebola test would vary on the prevalence of the disease in a given setting and the level of clinical suspicion among the patients being tested.
"If you don't have [access] to RT-PCR and you are basing [an initial diagnosis] off clinical symptoms alone, it could be useful," he said. Ledeboer was also not involved in the STM work.
Kristin Weidemaier, senior director, life sciences at BD and senior author on the study, said that the company had no plans to pursue a commercial version of the Ebola test.
Rather, she said, the work was a proof-of-concept study that "enabled us to demonstrate the technological feasibility of using SERS technology for multiplexed point-of-care testing in low resource settings. We hope that the results of this study will enable us to identify partners to further develop the SERS technology, enabling us to license it for use in in vitro diagnostic devices."
BD acquired the SERS technology in 2008 through a license agreement with UK-based nanotechnology firm Oxonica.
Ledeboer noted that SERS has not been widely applied to POC testing to date, but said that depending on the technology's analytical performance, it could prove "a really interesting and novel" POC approach given the apparent simplicity of the sample prep involved.
He said that he would be interested in seeing a thorough evaluation of the assay's analytical sensitivity, noting that if it proved sensitive enough, the SERS approach could serve as the basis of an effective POC-testing technology.
"This could be [BD's] answer to Alere's I or Roche's Cobas Liat [POC systems]," Ledeboer said. Alere's platform, which is now owned by Abbott and has been rebranded ID Now, leverages isothermal nucleic amplification technology, while the Roche system is based on real-time PCR methods.
While SERS is not an especially widespread diagnostic technology, other firms have developed testing systems based on the approach. For instance, UK-based Renishaw Diagnostics developed a SERS-based assays system called RenDx for microorganism detection. The company received in 2015 CE-IVD certification for the system and a test for identifying 12 Candida and Aspergillus fungal species.
The system failed to gain commercial traction, however, and Renishaw Diagnostics was closed in 2016 by its parent company, the precision engineering firm Renishaw.