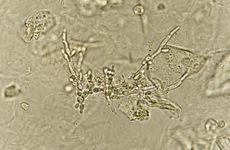 NEW YORK – Startup diagnostics firm Velox Biosystems is channeling novel three-dimensional detection technologies and microfluidic methodologies into diverse types of rapid tests to rapidly detect rare pathogens directly from raw samples.
A proof-of-principle study of a whole-blood digital PCR-based test for blood stream infections was recently published by the company along with researchers at the University of California, Irvine. And, a Velox diagnostic test to determine phenotypic susceptibility in urinary tract infections at the point of care was recently subject to a small clinical trial. Velox is now seeking to fully commercialize its tests through strategic partnerships.
The core Velox technology was developed at UC Irvine by Enrico Gratton, Weian Zhao, and others, who have co-founded Velox. Gratton, a biomedical engineer specializing in fluorescence detection instruments, pioneered the three-dimensional fluorescence detection, while Zhao, an expert in miniaturized devices, has continued to forge new diagnostic applications.
In a study published last month in Lab on a Chip, the technology was adapted to one-step digital PCR and bloodstream infection detection from whole blood with no sample processing, using the firm's technology called Integrated Comprehensive Droplet Digital Detection, or IC 3D.
"We partition the sample into millions of droplets, and we can run the dPCR reaction, which allows us to accomplish single-cell sensitivity," Zhao said in an interview.
Conventional droplet-based systems are essentially one-dimensional, almost like a flow cytometer. "They do not possess the throughput to analyze millions of droplets in a timely fashion," Zhao said. By comparison, the system he and colleagues have developed is a three-dimensional droplet counter that uses lasers to profile all of the droplets in a volume "in a just a minute or two," he said.
The system has the potential to be low cost, as well, since the dPCR reagents and the disposable microfluidic consumable are all reasonably priced and simple to manufacture, said Tim Abram, director of R&D at Velox.
The firm described a similar assay in 2016, but the new assay now uses TaqMan PCR chemistries instead of DNAzyme chemistries, Abram said, which "opens up the door for very low-cost, easy prototyping and iterative design of assays."
Sepsis can be caused by a very low abundance of pathogens in the bloodstream, and most diagnostic technologies require pathogen concentration, a days-long culture step, and pathogen extraction steps that have the potential to reduce sensitivity.
Time to diagnosis is also critical in cases of suspected sepsis, as mortality increases 4 percent for every hour delay until treatment, according to one oft-cited 2017 study, and getting the bug-drug combo right the first time prevents patients from getting medicine they don't need.
In the study, the team spiked whole-blood samples with a strain of E. coli containing a synthetic resistance gene and was able to detect bacteria and resistance within one hour.
The detection required no culture or sample processing, with a limit of detection of less than 10 colony-forming units per milliliter. The group was also able to demonstrate multiplexing ability for two targets per droplet.
The study also detailed strategies to overcome the PCR inhibitory effects common to whole blood, a method to enhance the ability to partition blood into droplets by diluting it, and determined that the ideal fluorophore to get past the autofluorescence of blood was a dye called Quasar 670 from LGC Biosearch Technologies.
Velox is currently initiating a clinical study at UC Irvine of its sepsis test, and Zhao noted that the ultimate test will likely be lab based.
In contrast, the firm is also fashioning its core technology into point-of-care test for UTIs, with plans to commercialize some form of that test as its first product, Abram said. The UTI test does not use dPCR, but it does incorporate the fluorescence detection methods to count particles in large volumes of unprocessed patient sample.
In one manifestation, the assay involves a simple yes/no UTI diagnostic test that quickly marks all bacteria with a pan-bacteria fluorescent label and counts them in a volume or raw urine.
"Because there is virtually no upstream processing, this has really enabled us to develop a miniaturized point-of-care device," Abram said.
The basic yes/no UTI test takes two minutes. There is currently no comparable commercially available UTI diagnostic, Abram added, noting for example that a UTI diagnostic test from Bacterioscan uses optical density to detect bacteria, but it takes three to four hours. Other tests use flow cytometry, but that has a more limited throughput than the 3D scanning method and a higher cost of instrumentation and maintenance.
"By using our fluorescent labeling chemistry and the point-of-care scanner, we're able to get that same answer in three minutes," Abram said.
Antibiotic resistance rates in UTIs are being driven by empiric prescribing while clinicians wait for bacterial cultures or other lab-based tests, however. Velox has also developed a phenotypic susceptibility assay that takes two hours, which could provide a significant advantage over other AST methods.
At a basic level, the test could first provide a Gram stain or other high-level information, followed by application of antibiotics and waiting the fewest possible bacterial doubling times to see what drugs the bacteria is susceptible to.
Abram said that phenotyping is usually sufficient for a first pass in UTIs since upwards of 90 percent of UTIs are caused by E. coli.
"Most of the physicians we've interviewed are not that concerned about [pathogen] ID ... Ultimately, what they really want to know is whether or not it is a UTI, and if so, what drugs should they use and what drugs should they avoid," he said. Additionally, there are no AST tests for UTIs commercially available that do not require culture or enrichment.
A study published in the Journal of Medical Microbiology last month described Velox's UTI test. In a set of 30 clinical samples of suspected UTIs in a hospital in Italy, the test — which evaluated five common UTI antibiotics — was shown to have a limit of detection of less than 10 colony-forming units per milliliter and 100 percent specificity, with performance ranging for individual drugs between 85 percent and 100 percent.
Abram said that Velox envisions the UTI test as its first application, but the specific conformation and regulatory pathway will need to be determined with its commercialization partner.
The basic UTI test is likely a US Food and Drug Administration Class I device, he said, while incorporating an antimicrobial susceptibility component would make the test Class II. It could also be even more useful in a clinical setting to enhance antimicrobial stewardship.
"We are looking into strategic partnerships to help us support these efforts," Abram said. The firm has been in conversations with interested parties he declined to name, but whether the partnering would involve support for clinical trials and submission to the FDA only or for the full commercialization process would depend on what the partners decide.
Velox expects that it will have completed clinical trials to support FDA submission of either the simple UTI screening test or the AST test, or both, within the next 18 months, Abram said.