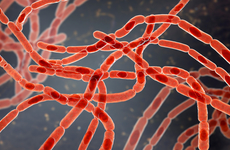 NEW YORK – With support from the US government, T2 Biosystems recently completed the clinical evaluation of a rapid assay to detect six biothreat organisms and plans to submit it to the US Food and Drug Administration for regulatory clearance, followed by commercialization of the test.
As it prepares to possibly bring that test to market, the Lexington, Massachusetts-based firm is seeing increased uptake of its products, and it recently secured additional funding to advance commercialization of its tests.
John Sperzel, CEO of T2 Biosystems, said in a recent interview that submission of the biothreat panel to the FDA should happen soon, and he anticipates that cleared panels may be stockpiled for use during a potential outbreak.
Outliers in the standard diagnostics space, the biothreat organisms that cause anthrax, tularemia, glanders, melioidosis, plague, and typhus are not circulating in the population, but if an outbreak were to occur — due to a bioterror attack, for example — rapid testing would be crucial, with false positive or false negative results "on the edge of being completely unacceptable," Sperzel said.
"Those organisms have mortality rates that range from 40 to 90 percent, so exposure to them without rapid detection and targeted treatment leads to very bad outcomes," Sperzel said.
In 2019, T2 Biosystems answered a request for proposals from the US Department of Health and Human Services' Biomedical Advanced Research and Development Authority (BARDA) and was awarded up to $62 million to develop rapid tests for bioterror organisms.
The panel, like all of T2's assays, is a direct-from-blood test. It detects Bacillus anthracis, Francisella tularensis, Burkholderia mallei, Burkholderia pseudomallei, Yersinia pestis, and Rickettsia prowazekii.
It uses the firms T2Dx instrument, which amplifies pathogen DNA using PCR, and then condenses all the solids in a blood sample into a dense pudding. The detection then uses a miniature MRI machine that the firm calls T2MR.
Each pathogen has a unique magnetic resonance signature, enabling the T2MR to signal the presence of different bugs' nucleic acids and identify the organisms. This method allows detection of pathogens down to a concentration of one culture-forming unit per milliliter, even in the presence of antimicrobials.
T2 was able to test negative samples, including 470 samples from healthy and febrile patients at Ochsner Medical Center in New Orleans, but validating positive samples was trickier. The company turned to MRIGlobal, a contract research organization based in Kansas City, Missouri, that was able to contrive 350 positive samples in its Biosafety Level 3 laboratory.
The clinical trial demonstrated very high sensitivity and specificity across all six targets, according to Sperzel. Meanwhile, the cost-share BARDA contract also afforded guidance on the clinical trial for FDA submission, which Sperzel said is likely to follow a 510(k) pathway. In terms of commercialization, the panels and accompanying T2Dx instruments would likely be sold to government entities, he said.
Business update
In the meantime, like other diagnostic firms, T2 Biosystems has faced economic, supply chain and other headwinds lately. According to Sperzel, the firm was among the first to pare back its headcount and operating expenses, by 20 percent each, in anticipation of a possible market downturn.
"At the time, it raised attention … but a lot of companies have since followed suit," he said. Nonetheless, the firm has had some bumps along the way.
Over the past year, T2 Biosystems has flirted with having its shares delisted from the Nasdaq because it fell short of certain listing requirements. At the time of publication of this story, the firm's stock price had fallen below $1 per share for about two consecutive weeks, putting the company at risk again of failing to meet a Nasdaq listing requirement.
Also, in October, investment bank Canaccord Genuity downgraded T2 Biosystems' shares, citing slower-than-expected business development and noting at the time that the company's expected fourth quarter revenues of $3.7 million were far below the bank's estimate of $7.6 million and the consensus Wall Street estimate of $7.2 million.
The company is scheduled to announce its fourth quarter and full-year 2022 earnings results on March 13.
But, Sperzel pointed out, the company's installed base is growing, with record instrument placements in 2022 for sepsis detection, which included 27 instruments in the US and 24 outside the US.
"As of the end of 2022, we have an installed base of 181 T2Dx instruments," Sperzel said, including 106 in the US.
Last month, the firm also raised about $12 million in gross proceeds, strengthening its cash position.
While sepsis remains a public health issue, T2 Biosystems could also become an important first mover, according to Sperzel. Determining antimicrobial resistance is a critical piece of sepsis treatment, and T2 Biosystems has a genotypic resistance panel it sells under CE mark, with an ongoing clinical trial in the US to support future FDA clearance. If cleared, it would be the first direct-from-blood test to simultaneously detect 13 antibiotic resistance genes, Sperzel said.
While many companies are developing direct-from-blood sepsis tests and resistance gene assays, "we believe, based on our expected timelines, we'll be the first to market with such a product in the US," Sperzel said. "I don't think we will be alone forever, but we are today," he added.
Its T2Bacteria panel was shown to rapidly and accurately diagnose bloodstream infections caused by the five most common bacterial pathogens in a multicenter clinical trial in 2019, while the firm's yet-to-be-launched T2Resistance Panel was granted breakthrough device designation from the FDA in 2019.
T2Bacteria, which is cleared by the FDA and CE-marked, is typically used for sepsis detection. It has been supported by a New Technology Add-on Payment (NTAP) from the US Centers for Medicare & Medicaid Services to provide a payment of up to $97.50 per test to hospitals that run the panel.
Sperzel, who joined T2 Biosystems as president and CEO in January 2020, has a personal interest in rapid sepsis testing, having survived a multi-drug resistant bloodstream infection related to a life-saving heart transplant he had in 2017 for an extremely rare condition.
Delays in pathogen ID caused him to be on unneeded, unhelpful antibiotics for days, he said, until the cultures came back, making it possible for him to start targeted therapy.
"I had been a consumer, developer, and commercializer of diagnostic tests my whole life, but I found myself on the other side of that," he said. The experience led him to T2 Biosystems, with a mission to make rapid sepsis testing more available.
Sepsis costs the US an estimated $62 billion per year, and this has likely increased due to sequelae of critical COVID-19 infections.
Bloodstream infections are also the leading cause of death in US hospitals, with 270,000 deaths each year in hospitals and 80,000 deaths in hospice, according to the US Centers for Disease Control and Prevention. And, sepsis is the leading cause of readmission to the hospital within 30 days of being discharged, with 20 percent of sepsis survivors needing to be readmitted.
"This highlights the need for immediate improvement in the current standard of care," Sperzel said.
Sperzel said that all other commercial sepsis assays currently test from blood cultures, which can take many hours to ding positive in the incubator indicating there has been bacterial growth.
A meta-analysis of 14 studies of T2 Biosystems' testing for bloodstream infections was published in Expert Review of Medical Devices in 2021, which showed that the firm's direct-from-blood method led to a 77-hour decrease in the time it took to identify the species causing a bloodstream infection compared to blood culture. As a result, patients who tested positive on T2's system received targeted therapy 42 hours faster.
"With every hour of delayed targeted antimicrobial treatment, the risk of death goes up by 8 percent, so 42 hours faster is really meaningful," Sperzel said.
The meta-analysis also showed that a negative T2 test led to de-escalation of empiric therapy seven hours faster compared to the blood-culture standard of care. "That helps to address antimicrobial resistance and limits patients' exposure to high-dose, often toxic, antibiotics that they don't need," Sperzel said.
Using the T2Dx test reduced patients' stays in both the intensive care unit and the hospital by approximately five days, as well.
The firm also has a panel to detect Candida that is cleared and CE-marked, and has been developing a next-generation instrument.
As the firm builds clinical evidence in support of its tests, raising awareness of its products and their potential advantages will also be key to increasing adoption, Sperzel said, as is helping to increase the publication of clinical results, leveraging key accounts, and encouraging key opinion leaders to spread the word.
"What we are doing is not simple — we are trying to change a standard of care that is well entrenched," he said, adding that this is offset by the leap in public awareness of rapid diagnostic testing spurred by the pandemic.