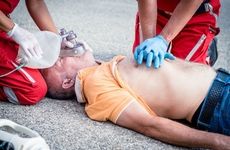 NEW YORK – Ottawa-based Spartan Bioscience is gearing up to further commercialize a rapid molecular assay detecting a single nucleotide polymorphism to guide clinicians in prescribing heart therapies. It plans to launch its cardiac test in Europe, and also to push into applied markets as part of a strategic approach to eventually entering the infectious disease point-of-care testing market.
Spartan recently announced it is forming a scientific advisory board in Europe for its CYP2C19 test, which aids clinicians in determining strategies for therapeutics metabolized by the cytochrome P450 2C19 gene product.
The test was CE marked in 2010, cleared by the US Food and Drug Administration in 2013, and approved by Health Canada the following year on the firm's Spartan RX system. The test was also approved in Canada for near-patient use.
In contrast to the RX system, the Cube system is for rapid, point-of-care use. It was introduced in 2016 as the world's smallest and most affordable qPCR platform, and that claim to fame has since been maintained, according to Paul Lem, Spartan's co-founder and CEO.
It is still "the smallest sample-to-results molecular platform," Lem said in a recent interview, comparing it to US Food and Drug Administration-cleared point-of-care molecular platforms from Cepheid, Roche, Abbott, and Binx, for example
The firm's patented core technology integrates the DNA extraction and PCR reagents into one simple cartridge, Lem said, and it is the cartridge design that enables a lower cost.
"We can provide molecular performance at the price of lateral flow test strips," Lem said, adding, "As far as we can tell, there is no other molecular platform that can do that." The Cube can also run multiplex qPCR tests with up to six targets at a time, he said, in that each cartridge has has three wells and each well has two optical channels.
The CYP2C19 test on the Spartan RX system was evaluated last year by an international team of researchers in Europe. As described in the New England Journal of Medicine, genotype-guided treatment using the test led to fewer minor bleeding events and was non-inferior to standard treatment with respect to more serious adverse events.
To get commercial uptake after this landmark trial, the firm has a two-pronged strategy that includes establishing the scientific advisory board of Europe's top cardiologists and also signing distribution contracts across Europe with specialty cardiac testing companies, Lem said.
In terms of total addressable market, there are more than 3 million cardiac stent patients every year globally, Lem said. Also, in the US, "There is a CPT code that reimburses $291 for our test, so we sell our test at a discount to that," he said.
End user insights
Paul Gurbel, the director of cardiovascular research at a regional health care organization based in Baltimore called LifeBridge Health, has been undertaking translational research on cardiac personalized medicine for more than two decades and has extensively evaluated the Spartan test.
Gurbel and his colleagues discovered that the CYP2C19 SNP in the cytochrome P450 gene affected a patient's response to clopidogrel (Plavix), a blood thinner often prescribed after stent surgery to prevent formation of deadly blood clots. Clopidogrel is one of many available drugs in the class of P2Y12 receptor antagonists.
Patients with genetic polymorphism of CYP2C19 also have a higher frequency of post-stenting ischemic events in general, Gurbel explained in an email, and personalizing antiplatelet therapy can improve outcomes.
"Advances in molecular diagnostics such as rapid CYP2C19 testing has made it possible for me to choose the most appropriate P2Y12 therapy for my patients prior to coronary intervention," Gurbel said, adding, "I am confident that this personalized approach has improved clinical outcomes in my patients."
Gurbel, who is also a professor of medicine at Johns Hopkins University School of Medicine and an adjunct professor of medicine at Duke University School of Medicine, noted that genetic testing is a valuable tool to assist with detection and treatment of inherited cardiovascular disease in patients, "including hypertrophic, dilated, and arrhythmogenic cardiomyopathies, and inherited arrhythmias."
While at his most recent previous position at the Inova Heart and Vascular Institute, Gurbel had used the Spartan test for three years on patients undergoing cardiac catheterization for coronary intervention.
He also recently undertook an evaluatoin of 1,815 patients using bedside CYP2C19 genotyping with the Spartan test. As presented in a poster at the American Heart Association Quality of Care and Outcomes Research conference last year, the data suggested testing facilitated early personalization of antiplatelet therapy in a real world scenario and may lead to improved clinical outcomes.
The Spartan test was attractive, he said, because it was non-invasive and easy to use, and because it could be incorporated into the cath lab environment. The rapid turnaround also allowed for immediate administration of appropriate antiplatelet therapy prior to stenting, Gurbel said.
The test replaced send-out CYP2C19 testing that Gurbel would previously have ordered from LabCorp. "This was as not as useful, since it took several days before results were available," he said.
There are still a few drawbacks of the Spartan assay, however. It is considered a high-complexity test, even though it is easy to perform, Gurbel said.
"Under this high-complexity designation, it is difficult to set up the system in a cardiac cath lab or a busy outpatient practice due to the regulatory scrutiny and training requirements," he said, adding that it would be beneficial to have the test cleared by the US Food and Drug Administration under a lesser designation "so it can be run where it is most useful."
The test also needs to be run within an hour after sample collection, so multiple systems are required for a moderate- to large-sized heart center. "This leads to increased cost, space, and coordination between departments," Gurbel said. He further noted that the system does not upload data to electronic health records or the laboratory information management system.
A niche-first strategy
Spartan's business strategy for its small and inexpensive system has been to pioneer untapped niche markets and gradually build to bigger spaces. The firm has been gaining market-leading positions in the cardiac space as well as environmental testing with an intention to eventually enter the point-of-care infectious disease market.
"Our strategy was to target markets that are off the radar of the other big diagnostics companies," Lem said. "Our goal was always to build up market dominance in those applications and then leverage that into the wider battleground of things like point-of-care infectious disease diagnostics."
Indeed, the first entry point involved partnerships with pharmaceutical companies that needed genetic tests to guide clinical trial patient selection, particularly for Alzheimer's disease drug trials, as previously reported.
Spartan then expanded into environmental water testing, bringing the first point-of-need test for Legionella bacteria to market in 2017. The test has since been adopted by the US Centers for Disease Control and Prevention and the New York State Department of Health, Lem said, as well as the team from Virginia Tech that worked on the Flint, Michigan water crisis.
These groups all use the Spartan Legionella test for outbreak investigations. As previously reported, there are a handful of molecular diagnostic tests in this space and specialty labs that perform certification testing, but Spartan's is the first test that can be used at the water source.
The niche-first strategy is going well so far, Lem said, and he expects that now that the firm has built up market-leading positions, it can leverage revenues to get into other point-of care applications.
The next steps for Spartan, besides commercializing the cardiac test, involve getting together with market leaders in other verticals, such as animal testing, veterinary diagnostics, and food testing, Lem said. "We are going to be pushing into those fields with our platform," he said.
Finally, the firm plans to orient itself towards the infectious disease testing market. "We think there is an opening in point-of-care infectious disease in pharmacies, doctor's offices, and eventually home-use, Lem said.
Along the way, Spartan also licensed its platform to co-founder John Lem, Paul's brother, who is now CEO at Lobo Genetics in the cannabis space.
Toronto-based Lobo has commercialized a point-of-care assay for three SNPs that can moderate a person's response to marijuana. Specifically, the test detects the CYP2C9*1/*3 polymorphism which leads to slow THC metabolism and risk of overdose, as well as polymorphisms in AKT1 and COMT, which impact risk of developing psychosis and short-term neurocognitive impairment and memory loss. Lobo has been angling to use its test at the point of need, offering it in Canadian clinics and pharmacies, as well as online.