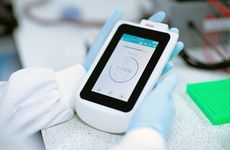 NEW YORK (GenomeWeb) – QuantuMDx announced today that it has received an undisclosed amount of funding from the Bill & Melinda Gates Foundation to further develop its pathogen-concentrating technology and molecular diagnostics platform for tuberculosis testing.
The company claims 20-minute PCR using its handheld Q-POC molecular platform and a method it calls Capture-XT to concentrate TB bacteria from sputum.
QuantuMDx developed the Q-POC device and began seeking financial support for launch in 2014, as previously reported.
Since then, the firm has been further developing the technology, which now features a complete integrated output device and testing cassettes.
"We've been very clear from the start that we didn't want to send out another 'me too' point-of-care molecular device that has so much promise but doesn't provide laboratory standard testing," Jonathan O'Halloran, QuantuMDx's CSO and inventor of the proprietary nucleic acid preparation, amplification, and detection technology, said in an interview. To his mind, competing POC platforms always wind up sacrificing on price, speed, or sensitivity.
"We've been working very hard to be sure that we can achieve all of those aspects," he said.
For pricing, QuantuMDx has played with how much functionality to put on the cassette versus on the Q-POC device itself. It also sought to standardize form factors, to benefit from having only a single injection mold for all of the tests it hopes to offer in the future. The firm expects the Q-POC platform to ultimately be priced in the $1,500 to $2,000 range, with a cost of less than $5 per TB diagnostic test.
Speed is a core foundation of the technology, O'Halloran said. "We looked at the molecular diagnostic process, and it wasn't optimized for microfluidics," he said. For instance, the standard paradigm for DNA extraction is to bind DNA from lysate to a silica surface, followed by extensive washing. This results in many reagents and requires valving to switch them in and out.
Instead, the firm created a flow-through system. "Instead of binding the DNA, we bind everything else, and pure DNA comes through the other end," O'Halloran said, which saves time.
Tuberculosis testing requires sputum as a sample matrix. To get sensitivities of 10 to 50 copies per milliliter without a centrifuge, the firm uses Capture-XT, which employs electric fields to capture bacterial cells from flowing samples. "We have extremely high, almost 100 percent, capture and release efficiency," O'Halloran said.
A similar technique using electric fields to capture bacteria is being developed for sepsis applications by Canadian molecular diagnostics firm Qvella.
O'Halloran noted that the firm can change the frequency and magnitude of the electric fields to capture different bacteria, such as E. coli, chlamydia, or gonorrhea, for example. The bacteria are then released directly into a PCR buffer and loaded into the Q-POC platform for extraction, amplification, and detection via microwire arrays. 
Q-POC is fast and small because it reduces ramp time using spatial thermal cycling via different temperature zones, with microfluidics designed to flow the PCR mix back and forth.
"We are achieving almost instantaneous ramping between the temperature zones, which means we are able to run PCR in as quick as three minutes," O'Halloran said.
Cepheid is one of the biggest global players in the market for active TB and drug susceptibility testing, and the firm has plans to release a more sensitive version of its Xpert MTB/Rif test in the near future, called Ultra. O'Halloran said he imagines that test will have a sensitivity of 50 copies per milliliter. "For a diagnostic, it is good, but it still expensive, it certainly is not point of care, and we still don't know where they are with their [point-of-care] Omni," he said. Furthermore, the test takes 90 minutes, compared to QuantuMDx's 20-minute assay.
"We're looking at trying to shake things up a little bit," O'Halloran said. And, the fact that Capture-XT is able to capture and visualize cells in the electric fields provides a sort of "instant diagnostic," so the firm is also exploring the possibility of partnering to use the capture technology as a diagnostic at microscopy centers. Confirmation testing via PCR would then be reflexed onto the Q-POC.
The firm plans to include resistance testing for rifampicin, isoniazid, and fluoroquinolone in its final TB assay. But it is also considering adding more resistance markers. "We have a lot of flexibility in terms of our multiplexing," O'Halloran said, adding that the firm is investigating, along with NGO partners, what the best set might be.
QuantumDx plans to obtain CE mark in the short term, and is considering then pursuing a 510(k) submission with the US Food and Drug Administration. It is also in talks with clinical trial partners and NGOs to seek guidance on obtaining World Health Organization prequalification status. The firm plans to publish data from the clinical trials when they are completed. 
The Gates Foundation funding will now enable a clinical partnership with St. George's Hospital at the University of London, testing Capture-XT and Q-POC on clinical samples. The Foundation for Innovative New Diagnostics will then provide QuantuMDx with a blinded sample set for testing, and a collaboration with a physics lab at Yale University is aimed at further developing the Capture-XT and Q-POC technologies.
QuantuMDx also has partnerships with other groups looking at CT/NG and human papillomavirus testing, as well as malaria and genetic testing for warfarin susceptibility.
"We have quite a significant pipeline of assays, all with the core focus of bringing complex multiplex molecular diagnostics to low- and middle-income countries at a price point that fits within their structures," said O'Halloran.