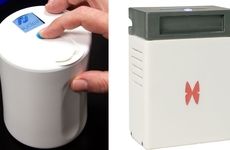 NEW YORK – Handheld real-time PCR systems have been an aspiration of diagnostics developers for years. In the current pandemic era, miniaturized sample-to-answer qPCR is even more enticing, as it is theoretically both highly portable and extremely accurate.
Three startups have exited design-phase stealth mode to tout their tiny tech within the past year: MatMaCorp, Nuclein, and GNA Biosolutions. These potential point-of-care pinnacles are handheld, inexpensive, battery-operated qPCR systems that accept raw patient samples and have integrated fluorescence-based detection and results reporting.
But so far, these firms are keeping some of the enabling core technology close to their vests, making it challenging to know how, and if, they work.
Meanwhile firms such as Cepheid and Mesa Biotech have very similar approaches and are further along the path to commercialization. Slightly larger, fully integrated benchtop point-of-care systems are numerous and overcome many of the same challenges that miniature systems do. With many already receiving Emergency Use Authorization, or EUA, for SARS-CoV-2 testing, they also have a substantial head start.
Handheld sample-to-answer PCR instruments integrate three steps within a tiny device: sample processing, thermal cycling, and detection.
Proponents of sample-to-answer molecular diagnostic testing at the most distal point-of-care settings — at a patient's bedside, under a tree in a remote village, or in the home — claim these tests are a good value because their high sensitivity and specificity and rapid results limit the spread of infectious disease, meaning they will ultimately reduce hospital costs and save lives.
According to Pavel Neuzil, a researcher and diagnostics device developer at Northwestern Polytechnical University in Xi'an, China, commercial availability is a key threshold, however. Neuzil, who authored a recent review of point-of-care PCR systems for SARS-CoV-2 detection and has been developing diagnostics systems for years, including a miniaturized PCR device, knows that the path to diagnostic use is arduous for new systems.
Shrinking down the thermal cycling step is the simplest part of engineering tiny sample-to-answer systems, he said. "I am an electrical engineer by training, and I do not know of anything simpler than thermal cycling," he noted in an email. Indeed, many teams have found innovative ways to accomplish this rapidly in a tiny footprint, for example using convective flow "lava lamp" PCR, or nanoparticles and lasers.
But sample preparation and fluorescence detection in a miniature device continue to present major design hurdles, Neuzil said.
Microfluidics-based systems solve a lot of the sample prep challenges, but intricate plastic cartridges tend to be difficult to manufacture at a high scale, and cost is always a constraint. One solution is to go directly from sample with only a heat denaturation step. Blood and stool contain PCR inhibitors, but nasal samples and throat swabs can be amenable to direct-from-sample PCR. This tends to limit rapid point-of-care molecular testing to upper respiratory pathogens, like influenza or group A strep, however.
At the other end of the workflow, true fluorescence detection requires lenses and optics, often with multiple channels. This means more moving parts to enable switching between lenses, which can be tough to keep aligned if the instrument is continuously jostled about.
Although real-time PCR — which involves measuring fluorescence intensity after each thermal cycle — may seem more technically advanced than endpoint PCR, Neuzil said that for a point-of-care device it may actually be more straightforward. The amplification product is essentially detected at each step of the process so that once the cycling is over, everything is complete, he said, and "there is no need to move the sample to another system to detect the product, such as performing capillary electrophoresis or hybridization."
Using endpoint techniques, like a lateral flow paper strip with colorimetric readout, works well however, and indeed the only FDA-cleared, CLIA-waived, handheld true PCR device — the Accula from Mesa Biotech — does just that. But colorimetric readouts are not as readily multiplexed and require a visual readout, which in theory increases user errors and lower sensitivity.
The tiniest qPCR
The most recent entrant into the fully-integrated handheld qPCR arena is Lincoln, Nebraska-based MatMaCorp.
The firm has been developing "penside" diagnostics products for the animal health market since 2014. It launched into human testing with a portable thermal cycler called the Solas 8, which won support from the National Institutes of Health's Rapid Acceleration of Diagnostics program, or RADx, to support SARS-CoV-2 testing and obtained EUA in December.
For its new "bedside" testing device, called My Real-Time Analyzer, or MYRTA, MatMaLab's internal design team found novel ways to tackle sample preparation and fluorescence detection such that the device can perform fully integrated true qPCR with the ability to report cycle threshold values, said Abe Oommen, founder and CSO.
MatMaCorp CEO Phil Kozera said that the firm will submit MYRTA for EUA in the next month. He noted that the experience with the RADx program and interaction with those experts encouraged the company's development of MYRTA.
While Oommen concurred with Neuzil that making mini PCR machines is relatively easy, "making them robust and reliable is hard," he said, and adding a fluorescence detection system is even more of a challenge. This is why real-time capability in a miniaturized sample-to-answer device is so rare, he said.
For the sample prep, MYRTA does not purify and concentrate nucleic acids, which Oommen said can tend to lower sensitivity due to inhibitors and large volumes containing rare targets.
However, "We have figured out how to get real-time results using crude samples by sequestering inhibitors," Oommen said. So far, the team has been able to get to a cycle threshold of at least 35 with direct detection of RNA, he added, suggesting the device has an ability to detect low concentrations of target.
MatMaCorp also had to develop a fluorescence detection system without moving parts. "The way we did that is to design our optical system in such a way that we could use commonly available LEDs and photodiodes," Oommen said, noting that this made it rugged, inexpensive, and easy to manufacture.
Kozera said MatMaCorp now hopes to accelerate production by leveraging the resources of a larger partner in the diagnostics space.
While MYRTA is notable for its ability to report Ct values, Nuclein's handheld system, called Hand-Held, stands out as being a disposable device that does not use assay cartridges. This single-use approach neatly solves common issues with cross-contamination that occur in the sample input and preparation steps.
According to Alan Blake, CEO and cofounder of Nuclein, Hand-Held is "fully integrated/sample-to-answer, with no manual or off-device steps required." It is also battery-operated and uses fluorescence detection "to make an automatic real-time call with no interpretation necessary," Blake said, noting as well that the test does not require any external instrumentation or power source.
"It's just spit, push a button, get results," he said.
Blake confirmed that the device uses "true RT-qPCR and can report Ct values," but declined to comment on the firm's other design elements, such as type of battery, sample prep, and detection methods. Austin, Texas-based Nuclein has completed the pre-EUA process and is working to wrap up product development ahead of submitting an EUA application, Blake said, and the firm has recently hired additional molecular biologists, engineers, and manufacturing specialists.
Meanwhile, GNA Nano is the tentative name of an in-development handheld PCR device from GNA Biosolutions, according to Anastasia Liapis, VP of strategic marketing and partnerships at the Munich-based firm. The device is being developed with support from the Innovative Medicines Initiative. The Nano uses GNA's rapid pulsed control amplification technology and is a fully integrated system that is USB powered, Liapis said. It also uses low-cost assay cartridges and fluorescence detection, but is not currently being developed to report cycle-threshold values.
A system from Visby Medical also performs handheld qPCR and is also disposable. It uses colorimetric detection that is visually read, however, and according to the instructions for use for the firm's EUA SARS-CoV-2 test, it also requires users to plug the instrument in after a certain point in the workflow.
Bigger 'mini' players
While the aforementioned smaller firms are riding the rising tide of interest and funding for diagnostics, so are established players like Cepheid and Mesa Biotech, now a part of Thermo Fisher Scientific.
The Cepheid Omni obtained EUA for a coronavirus assay in December of last year for use in high and moderate complexity labs, and earlier this month it was authorized for use at the point of care.
The Omni device is currently being shipped to customers, primarily within the firm's global access program, according to a Cepheid spokesperson.
According to a current product brochure, the Omni SARS-CoV-2 test targets two genetic regions and yields results in as little as 30 minutes. The Omni instrument itself has automated sample prep, requires less than one minute of hands-on time, and has an integrated battery that supports two hours of mobile operation. Cepheid also describes 100 percent sensitivity and specificity in an assessment of 90 samples in internal testing of the Omni. The device itself is about 9 inches tall and 3 inches wide, with a depth of a little more than 4 inches.
Cepheid debuted the Omni at a conference in 2015. The device ticked all the boxes, and the fact that it is a handheld device was even highlighted in the firm's booth where prototypes were held in the hands of lifelike mannequins modeling various point-of-care use cases.
At that time, the Omni device was reportedly "ruggedized" so that it could be jostled about in the field without losing accuracy. It ran on a rechargeable battery, would accept the firm's microfluidic test cartridges, and performed true qPCR with true fluorescent detection. The integrated sample prep also enabled the system to test sputum, and hence detect tuberculosis, although it did not appear to report the Ct values but rather use a threshold to determine positivity.
Cepheid was acquired by Danaher for $4 billion in 2016, and the Omni was delayed in favor of developing faster tests on its legacy systems, while a similar portable product, called the Edge, was launched in India.
Meanwhile, Mesa Biotech's handheld technology is now positioned for a higher profile and broader distribution following the company's $550 million acquisition by Thermo Fisher Scientific.
Mesa Biotech's Accula performs handheld PCR, not qPCR. It utilizes an endpoint chemistry that involves colorimetric dyes, lateral flow strips, and visual readout, which, in theory, can reduce sensitivity by increasing user error as compared to automated fluorescence detection and reporting.
Nevertheless, Mesa's system is the only truly handheld PCR diagnostic that is known to be currently commercially available in the US in quantity. Mesa was also among the earliest firms to receive EUA for a SARS-CoV-2 test and late last year received 510(k) clearance and CLIA waiver for an assay to detect group A strep.
Close enough?
From the beginning, the SARS-CoV-2 pandemic inspired established molecular diagnostics makers to push forward on point-of-care systems and assays. Although it took some time for devices to obtain a waived status from the US Food and Drug Administration, the agency now claims there are nine molecular diagnostics for use in CLIA-waived settings at the point of care, six of which use PCR or qPCR.
Importantly, the handheld devices so far described have run times somewhere in the range of 20 minutes to one hour. Presumably, an operator would want to set the device down on a benchtop. Also, although battery operation theoretically makes a device more portable, many traditional point-of-care settings have electrical outlets.
Fully integrated, rapid, and small PCR and qPCR benchtop systems are numerous: the Roche Liat, Scope Fluidics PCR One, Meridian Revogene, Credo VitaPCR, Binx io, QuantumDx Q-POC, Spartan Bioscience Cube, Anitoa Maverick, OnSiteGene XDive, Fluxergy Analyzer, Minute Molecular DASH, and Quidel Savanna. Other instruments, like the DiaSorin Molecular Liason MDx, require a separate sample prep step for some assays but can also run selected test cartridges directly from sample.
These systems are all about the size of a toaster and thus in a size range that could be considered portable, although most do require electrical outlets.
The Q-POC system from QuantumDx is a good example of such a system. It is not handheld, per se, but is small enough to be moved about. According to a company spokesperson, Q-POC is battery powered, uses a cartridge-based approach, performs extraction, enrichment, and six-channel real-time PCR, and has a sample-to-answer time of 30 minutes. It can also perform multiplex testing and it connects wirelessly to lab information systems.
And, a system called the Vivalytic from Bosch Healthcare Solutions uses a handheld cartridge-containing component as well as a separate benchtop analyzer. Bosch is making tests for Vivalytic in separate partnerships with BioGX, Randox, and R-Biopharm. A spokesperson noted that there are also other assays for the Vivalytic system and that it is CE marked and commercially available in 22 countries.
The Vivalytic SARS-CoV-2 test was recently compared along with the Cepheid GeneXpert Xpress with gold-standard lab assays. Researchers in Frankfurt, Germany, reported in the Journal of Virological Methods that the Bosch system had comparable results despite the researchers deviating slightly from the manufacturer's protocol, concluding the Vivalytic coronavirus assay is "a POCT with potential."
Other small benchtop instruments, particularly those with fluorescent detection, engender multiplexing, which can be used for syndromic panel testing.
Although it would be a workout to carry these instruments in one hand, the Qiagen STAT-Dx, the CLIA-waived version of the BioFire FilmArray, or the CLIA-waived Cepheid Xpert Xpress modules are eminently easy to use and could be wheeled to the point of care on a cart or used in dedicated, decentralized lab spaces.
Meanwhile, other small molecular diagnostics devices use smartphones to simplify results reporting, sometimes in combination with CRISPR-based methods, but this is technically a separate instrument. Still others require a separate sample prep instrument, such as the MolBio system, which could add cost and complexity to the workflow but may also improve sensitivity for challenging samples like tuberculosis-containing sputum.
And, isothermal amplification-based devices and SARS-CoV-2 tests, such as the Abbott IDNow, can be exceptionally rapid. Those from Lucira and Cue Health are also handheld, and the former is also authorized for over-the-counter sales. Although isothermal amplification theoretically results in a somewhat lower sensitivity than true PCR, Lucira has noted its SARS-CoV-2 test is as sensitive as a lab-based qPCR test from Hologic, while a recent evaluation of Cue in drive-through test sites showed high positive and negative agreement with central lab tests.
In a case where sample prep is less of a hurdle — for example when deploying extraction-free testing of nasal samples for SARS-CoV-2 — there are a number of small thermal cyclers that fit the bill. Devices from Chai Biotechnologies, TetraCore, BioMeme, and Ubiquitome have dedicated SARS-CoV-2 assays available for research use only, surveillance testing, and even EUA diagnostics testing.
The BioMeme Franklin is battery operated, and although the sample prep is off-instrument it purportedly takes one minute, while the results reporting is performed using a smartphone app and cloud portal and takes less than one hour. The Philadelphia-based firm received EUA in August for a SARS-CoV-2 assay. A similar system, the Ubiquitome Liberty 16, was recently awarded $2.5 million in Phase 2 funding from RADx.
Finally, size, ease of use, instrument and consumable cost, and speed are not the only domains in which customers may be seeking superlatives. Throughput is also important, with requirements depending on the intended use. Although many firms claim their systems can be daisy-chained together to increase throughput, for some of the handheld and small qPCR devices a home-use case is likely the only space that would make sense for a device that runs a single test in approximately one hour.
Overall, for breakthrough technologies Pavel Neuzil said a good litmus test to help find out "if a device is real or not" is to request a price quote. "The system is developed if you can buy it," he said. So far, this is not yet the case for any truly handheld qPCR diagnostic systems, but the emergence of multiple players highlights the progress that has been accelerated by the pandemic.