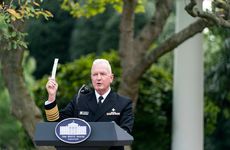 NEW YORK – Admiral Brett Giroir, the coordinator of the US COVID-19 testing efforts for the US Department of Health and Human Services addressed attendees of the American Association of Clinical Chemistry Laboratory Expo — held virtually this year due to the pandemic — in a special session on Tuesday evening, expounding on federal efforts to stimulate SARS-CoV-2 test development, maintain the supply chain, and coordinate with manufacturers and labs.
Giroir, the US assistant secretary of health, thanked laboratorians, who he said had performed 216 million tests as of Tuesday, for their efforts during the pandemic. "You have been on the front line, you are saving people every day. I wish I could give a medal to all of you but for now at least you'll have the sincerest thanks," he said.
The current testing problems in the US are not due to lack of efforts, Giroir said, or due to a lack of funding. "I want to absolutely assure you that money is not an issue," he said, but rather the problem is due to "physical limitations."
The SARS-CoV-2 virus has hallmarks that make it challenging to contain, Giroir said. Peak viral loads in asymptomatic people — who make up as many as 90 percent of infections in young, healthy people, he said — are typically as high as in those with symptoms. And, there are indications that peak viral load can actually precede symptoms.
"This is something that we could never have imagined in March or even April, that this virus would be so insidious, which leads it to being so pervasive," Giroir said. The characteristics mean a strategy of testing symptomatic people followed by tracing and quarantining contacts will likely be ineffective except in certain workplaces or group living conditions.
To stimulate testing capacity, the US has invested approximately $4.5 billon so far, Giroir said, and has tried to shore up the supply chain. For example, Giroir cited 38 so-called "air bridge" flights, which involved transporting foreign-manufactured supplies via US military aircraft rather than shipping them by boat. Ten of these flights alone were to bring pipette tips, he said. 
Among the technical principles underlying the national testing strategy, Giroir said that increasing the diversity of tests and platforms is very important.
"This really has to be a layered system," he said, calling in particular Hologic's Panther platform "a great instrument, but they have very tight limitations on supplies, very few places have it, and every nursing home doesn't have a Panther, nor does every school." He noted that Hologic received funding to increase manufacturing months ago, but that process takes time, and he expects to see results early next year. 
Regarding testing diversity, Giroir called out point-of-care rapid tests, highlighting the Emergency Use Authorization from the US Food and Drug Administration for the first over-the-counter test on Tuesday — the Ellume COVID-19 Home Test from Australian digital diagnostics firm Ellume — and noted that he anticipates another prescription-use-only home-use test to get EUA shortly.
"We've really tried to target innovation to achieve capacity and diversity," Giroir said. This was done while co-evolving regulations and guidance at the FDA, the Centers for Medicare and Medicaid Services, and the US Centers for Disease Control and Prevention, he said.
Another principle to the national strategy has been to expand the industrial base and understand the interdependencies in the supply chain.
When the pandemic began, "The US supply chain was a wreck, there was no US supply chain, there wasn't even an approach to the US supply chain, there was nothing in the stockpile," he said. "I don't think that will ever happen again, as we understand that diagnostics and testing are a core part of our strategy. We have to be better prepared in the next decade than we were in the past decade."
Giroir reviewed the testing innovation and research and development promotion in the US, highlighting programs like the US Department of Defense's Defense Advanced Research Projects Agency (DARPA), the National Institutes of Health's Rapid Acceleration of Diagnostics (RADx) initiative, and HHS' Biomedical Advanced Research and Development Authority (BARDA), as well as programs supporting scale-up and implementation, like the Defense Production Act. As an example, Giroir said the newly authorized OTC Ellume test was initially supported by the NIH, then scaled with support from RADx-Tech, and "it is now subject to potential funding through some of our scaling programs with the Department of Defense," he said.
Giroir also reviewed the evolution of the US testing capacity. In May, the EUA testing capacity was 33 million tests per month, including 12 million "all-in-one" lab-based molecular tests, 19 million open platform tests, 2 million point-of-care molecular tests, and 1 million point-of-care antigen tests, not including pooling approaches.
As of this month, the capacity has reached 183 million tests per month. Although lab-based open platform testing capacity has more than doubled, almost all of the growth was attributable to a POC antigen test capacity growth to 111 million. 
"The kinds of all-in-one laboratory tests that you love don't scale well," Giroir concluded. "There is not enough money on the planet – nor injected molding facilities, nor complex chemistries – to provide you all the Roche and Panther [systems] that you want. Same thing with Cepheid," he said.
"That is not a fault of the administration, nor of the companies, it's just that these have been developed over years so that they cannot be copied by China and other places, so they are very difficult to scale," Giroir also said.
Nevertheless, he noted that the US government has "put hundreds of millions of dollars into scaling them," and said that labs should expect to see the results in the next year.
"But the clear winner is point of care," he said. "That's where the scale is, that's where the growth areas are, and there are technical reasons for that."
Antigen and rapid molecular tests may not be as sensitive or specific as lab-based molecular tests, but Giroir also said that PCR is perhaps not the ideal test in all situations.
"Let me be super provocative here by saying that nucleic acid amplification technologies are imperfect and a biased gold standard," he said. "I think it has served us all poorly to create the myth that it is a gold standard; it is a gold standard in a certain part of the ecosystem, but not in all parts," he added, noting that PCR tests are "poor predictors of contagiousness" while rapid antigen tests have similar levels of false positives, with repeat antigen testing outperforming PCR testing for outbreak control in part due to differences in turnaround times.
"I think point-of-care testing will gain significant market share as we move forward ... particularly over the counter," Giroir said.
Among the many points he touched on, Giroir noted that his team has aided state governors with their preparedness plans, including through federal procurement and distribution for things like swabs and media.
Additionally, "We've tried to support the commercial market to align distribution, so every month with Cepheid, with Hologic, with Roche, we look at the distribution of machines, the reliance of the community on that machine, and what the tests are on that and try to get some alignment knowing that nobody is going to get as much Cepheid GeneXperts as they want, nobody is going to get as much Hologic as they want, [but there are] lots of Thermo Fisher [Scientific systems] to go around, lots of other platforms," he said.
The federal coordination effort also tries to respond to urgent requests, Giroir said, but "the problem right now is the whole country is an urgent request and it's impossible to meet every need."
Some federal efforts are producing results. There are now 297 tests with EUA, and Giroir noted that the 216 million tests performed in the US as of Tuesday didn't include 40 million point-of-care tests that have not been reported.
In terms of results of the national strategy, Giroir highlighted that the states were supplied with $11 billion in testing funding in May and $9 billion has not been spent. There has also been $20 billion spent on testing for nursing homes, and approximately $1 billion on testing for uninsured people. The federal government also purchased and distributed delivered 175 million swabs and 193 million tubes of transport media.
The US also delivered 4.3 million Abbott ID Now molecular tests, 53.7 million Abbott BinaxNow rapid antigen tests to states, and 30 million BinaxNow to places like nursing homes, tribes, and disaster relief organizations, according to a slide in Giroir's presentation.
The US is distributing 120,000 tests through a K-12 school pilot program in Louisville, Kentucky; Los Angeles; New Orleans; Tulsa, Oklahoma; Rhode Island, and the District of Columbia. And, the federal program will distribute approximately 1.8 million tests in a strategic surveillance program with CDC in Colorado, North Dakota, Pennsylvania, Rhode Island, and Utah, as well as at the US Department of Veterans Affairs and with select tribal groups. The program will help "understand how we can best utilize point of care, particularly layered with point-of-care molecular [tests], like Cue, for diverse environments," he said, citing a recently authorized isothermal molecular, home-use test from Cue Health.
Overall, the US has invested approximately $255 million in rapid antigen tests, $176 million in rapid molecular tests, and $570 million in lab-based tests through the NIH and BARDA. It also invested $155 million in increasing US swab production, $180 million in increasing reagent production, and $53 million in increasing US pipette tip production.
For test procurement, Giroir said the US has spent more than $4.5 billion. A slide accompanying his talk listed $938 million for community-based testing sites, $760 million for BinaxNow rapid tests, $481 million for CUE's rapid molecular test, $198 million to IDNow, and $133 million for BD and Quidel rapid tests. The government also procured $659 in swabs and media, and spent $50 million on a national wastewater surveillance system, $400 million on solicitation for home tests, and $30 million on diagnostics data platform.
Giroir repeatedly attributed the current shortage in testing supplies to manufacturing complexities for automated molecular diagnostics instruments. "Some of the most popular platforms just do not scale," he said.
"It is a problem, it is an issue, and I can't fix it," he also said while telling attendees that this manufacturing bottleneck is "why you are running multiple platforms."
In contrast, "There are certain platforms that there is basically an infinite supply of, like all the Thermo Fisher kinds of platforms, you can get as much of that as you want, [but] there are drawbacks to that," he said, adding, "That's really where we are until we get a more robust domestic supply chain. We talk to companies every single day, invest hundreds of millions of dollars, and that's where we are."
For the future, the US needs more domestic manufacturing and a central supplies of reagents, he said. And, "We need to have the ability to expand selected technology and core reagents, not all of them," he added.
Future preparedness also involves setting expectations for labs. "If you want [Thermo Fisher Scientific's] QuantStudio 5's and QuantStudio 7's, and you want Thermo Fisher platforms, we've got lots of them, they can make 60 million of those a month, but you are not going to scale some of the other tests, some of which are made abroad and we don't even have control over," Giroir said. "We are going to have to understand what you can get, accept it, and plan for supply realities."
Another future direction Giroir proposed is more industry coordination. Currently, he has weekly calls with all major manufacturers of tests. "We know what their supply chain and production forecasts are, we know exactly what is coming out, we problem solve, we go over distribution, we know every EUA in development, when it is going to hit, and what it is going to do for the supply chain," he said. The team also has daily calls and frequent site visits with suppliers of swabs and pipette tips.
While, the federal government cannot share very granular details of its insights into the supply chain, Giroir said his office could do better at sharing the general forecasts, but the bottom line is that the projections show "not a whole lot of growth" in the reagents for certain automated lab-based tests. 
Moving forward, "We need to build a formal mechanism for collaboration, communication, and planning that can represent and incorporate multiple competing interests," he said, with a potential model being an electrical grid non-profit regulatory group called the North American Electric Reliability Corporation (NERC) that aims to secure reliability of the US electric grid.
Finally, Giroir said that a framework for laboratory-developed tests is also needed. He used his authority to order that FDA now review EUAs in a timely manner so that labs can get Public Readiness and Emergency Preparedness (PREP) Act coverage for liability. "The FDA is about 300 LDT reviews behind, so this is not going to happen very quickly, and we are trying to triage those as best as we can," he said, adding that this will hopefully begin in the first week of the new year.
Giroir encouraged AACC attendees to contact him if they had any solutions to the shortages. "I promise you that there is no good idea that we don't try to uncover and work through. We are on the same team here and my job is to do as much as I can for you, and I will certainly continue to do that until Jan. 19," he said, referring to the end of the current presidential administration.