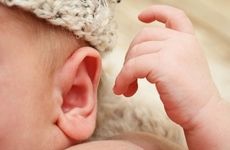 NEW YORK – Genedrive plans to commercialize a new pharmacogenetic test for antibiotic-related hearing loss and is close to gaining a CE-IVD mark for the assay, according to company officials.
The test is the cornerstone of a study involving roughly a thousand patients from two British neonatal centers that is set to commence this fall. Genedrive developed the test in partnership with researchers at the Manchester Center for Genomic Medicine, which is leading the study. The UK National Institute for Health Research awarded the partners £900,000 ($1.2 million) to support the work last year.
Genedrive's assay is intended to detect genetic mutations that can cause hearing loss in newborns who have taken gentamicin, an antibiotic prescribed for certain bacterial infections. The test is designed to be run on the Manchester, UK-based company's PCR system. While scientists have been aware of the mutations for years, there has not yet been a test advanced that can provide a quick enough response. Conventional approaches might return a genotype in a few days, whereas a result is needed in under an hour if a patient is suffering from an acute infection.
"Clinicians want to give a result back within an hour of a child being admitted to a neonatal intensive unit," said CEO David Budd of the new assay. "We've managed to get results down to 27 minutes."
The assay in question targets neonatal patients with the m.1555A>G genotype. This mutation occurs in about 1 in 500 individuals. When infants who have the mutation receive the antibiotic, they can develop irreversible hearing loss.
Genedrive and its partners envision implementing the new assay as a routine clinical test, first within the UK and later in other countries. Budd credited the company's relatively low-cost system — it retails at roughly £5,000 — with giving it the capability to tap into this unaddressed market.
"Because we have a small, inexpensive device, we can exploit individual opportunities that others can't," said Budd. "In the UK, there's around 90,000 neonatal admissions [to intensive care] each year and about 80 percent get antibiotics, meaning there could be 70,000 tests run in the UK," he said. "Europe is another half million, North America is probably another million," he added. "You are looking at selling a lot of tests at a price of between $40 and $50 per test."
Feasibility study
Genedrive is close to gaining a CE-IVD mark for the test before launching a feasibility study this fall, and plans a commercial launch for the test early next year. Genedrive achieved a CE-IVD mark for its platform and a hepatitis C virus assay in September 2017.
Having the assay CE-IVD marked is a requirement before it can be used in a clinical setting, but there are other preparations underway, including the training of roughly 300 nurses at St Mary's Hospital Manchester University NHS Foundation Trust and Liverpool Women's NHS Foundation Trust.
While many have never run genetic tests before,  they are "enthusiastic" about taking part in the study, said Sarah Barnett, product marketing manager at Genedrive who is liaising with the centers. "So far the people that have been trained have been very positive and found it easy to use," Barnett said.
"We are talking them through how the machine works, what they need to do in the event of a particular result," and how it changes clinical pathways, said William Newman, a professor of translational genomic medicine at the Manchester Center for Genomic Medicine, who is leading the effort.
In the past year, Newman said, Genedrive also tweaked its system for use in the study. "There has been quite a lot of work related to how the Genedrive platform has had to be modified, allowing you to input patient identifiers, so that you can do the testing in the clinical scenario, and so that you can go back and check the data so that it gives you an output into the patient record," he said. "These are things the machine wasn't set up to do initially."
As part of the study, which will commence in November and run for six months, Newman and colleagues will also study the health economic elements of implementing the test, as well as the attitudes of patients' parents towards the testing process. "We are interested in what their experiences are using this test, what the positives are, [and] what the downsides might be," said Newman.
The goal is to collect data that will support the introduction of the test to all neonatal intensive units in the UK. That will require UK National Health Service approval, though, something Budd is confident Genedrive and its partners will eventually win.
"Because we have a healthcare system that is free at point of need, cost effectiveness is relevant," noted Budd. "Here we have a device where if you prevent children from going deaf, you prevent health costs associated with that," he said. "It's pretty easy to show a test like this is cost effective."
The market is not just the UK though. By gaining a CE-IVD mark, Genedrive will be able to sell the test across Europe and in other geographies that recognize the CE-IVD mark for clinical use. 
Budd also noted that "opportunities exist in very attractive markets like the US," but did not elaborate.
Newman said that he has already been approached by a number of centers around the world about trialing the assay, which has caused the researchers to consider ways in which it could be adopted in other countries, which could become new markets for Genedrive.
"There are about 7 million babies every year across the world that are suspected of having sepsis and treated, and so it should be reasonable to think that all seven million could potentially have this test," said Newman. "If this identified one in 500 babies who have this particular variant, potentially you could eradicate 14,000 cases of hearing loss worldwide every year."
Newman said he believes the test will eventually become the standard of care, as "there really isn't an alternative present." To his knowledge there are no competitive assays out there. There are other genetic tests for hearing loss in the newborn period though. Atlanta, Georgia-based Otogenetics offers pharmacogenetic newborn hearing loss testing, for instance. Yet these other assays are not run in under half an hour at the point of care, he underscored.
"That isn't to say there aren't other companies that have point of care devices that could be developed in this setting," said Newman. "But Genedrive has probably got farther down the line with this."