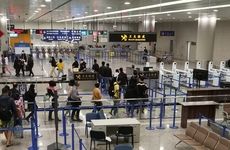 NEW YORK – With an unprecedented quarantine on three cities in China currently impacting 20 million people, alarm bells are ringing globally over a novel coronavirus, currently dubbed 2019-nCoV, with diagnostics firms moving rapidly to bring tests to the market for detecting the pathogen.
Effectively managing an infectious disease public health emergency typically requires quick detection of the pathogen, and the ability to reliably distinguish it from a myriad of other causes of similar symptoms. Although the nCoV-2019 viral genome was sequenced a mere two weeks ago, at least a half dozen diagnostics companies and labs have already created lab-based tests.
Rapid sequencing and publication of the virus' genomic sequence by researchers in China have enabled molecular diagnostic approaches to be developed by an international team associated with the World Health Organization. Additionally, labs at the US Centers for Disease Control and Prevention, BGI, Co-Diagnostics, and Oxford Nanopore, have each developed methods for potential diagnostic use for 2019-nCoV, all in a little more than two weeks.
The unusual pneumonia cluster in Wuhan was first reported on Dec. 31, 2019. Public health detectives in China traced some of the cases back to a wholesale seafood market that also sells different species of live animals, according to a report from the European Center for Disease Control and Prevention.
To date, 650 people have been identified as infected with 2019-nCoV. According to the World Health Organization, infected patients have severe pneumonia-like symptoms. Of the 17 people who have died from 2019-nCoV as of the writing of this story, the majority were older adults with pre-existing health conditions.
The first report that the Wuhan pneumonia cluster was likely caused by a newly discovered coronavirus came out two weeks ago. Cases began to crop up suggesting spread due to travel, with the first US case reported by CDC two days ago.
The 2019-nCoV sequence was initially deposited in the GenBank database as "the Wuhan seafood market pneumonia virus isolate" on January 5, 2020. The sequence was updated a few times in the following two weeks, and uploaded to the Global Initiative on Sharing all Influenza Data (GISAID), according to the European CDC.
The WHO Director General, Tedros Adhanom Ghebreyesus, praised the rapid and open response from China. "Identifying the pathogen was done swiftly; it shows the capacity that China has now," he said in a news conference on Wedesday. "The sequencing was done quickly, but more importantly, it was shared immediately, and that is why Korea, Japan, Thailand were able to diagnose the new coronavirus quickly," he added.
But, the situation is also fluid. WHO's Emergency Committee convened Wednesday in Geneva, only to announce that it was undecided on whether the outbreak rose to the level of a Public Health Emergency of International Concern, or PHEIC. On Thursday, the organization declared that there is no PHEIC yet, but acknowledged that this decision may be revised in the future.
Nevertheless, "WHO has been on full activation since the last day of 2019," said Michael Ryan, the executive director of the WHO Health Emergencies Program.
"We've been coordinating a series of global expert networks and partnerships that have dealt with laboratory diagnostic assay development, infection prevention and control, clinical management, and standardized data collection, mathematical modeling, research and development, and many other pillars of the response," Ryan said in the news conference.
The WHO has also been "working with institutions such as CEPI [Coalition for Epidemic Preparedness Innovations] and others on advancing medical interventions: diagnostics, therapeutics, and vaccines," he said. "At the moment, the landscape analysis for those have been completed, we're working on sample and virus sharing, we're working on developing and dissemintating clinical trial protocols, [and] many other issues related to the carrying out of structured, evidence-based research in the field as needed," he said.
Diagnostic tests disclosed to date
In the meantime, a variety of players have worked to make tests available to detect the coronavirus. The CDC has developed a real-time Reverse Transcription-Polymerase Chain Reaction (rRT-PCR) test that can diagnose 2019-nCoV. "Currently, testing for this virus must take place at CDC, but in the coming days and weeks, CDC will share these tests with domestic and international partners through the agency's International Reagent Resource," the agency said on its website.
A team of European virologists has also developed a test, which was initially shared by WHO as a guideline for diagnostic detection on January 13, 2020 and incorporated into the agency's interim guidance.
The group used known severe acute respiratory syndrome (SARS) and SARS-related coronaviruses to generate a non-redundant alignment, and designed candidate diagnostic RT-PCR assays before release of the first sequence of 2019-nCoV. Upon sequence release, the assays were selected based on their matching to 2019-nCoV as per inspection of the sequence alignment and initial evaluation, they wrote in their protocol.
Commercial tests described publicly as of Thursday include RT-qPCR kits from BGI and Co-Diagnostics.
BGI's kits "have already been issued to many hospitals and disease control centers," both in China and internationally, the firm said in a statement. The company further noted that it has built upon previous experience developing kits rapidly, having successfully sequenced the SARS virus in less than 20 hours, and developed an enzyme immunoassay test kit in 96 hours.
Dwight Egan, CEO of Co-Diagnostics, noted in a statement that the firm's proprietary Co-Primer technology could potentially improve specificity of the test, reducing the likelihood of a false positive diagnosis. He also said that the firm "will be well positioned to quickly assist" in providing diagnostics to affected countries, should the WHO decide to declare a PHEIC. Shares of Co-Diagnostics on the Nasdaq were up 80 percent on Thursday on news that it was developing a 2019-CoV test for possible use.
Meanwhile, Oxford Nanopore has also disclosed that it is working with public health labs globally to support rapid sequencing of 2019-nCoV.
The company also noted that a project called ARTIC is developing an end-to-end system for processing samples from viral outbreaks "to generate real-time epidemiological information that is interpretable and actionable by public health bodies," and that the network has released materials to assist groups in sequencing the nCoV-2019 virus "including a set of primers, laboratory protocols, bioinformatics tutorials and datasets."
Finally, Anthony Fauci at the National Institutes of Health's National Institute of Allergy and Infectious Diseases co-authored a Journal of the American Medical Association article published Thursday that said "platform diagnostic modalities are being rapidly adapted to include 2019-nCoV, allowing early recognition and isolation of cases."
Impacts and future directions
So far, however, no public health emergency has yet been declared, either globally or in the US.
The US Food and Drug Administration has a mechanism called Emergency Use Authorization to enable tests that have not yet been cleared to be used clinically.
This process has been used in the past to enable use of tests for influenza, Middle East Respiratory Syndrome (MERS), Zika, and Ebola, and may be attractive as a potential path to eventual commercialization. But, the epidemic of the coronavirus SARS did not rise to the level of a declared emergency, for example, and the mechanism has not yet been activated for 2019-nCoV.
For the other EUA infectious disease pathogens, companies like Altona, Chembio, and Cepheid have shown they are able to rapidly develop infectious disease tests. They are among companies who have gotten EUA for more than one product in the past, and it is perhaps notable that Cepheid's chief medical officer for China co-authored an article on the virus in the Journal of Medical Virology that was published last week.
Many countries have also implemented screening of travelers in response to the outbreak, which involves looking for symptoms, like fever, and inquiring about a person's travel history. Rapid diagnostic testing that could be used in airports, for example, might be a logical way to screen for infection, but no firm has yet reported developing a point-of-care 2019-nCoV assay.
The impact of the outbreak remains to be seen. As highlighted in the JAMA article, MERS caused a total of 2,494 cases and 858 deaths, while the SARS pandemic infected 8,098 people and caused 774 deaths. Pandemics are also costly to the global economy. The SARS pandemic cost an estimated $30 billion to $100 billion, while a 2018 report estimates that a global influenza pandemic would lead to a loss of $500 billion, or approximately 1 percent of global income.
Finally, in addition to diagnosing people, the hunt is now on for the animal vector of 2019-nCoV, and animals will need to be tested, as well. "Identifying the animal source, or sources, and limiting exposure to those sources, is exceptionally important," WHO's Ryan said during Wednesday's press conference. 
SARS is thought to have made the leap from bats to humans in 2002, while MERS crossed over in 2012 from bats to an intermediary host — camels raised for milk and sport racing. In an article published Wednesday in the JMV, a research group in China has suggested the virus is transmitted by bats but has some signature elements indicating passage in a snake species, although other researchers are not convinced.