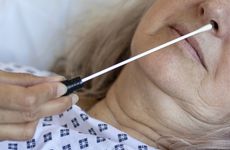 Update: The US Food and Drug Administration has expanded its guidance to include additional viral transport media and swab materials that can be used for COVID-19 testing. 
NEW YORK – The latest bottleneck to confront the US healthcare system in rolling out molecular diagnostic testing for COVID-19 has been a shortage of tools and equipment needed to collect and transport samples. Manufacturers of swabs and transport media say that this is likely to be a short-lived shortage, however, as they have already ramped up manufacturing.
Although lowly nasopharyngeal (NP) swabs are rarely in the spotlight, they became a hot topic this week when some hospitals began reporting back orders from their primary suppliers. Likewise, specially designed commercial transport media was reportedly becoming hard to procure.
The market for NP collection swabs and transport media is dominated by a few players, including Becton Dickinson, Copan Diagnostics, Puritan Medical Products, and Thermo Fisher Scientific. Other companies, like Lucence and Longhorn Vaccines and Diagnostics, also make special sample collection media that could potentially be used in the COVID-19 crisis.
NP swabs are not the ordinary Q-tip. They have extra-long, flexible, and thin shafts, to reach the NP area in the nose, and they are manufactured in a such a way to reduce the likelihood of contaminating nucleic acids that might interfere with PCR testing.
There are now seven molecular diagnostic tests for SARS-CoV-2 that have attained Emergency Use Authorization. According to the authorization documents, these have varying requirements for swabs and transport media.
For example, DiaSorin's product information for its EUA Simplexa COVID-19 Direct Test specifies that the acceptable specimen type is nasopharyngeal swabs in approximately 3 mL of Copan Universal Transport Media (UTM) or BD Viral Transport Media (VTM), "or equivalent." In terms of swabs, the information does not specify a manufacturer, only that swabs have a synthetic tip, for example, made with Dacron, nylon, or rayon, as well as an aluminum or plastic shaft. The instructions note that calcium alginate swabs — which are typically used to obtain samples for bacterial culture — may contain substances that inhibit PCR testing and should not be used.
Hologic's instructions for the Panther Fusion SARS-CoV-2 test recommend a polyester-, rayon-, or nylon-tipped swab, and state that the test has been verified with Copan UTM, BD VTM, and also certain formulations of a transport media from Remel MicroTest.
Roche's Cobas SARS-CoV-2 meanwhile specifies nasopharyngeal and oropharyngeal swab samples collected in a Copan UTM-RT System (UTM-RT) or BD Universal Viral Transport System (UVT), which are essentially kits that contain the transport media in a tube as well as the swab.
The Quidel Lyra SARS-CoV-2 Assay does not constrain the swab manufacturer, but requires viral transport media to be certain formulations of Remel MicroTest or Copan's UTM.
The test information for the Abbott RealTime SARS-CoV-2 test directs users to CDC guidelines for specimen collection, which were updated yesterday to adjust for the shortages. The CDC guidelines now say that an oropharyngeal swab is an acceptable specimen type if NP swabs are not available. They also note that standard operating procedure for public health labs is to create their own viral transport media in accordance with CDC's protocols.
Quest Diagnostics, meanwhile, guides users of its lab-based testing to use its "V-C-M transport medium or other comparable transport medium," as well as CDC-guided sample collection methods.
Working overtime
Copan is a main supplier of the special swabs used for NP sample collection as well as viral transport kits. But Copan is located in the Italian city of Brescia, in the Lombardy region that is the epicenter of an intense COVID-19 outbreak in Northern Italy.
Irene Acerbi, a business development manager at Copan, said in an email that the firm's supply chain is as yet unbroken.
"The lockdown ordered by the Italian authorities is an extreme measure intended to contain the propagation of the virus and is primarily aimed at individuals," Acerbi said. "It does not affect the businesses or the import and export of goods." As such, Copan is currently manufacturing its products 24 hours a day, seven days a week, and "has deployed a number of precautions to protect its workers and keep production running," she said.
"Together with our suppliers, we are working with the Italian regional and national authorities to preserve the current manufacturing conditions in order to serve the world with our products, even in case heavier restrictions are applied in Italy."
Becton Dickinson also makes swabs and sample collection kits. "We have certainly seen extremely high demand for swab products, given the prolonged flu season and coronavirus," said Troy Kirkpatrick, BD's senior director of public relations.
The manufacturing facility for BD's swabs and collection devices used for coronavirus sample collection is also running operations 24 hours a day, seven days a week, and has ramped up production, Kirkpatrick said.
"We will be providing hundreds of thousands of swabs to the US market each week," he said.
The BD Universal Viral Transport (UVT) System, which includes swabs, vials, and prepackaged kits, is used to collect and transport clinical specimens for viral testing, including for the diagnosis of the flu or the coronavirus.
"We also make other viral transport products, but not ones that are currently validated for coronavirus testing," Kirkpatrick said. "The industry is working with FDA to determine if other collection and transport devices are appropriate for use in testing for coronavirus and if so, taking the necessary steps to validate these for use with coronavirus."
Thermo Fisher also makes a transport media, as does Puritan, and they both also sell swabs. A spokesperson from Puritan acknowledged that there has been a "tremendous surge in demand" for swabs and transport systems which has resulted in inventory and order delays for many of Puritan's products.
"As a trusted source for testing supplies, we're in close contact with government agencies and the Coronavirus White House Task Force, gathering the latest information on COVID-19. It is our goal to continuously supply and support all distribution channels during this challenging time," the spokesperson said. 
In terms of other options for transport media, Jeff Fischer, president of Longhorn Vaccines and Diagnostics said that his firm makes a product called PrimeStore Molecular Transport Medium (MTM) that was FDA cleared for respiratory samples in 2018.
It is slightly different than VTM and UTM because the latter two are meant to keep viral material intact, he said in an interview. Those media were "really designed for doing culture and other testing," he said, so they are "not ideal for molecular testing." And, they have components, such as gelatin, that make them not as easy to manufacture quickly at a large scale and may inhibit PCR to some degree, he said.
"Our product is a chemical mixture which is very easy to scale and is made from reagents that are generally not used for other items in the COVID-19 testing chain," Fischer said.
The firm's media also inactivates the virus, essentially by performing a chemical lysis step.
"Therefore, there is no potential hazard, either in the transport process or once the sample gets to the laboratory," Fischer said. He added that CDC guidelines currently recommend samples suspected of containing SARS-CoV-2 be inactivated in a biological safety cabinet, or hood, and Fischer suggested that the inactivation of samples arriving in the lab in UTM or VTM might be one of the slowdown points in the lab workflow.
"Our sample is inactivated at the point of collection, and therefore doesn't need to go through that process," Fischer said. Sample in the Longhorn media is also stable at room temperature for up to 28 days, he said, although the product is currently only cleared by FDA to keep nucleic acids stable for eight days at ambient temperature. And, the inactivation component also inactivates other enzymes and proteins that degrade nucleic acids, resulting in improved sensitivity in molecular tests, he said, noting that the inactivation component is what made the media a class II device requiring a de novo FDA submission.
"The FDA has been pushing us to get as much into the market as possible, and we are working very closely with them," Fischer said.
Another company, Lucence, also announced Friday that it has developed a transport method, called SAFER-Sample, which is a collection kit that comes with a bottle of stabilization fluid to be mixed with the sample at the point of collection, keeping viral RNA stable at room temperature for up to one week.
For Fischer, there is now a huge market opening up for transport media. "We are seeing unlimited demand — right now we are holding orders for several million [tubes], and we are working with states, large distributors, and large hospital systems," Fischer said. "We don't see a cap on demand right now, so it is just a matter of how fast we can make it and how fast we can get it out. … We are exponentially ramping [production] at this point."
Why no stockpile? 
Sample collection may have gotten lost in the shuffle as the US watched the wave of SARS-CoV-2 infection approaching.
The US has a designated system to warehouse potentially critical medical supplies, called the Strategic National Stockpile. The SNS had been managed by the US Centers for Disease Control and Prevention until October 1, 2018, at which point it fell under the aegis of The Office of the Assistant Secretary for Preparedness and Response (ASPR) of the US Department of Health and Human Services. ASPR also oversees the Biomedical Advanced Research and Development Authority, or BARDA.
Longhorn's Fisher said that in late January he reached out to the appropriate divisions of HHS, namely the Office of the Secretary, or OS, as well as ASPR and BARDA, to propose they stockpile between 5 million and 10 million of his firm's transport tubes.
"They responded that they talked to their diagnostics team and they confirmed that while BARDA does support the development of sample collection devices, they have no authority or funding to purchase them," Fischer said. 
He said he was also informed that the SNS did not plan to purchase sample collection devices at that time, and that in general BARDA does not perform diagnostic testing as part of its mission space. 
The Longhorn team is now working with HHS to see which is the right agency arm for authorizing and purchasing testing equipment.
An HHS spokesperson said in an email that to date the SNS has not had any established requirements to stockpile diagnostics or related items.
"Federal agencies including ASPR, CDC, [National Institutes of Health], FDA, [the Veteran's Association], and [the Department of Defense] coordinate efforts to develop medical products needed to protect the American people from chemical, biological, radiological and nuclear threats and emerging infectious diseases, and together set the overall goals for what products to stockpile and the quantities needed," the spokesperson said.
Specifically regarding stockpiling NP swabs, the spokesperson also said, "Priorities for SNS inventory must be balanced against available funding, and market availability for swabs previously was adequate."
Copan's Acerbi noted that swabs and transport kits do have "a relatively short shelf life" of 15 to 36 months, which is why stockpiling is not normally considered for these essential products.
"It is indeed a challenging period for the world, and we're making tremendous effort to cope with the demand," Acerbi added.