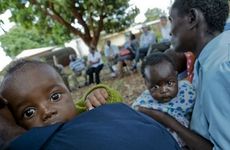 NEW YORK (GenomeWeb) – Molecular diagnostic testing is essential to identify mother-to-infant transmission of HIV. Although many benefits of decentralized early infant diagnosis have been postulated, field evaluations of point-of-care assays in high-burden areas have been lacking.
Researchers in Kenya have now demonstrated that a point-of-care test from Cepheid is substantially equivalent to a standard of care lab-based test, paving the way for more effectively delivery life-saving treatment to HIV infected babies.
Diagnosing young babies with HIV is tricky. "Even when exposed children are identified, their diagnosis requires qualitative PCR to confirm infection, as the antibodies present in their blood may be those of their mothers," said Valarie Opollo, a scientist at the Centre for Global Health Research of the Kenya Medical Research Institute (KEMRI) in Kisumu, Kenya and corresponding author on a PLoS One study describing the evaluation of the Cepheid GeneXpert HIV-1 Qual for early infant diagnosis.
Until recently, the PCR testing required for early infant diagnosis could only be done in a central laboratory, Opollo said in an email.
"Turnaround time was often long and samples or results could be lost, leading to a high rate of infants lost to follow-up after tests have been done," she said.
In Kenya, the overall HIV rates among men and women are roughly 5 percent, Opollo said, but "Kenya's HIV epidemic is geographically diverse," with two of the country's 47 counties, Siaya and Homabay, having an HIV prevalence of around 20 percent.
And, although only 6 percent, or 105,213 children under 14, were counted among the total number of Kenyans living with HIV in 2017, half of the children living with HIV were from seven out of the 47 counties, with 10,722 HIV positive children in Homabay, 9,501 in Siaya, and 9,439 in Kisumu, where Opollo's lab is located.
As a point-of-care or near-patient system, the Cepheid GeneXpert may help diagnose HIV-infected infants much more rapidly, but Opollo and her team at KEMRI first needed to show it was as good as the standard of care.
The team evaluated 3,814 mother-infant pairs who presented to clinics and hospitals in a town in Kenya called Ndihwa in 2016. Ndhiwa is in Homabay county with a population of about 170,000. In the six-month timespan of the study, there were 921 infants enrolled who were known to be exposed to HIV based on the mother's HIV status.
The problem of "loss to follow-up" is significant. One meta analysis suggested it could lead to 30 percent of HIV-exposed babies never returning for diagnostic testing. It has several root causes, but in theory, if getting test results back did not require additional clinic visits, people in rural and impoverished places might be better able to adhere to the recommended prevention of mother-to-child HIV transmission testing regimens.
In the study, 26 health facilities in the Ndihwa region created four hubs that were central health facilities or laboratories, which acted as "near POC" testing points and housed a total of six Cepheid instruments. The researchers used dried blood spots for the testing, and the results were compared to the standard-of-care test, Roche's CAP/CTM HIV-1 qualitative PCR, which also uses dried blood spots.
Mothers delivering in the maternity ward of the Ndhiwa hospital were eligible to enroll in the study, as were mothers seeking immunization services for their infants between two to 10 weeks and eight to 10 months, and infants up to 18 months who received outpatient or inpatient services.
Opollo said that in this region of Kenya the standard-of-care lab testing has a typical turnaround time of 10 days from sample collection. This time includes sample collection at the peripheral facilities, shipment of the samples to hubs where samples are received from different facilities, then shipment of samples to the centralized labs "which have their own reception procedures and checks," Opollo said, and finally testing of the sample and releasing results back to the health facilities.
The Cepheid test, on the other hand, enabled results to be reported approximately one to two days after the sample collection, "depending on the proximity of the health facility to the hub where the Cepheid equipment was placed," Opollo said.
The tests also showed high concordance. Seven of the 969 samples tested with the Cepheid system had an error readout, but all were resolved on repeat testing. Of the nine discordant cases retested on both platforms on a second run, seven were from Roche's platform and two were from the GeneXpert, according to the study.
The evaluation was essentially interested in first validating the Cepheid system was as good as the standard of care, and the team now has ongoing work to determine the outcomes of implementing the test, Opollo said.
The World Health Organization suggests that administration of anti-retroviral drugs to all pregnant and breastfeeding HIV-infected women, paired with early infant testing, can potentially reduce mother-to-infant transmission from rates as high as 45 percent to below 5 percent. The organization has also recently recommended adding an "indeterminate" range readout to tests, as a way to pick out possible false positives with lower cycle thresholds. This, in addition to follow-up confirmatory testing of positive results, is a future strategy to prevent children who tested positive falsely being put on ART for life.
The 30 babies in Opollo's study who were found to be HIV infected were referred to nearby health facilities for routine care, she said, which entailed putting them on treatment as soon as possible and closely monitoring them following ART guidelines.
Cepheid's HBDC approach
Cepheid's high-burden developing country business may seem to defy practical concerns over revenue growth, but David Persing, Cepheid's chief medical and science officer, still believes the company, now a Danaher subsidiary, can continue to "do well by doing good."
In an interview he said that doctors who are using the HIV-1 Qual test might potentially also use the GeneXpert HIV viral load test on the same instrument to test women on admission, in order to gauge the potential for transmission due to a high viral load.
Persing pointed out that centralized testing to determine viral load of an HIV-infected woman in labor would take many days, so it would be unlikely to get results back in time to know whether there is reason to suspect transmission and evaluate her baby more closely. "There is a real timing advantage to being able to have that result quickly," he said.  
Opollo also noted that testing moms at admission can have an advantage and said Kenya has validated the Cepheid system for viral load testing as well. "Based on this validation data, Cepheid is being piloted for viral load testing in several areas within the country," she said.
The whole-blood test could someday be used for adult point-of-care diagnosis, especially for early diagnosis before antibody tests would be positive among high-risk populations in areas without easy access to a lab centrifuge to obtain plasma. Persing said there have been some research activities on this subject recently. Cepheid is also developing a two-target test to improve detection of rare variants, and that should be ready over the next few years.
Having the GeneXpert in the birthing centers or near to the point of care might also allow the instrument to be used for other relevant testing, such as for chlamydia and gonorrhea or Group B Strep, in the future, Persing suggested, essentially building a portfolio around intrapartum and peripartum testing.
Opollo's lab has validated the CT/NG test, she said, and is currently using it on patients. It also uses the GeneXpert instruments for Cepheid's flagship tuberculosis assays. "A lot can be done using the Cepheid [system], and more work is ongoing or planned," she said.
Cepheid received WHO prequalification for the HIV-1 Qual test in 2016, essentially giving the green light to governments and NGOs to begin purchasing the test. It has also been CE marked, and the company now sells the test in 30 of the 54 countries in Africa, as well as in 17 other high-burden developing coutries throughout the world.
The main competition in the POC HIV molecular testing space may be from the Alere q system, now an Abbott product, which was prequalified at the same time as Cepheid's system.
A head-to-head comparison of the two systems in South Africa showed both were easy to use and had excellent performance, with variations in turnaround times, the ability to run more than one sample at a time, and optional backup power.
Alere also makes viral load tests, and although an early version of its quantitative whole-blood test had some drawbacks in a clinical study in Mozambique in 2016, it was since praised in an evaluation using samples from Senegal. The Alere early infant diagnosis test, meanwhile, has performed well in field implementation in South Africa, and although there were a higher number of errors than expected during the study, this did not affect the user rating of acceptability. Alere also makes a qualitative whole-blood test that has the advantage of being able to detect and distinguish HIV-1 and HIV-2 viruses.
Meanwhile, in Kenya, "The plan is to decentralize testing, and therefore implementation of the Cepheid [system] is ongoing in other areas within the country, including Homabay county," Opollo said. The standard of care will not be fazed out, however. "It will still remain in use, since it complements the POC technology," she said.