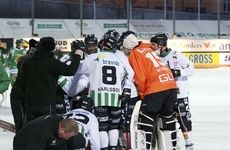 NEW YORK (360Dx) – University of Gothenburg researchers have validated neurofilament light protein as a concussion biomarker that clinicians could eventually use to decide when it's safe for sports participants to return to the field of play.
Currently, there are no known biomarkers that operate quickly enough to indicate whether players who have had a concussion are healthy enough to return to play during the same game in which they suffered the injury, Prashtun Shahim, a physician and one of the researchers at the University of Gothenburg, said in an interview. But when clinicians test for neurofilament light concentrations over an extended period, they should be able to provide a far more accurate diagnosis of a player's long-term readiness to return to play than is now possible, he said.
In a study published earlier this month in the journal Neurology, the researchers analyzed several biomarkers in the blood of 288 Swedish ice hockey players, of which 105 had suffered a concussion during three playing seasons.
The study compared blood concentrations of the biomarkers after the concussion event and over time. The results demonstrated that neurofilament light concentrations had the clearest connection to the severity of concussion, measured by the number of days it took for players to return to play, said Shahim, who had previously conducted studies to evaluate the diagnostic potential of other concussion biomarkers, such as tau, in Swedish hockey players.
Over a few years, the University of Gothenburg researchers developed the assay for neurofilament light to run on the single-molecule array Simoa platform produced by Quanterix, a magnetic bead digital ELISA that is up to a thousand times more sensitive than a traditional ELISA.
Kevin Hrusovsky, president and CEO of Quanterix, said in an interview that the study "validates neurofilament light as a great return-to-play biomarker, particularly as it relates to symptoms."
"We were encouraged to see these results and think it is an important area in clinical diagnostics," said Hrusovsky, who was not involved in the study.
The University of Gothenburg researchers tracked hockey players in the top Swedish leagues for three years. Players who sustained a concussion during this period underwent blood sampling at one, 12, 36, and 144 hours, or six days, after concussion. On the day that clinicians cleared the players to return to play, they took blood samples from those who had post-concussive symptoms for more than six days. In preparation for analysis, they aliquoted and stored the blood samples from all the concussed players from 2012 through 2015, representing three hockey seasons.
They concluded that serum neurofilament light outperformed tau, S100B, and neuron-specific enolase as a biomarker for acute sports-related concussion. Serum neurofilament light, they added, could be clinically useful to identify individuals at risk of prolonged post-concussion symptoms, and the biomarker could aid in decisions about when a player could be allowed to return to play.
In the absence of clinically validated biomarkers and diagnostic tests, clinicians have relied on interpreting sport's players symptoms to signal whether they should return to play. "If a patient or athlete is showing symptoms of a concussion, it's clear for a physician that this person is still suffering," said Hrusovsky. "The challenge as we try to better understand the brain is that there could be a lot going on that could hurt an athlete or a player which is sub-concussive, and there might not be symptoms."
Clinicians and patients fear the consequences of a second concussive impact, which could be fatal should a player return to the field too soon, he said, adding that there is growing concern that when a person sustains many concussive or sub-concussive blows, returning to play may trigger a chronic neurodegenerative disease.
In their study, the researchers observed that neurofilament light was released within an hour after the player sustained a concussion, and it increased over time in players who had prolonged symptoms. Shahim noted that the levels of the other biomarkers, including tau, S100B, and neuron specific enolase decreased quickly and were unable to indicate the severity of a concussion after seven days, a point in time in which many players in the study returned to play.
In the study, serum neurofilament light separated players who returned to play within 10 days from those who returned to play at greater than 10 days, with an area under the receiver-operating characteristic of 0.82. 
The study represents another step forward in research that the Gothenburg researchers have conducted for several years, with a focus on sports-related concussions, Shahim said. The neurochemistry lab at the University of Gothenburg does extensive research on developing fluid biomarkers for neurodegenerative diseases, and especially Alzheimer's disease, he noted. Since 2006, researchers there have been looking to develop and assess biomarkers for subtle brain injury, and they have been conducting biomarker studies in professional boxers and hockey players.
The researchers believe that the results from their study could be generalized to sports other than hockey and to blast-related concussions sometimes suffered by members of the military. They recently measured concentrations of neurofilament light in boxers before and after a bout and found that it was correlated with the severity of their injuries.
To develop its assay, the University of Gothenburg researchers modified antibodies supplied by Uman Diagnostics in Umea, Sweden. Henrik Zetterberg, a colleague of Shahim's at the university, said that the researchers don't intend to commercialize their assay because Quanterix has already developed a neurofilament light assay.
Hrusovsky said that its assay, available for research use only and as a laboratory-developed test, and which the firm developed over the past two years, is showing "by far the fastest growth" of all the assays in its portfolio. He said that more than 20 of the Simoa instruments are being used as LDTs by biotech companies that are using the marker to measure the progression of multiple sclerosis, Huntington's, and Alzheimer's in patients, and that are developing drugs for those conditions.
By the end of 2019, he said, "we will see some level of head-health multiple marker panel available as a lab-developed test," and neurofilament light will be one of the primary markers.
"For head health, there are other neuroinflammation markers such as tau that show some promise and go beyond what you might see with just a single biomarker," he said.
Several companies are developing tests for concussion. In February, the US Food and Drug Administration said it was allowing for the first time the marketing of a blood test to evaluate mild traumatic brain injury. The test from Banyan Biomarkers called the Brain Trauma Indicator measures the levels of the proteins UCH-L1 and GFAP that are released into the blood from the brain within 12 hours of head injury. 
BioDirection, Abbott Laboratories, and BioMérieux are also developing concussion tests. BioMérieux has inked a deal to develop a test that leverages technology developed by Banyan.