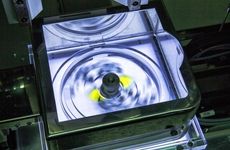 NEW YORK (360Dx) – Researchers in South Korea are developing a liquid biopsy-based lab-on-a-disc that incorporates centrifugal force and nanoporous membranes to identify extracellular vesicles that carry potentially important biomarkers of cancer in urine.
Many research groups are investigating the biological functions of EVs, but the effort to develop diagnostic tests is quite recent, Yoon-Kyoung Cho, a professor of biomedical engineering at Ulsan National Institute of Science & Technology (UNIST), South Korea, said in an interview. She and her colleagues developed the new test.
EVs are nanometer-sized containers that play a role in the spread of pathogenic agents and initiation of tumors. To properly measure and analyze them, clinicians need to isolate them from urine and separate them from particles that are not diagnostically interesting.
Researchers use an established method, ultracentrifugation, so that EVs can be isolated, measured, and analyzed, but the approach has limited potential for use within a clinical laboratory. Ultracentrifuges are bulky and can cost more than $120,000, and sample preparation takes more than six hours and involves manual handling, Cho said.
Lab-on-a-disc technology has been developed for point-of-care diagnostics in biomedical and environmental applications, and there are many examples of research into the use of spinning discs to detect DNA or proteins from blood samples.
Several research groups, including Marc Madou's at the University of California, Irvine, have been working toward making the lab on a disc suitable for the clinical lab.
"We expanded the application to liquid biopsy-based cancer diagnostics," Cho said. "Our method provides simple and quick EV preparation within 30 minutes using a table top-sized, low G-force centrifuge," she added.
Cho noted that that the instrument they've devised, called Exodisc, not only operates automatically, but yields far better results than what's possible through ultracentrifugation.
The researchers have demonstrated that their test for extracellular vesicle-based biomarkers in urine may be useful in clinical settings for bladder cancer diagnostics. They are also developing a diagnostic test that uses the same approach to detect prostate cancer.
In a recent issue of ACS Nano, the team described its urine-based integrated centrifugal microfluidic platform.
A spinning polycarbonate disc, manufactured by numerically controlled milling, sends urine through two integrated nanofilters at low G-forces. EVs measuring less than 600 nanometers flow through the first nanofilter, and particles that are larger are not permitted to pass through. Vesicles 20 nanometers or smaller flow through pores in the second nanofilter. As a result, EVs ranging from 20 to 600 nanometers remain captured.
During their research, the team at UNIST conducted nanoparticle-tracking analysis and PCR analysis that demonstrated EV recovery rates greater than 95 percent, and mRNA concentrations that were 100 times that of ultracentrifugation methods. Over the next 30 minutes, an in situ enzyme-linked immunosorbent assay analyzed the extracellular vesicles for surface protein markers.
The platform, because of its size, would be most suitable for use in small hospitals and clinics, Cho said, adding that the collected EVs may undergo additional testing, such as molecular analysis for validation and more detailed diagnostics.
The urine-based platform will be ready for technology transfer and commercialization in around a year, she said.  
Cho noted that she already has experience with commercializing a cancer test that uses the lab-on-a-disc concept and filtration, but does circulating tumor cell isolation from whole blood.
Both the urine and blood tests use size-based filtration tied to spinning-disc technology. The blood-based diagnostic test has similar features to the urine test in the sense that both use centrifugal microfluidics, Cho said. However, due to the difference in sample type and platform feature size — with cells being greater than 10 micrometers and EVs measured in nanometers — "the technology is quite different," she added.
Cho along with colleagues at UNIST; the Institute for Basic Science, Ulsan; Pusan National University Hospital; and Clinomics reported the work on the blood-based technology in a recent issue of Analytical Chemistry.
Clinomics is marketing the test for research use globally, having transferred the technology from UNIST.
The firm produces tests based on next-generation sequencing technology for liquid biopsy-based cancer diagnostics.
Clinical research programs in Korea and China are using the Clinomics test, and regulatory approvals will follow, Cho said.
Centrifugal microfluidics is attracting interest among researchers. In addition to UCI's Madou, Roland Zengerle at the University of Freiburg, and Jens Ducrée at Dublin City University are also working to further develop the technology.
The work at UNIST "demonstrates excellent research on the centrifugal lab-on-a-disc platform," said Ducrée, who is the director of the Fraunhofer Project Centre at Dublin City University. "While liquid biopsies for cancer diagnostics have been looked at before, this work elegantly eliminates the need for ultracentrifugation to concentrate extracellular vesicles," he said, adding that "process integration is nicely implemented."
Ducrée and his colleagues just launched the Fraunhofer Project Centre for Embedded Bioanalytical Systems for the development of next-generation microfluidic systems for decentralized point-of-care testing of samples, such as blood or water for several applications, including personal healthcare, pharmaceutical production, life science research, quality testing of food, and environmental monitoring.
Researchers at Sandia National Laboratories recently announced that they have developed a multiplex immunoassay that detects four enteric pathogens in less than 20 minutes using the group's SpinDx platform, and they are developing the system for nucleic acid detection.
The SpinDx system consists of small disc-shaped cartridges containing channels that can be preloaded with reagents. It requires a small amount of sample that's loaded into the center of the cartridge and centrifugal force to manipulate it through the chambers.
Hakho Lee and his colleagues at the Harvard Center for Systems Biology are doing pioneering work developing diagnostic tests that isolate EVs, Cho said.
They are using a different approach from Cho, developing on-chip filter systems to speed up vesicle separation from biological samples. For size-based separation, the group uses a nanofilter that employs sound waves for force generation. The team is developing a microfluidic device to do magnetic enrichment and subsequent RNA capture, and is working to include on-chip analysis capabilities.
UNIST is developing its urine-based platform in collaboration with Yoon-Keun Kim, a professor at the Institute of MD Healthcare in Seoul, South Korea. The Korean Ministry of Health & Welfare, the Institute for Basic Science, and SRC, a scientific research center funded by the National Research Foundation in Korea, supported the urine-test research at UNIST.