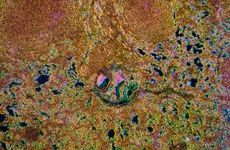 NEW YORK (360Dx) – A consortium of researchers is developing an automated, low-cost point-of-care test for the molecular diagnosis of aggressive lymphoma that it anticipates will enter field testing later this year in Botswana.
In a study published Monday in Nature Biomedical Engineering, the researchers described a platform that uses contrast-enhanced microholography and a deep learning algorithm to analyze samples obtained from patients using fine needle aspirates. They have prospectively validated a disposable cartridge-based microfluidic assay by obtaining samples from 40 patients that had been clinically referred for image-guided aspiration of nodal mass lesions suspicious of lymphoma.
The point-of-care assay, an improvement on a previous system that used a smartphone, achieved 95 percent accuracy for lymphoma testing compared to 87 percent accuracy for flow cytometry, Cesar Castro, one of the study researchers and director of the cancer program at the MGH Center for Systems Biology, said in an interview.
In the study, the assay demonstrated 91 percent sensitivity and 100 percent specificity with no false positives, he said.
Later this year, the group will begin using the device to test patients over three years in Botswana at a local hospital, and in their communities by driving a mobile van to reach them, Castro said. The researchers are collaborating with the Harvard TH Chan School of Public Health, which is doing AIDS and HIV research in the region, he said.
Ultimately, Castro and his colleagues anticipate rolling out the platform and assay globally. They believe that it should prove valuable not only in low- and middle-income settings but also in developed countries where laboratories and clinical resources are scarce in rural areas.
The platform and assay are an advance on previous research done by the same group, Castro said. In their study, the researchers generated holographic signatures by staining cells with chromogen-labelled antibodies. The system captures and stains target cells within disposable cassettes, minimizing the risk of exposure to healthcare providers or artefactual readouts from contaminants.
In previous research, the group showed that they could obtain molecular specificity by labelling large epithelial cells with micron-sized beads that change the cells' holographic patterns. However, because of the smaller size of lymphoma cells, the number of beads per cell is limited, making it too difficult to analyze intracellular markers, the researchers said.
To circumvent these drawbacks and enable the detection of intracellular proteins, such as Ki67, a marker of aggressive lymphoma, they used small-molecule chromogens, substances that can be readily converted into a dye or other colored compound, to modulate holographic patterns.
"We developed an assay that right off the bat captures CD19- or CD 20-containing cells, which are markers of B-cell lymphoma," Castro said. After capturing the cells, the microfluidic assay counts the number of B-cells and cell sizes and uses antibodies against Ki67 and other molecular features characteristic of cancer to obtain signatures that are analyzed by the machine learning algorithm. 
"The presence of high Ki67, for example, would mean an aggressive, proliferative cancer cell," Castro said. To circumvent the challenge of refrigerating antibodies, the researchers expect to freeze-dry them and use saline to reconstitute them for use, he added.
The researchers' overarching objective has been to develop a practical assay that could be used to triage patients at the point of care in low- and middle-income countries (LMICs), Castro said.  
Healthcare workers in LMICs are challenged by the lack of pathology resources and other factors in identifying patients with aggressive cancers, including lymphoma, that require immediate therapy. "There are many needs that must be addressed before cancer treatment in LMICs approaches that readily obtainable in high-resource nations," said Lowell Schnipper, clinical director of the cancer center and chief of the hematology and oncology division at Beth Israel Deaconess Medical Center. "Of central importance is the ability to make a correct pathologic diagnosis — this being the bedrock of high quality cancer management decisions."
Malignant neoplasms are becoming more prevalent, especially among the many individuals who are infected with HIV, he said. The findings described by the collaborating researchers "using fine needle aspirates for large cell non-Hodgkin's lymphoma suggest the possibility that accurate pathologic diagnosis of malignant neoplasms is feasible and scalable," said Schnipper, who is not involved in developing the assay. "A technique such as this will require validation in a larger sample set, permit clear assessments of true and false positives, and demonstrate the ability to discriminate between various types of B cell lymphoma, since many of these require different treatments to optimize outcomes."
Castro noted that the platform and assay lend themselves to adding markers for additional applications, such as the detection of indolent lymphomas. However, at the point of care, in resource-limited areas where there is a limited stockpile of chemotherapies, their main question has been whether a person needs chemotherapy. "That was really the intention behind developing the assay," he said, adding that with indolent lymphomas, for example, "we could watch and monitor patients, but we wouldn't treat them by chemotherapy."
The researchers designed the system to work with a fine needle because it is far more suitable for use at the point of care than the use of surgery or core needles, which are classical tissue extraction methods. "A needle used to obtain a core biopsy is more invasive and can lead to complications, and obviously surgery has its own potential consequences," Castro said. By developing a system that operates with a fine-needle aspirate, the researchers will have an advance over what's already available if it proves to be successful in the field, he said.
The fine needle secures about 2,000 cells per pass and is particularly advantageous in low-resource regions, their first target market, because of the prevalence of superficial masses on the body that could be related to tuberculosis, AIDS, or lymphoma associated with HIV. "If someone has a superficial mass, it's easy to insert a fine needle to secure a sample," Castro said. "It could be done by a lay person."
The excitement surrounding approaches such as this for the molecular diagnosis of cancer in low- and middle-income countries is centered in the potential to apply it to other major oncologic problems, such as cervical cancer, Schnipper said. "An inexpensive molecular screening assay that is suitable for use at the point of service, providing high sensitivity and specificity in real time, and then permitting screening to follow with immediate treatment would represent an important public health advance."
Nonetheless, the challenges of precision, scalability, and cost will need to be met, he said, adding, "Approaches such as the one described … are promising and merit further development."
The new technology is based on a free-standing platform for data acquisition, communication, and result display. Castro said that the group fabricated parts using 3D printing and built the system from inexpensive components that are a fraction of the cost of a previous system they had developed using a smartphone. They have retained the use of a high-resolution complementary metal-oxide-semiconductor (CMOS) image sensor developed for that system, to resolve target cells captured in the fluidic cartridge.  
The current system components include the CMOS image sensor, a touchscreen display, and an inexpensive Raspberry Pi computer with Bluetooth and WiFi capabilities. The total cost is about $200 per system, Castro said, before economies of scale, and the disposable cartridges could be sold for less than $1 apiece.