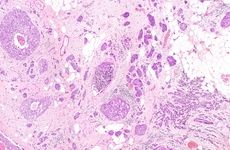 This article has been updated to clarify the source of some quotes, which were from the company's President and CEO Daniel Forche.
NEW YORK (360Dx) – PreludeDx, a diagnostics firm advancing an assay for early breast cancer, shared results from a clinical validation of its test called DCISionRT at this week's San Antonio Breast Cancer Symposium that demonstrated it could have use as a tool to stratify patients who may respond to radiation.
Unlike its main competitor in the ductal carcinoma in situ space — Genomic Health's Oncotype DX DCIS test — DCISionRT isn't gene-based. Instead, it uses an algorithm to weigh a panel of proteomic biomarkers along with traditional clinical and pathological risk factors to create a risk score that can help physicians make decisions about how to treat women with these very early-stage tumors.
The proteomic portion of the assay is performed using immunohistochemical staining and image analysis tools, and includes testing of a panel of several biomarkers initially discovered in DCIS research by at the University of California, San Francisco, which Prelude licensed before its launch in 2009.
"The reason we went that route was that we wanted to make sure you are looking at DCIS cells," Daniel Forche, Prelude's President and CEO, said this week. "If you are doing a grind-and-bind molecular assay, you are getting [more than just tumor] and that may be why other tests out there have struggled," he added.
The company launched the test commercially this March, initially with a targeted group of physicians and decision leaders. Forche said that doctors in 15-20 states are using it so far.
Now the firm is positioning itself to make a stronger case for the assay with new data this week that show that the test is not only prognostic, but can stratify women based on their likelihood of responding to radiation treatment.
The new data comes from a study applying the test to samples from a randomized trial called SweDCIS, which investigated the benefit of radiation therapy in a population of over 1,000 DCIS patients with 20-year follow-up. According to Prelude, this makes DCISionRT the only such test to be evaluated in a prospective-retrospective randomized trial.
Before the company began its analysis using the SweDCIS cohort, it initially trained its algorithm in a set of samples from a study at Uppsala University Hospital in Sweden, with validation in an independent cohort from the University of Massachusetts. According to Forche, that data is slated to be published in peer reviewed literature very shortly.
As a follow-up to the initial validation, Prelude also tested its algorithm in another several hundred samples from the Kaiser Permanente Northwest integrated healthcare system from patients diagnosed with DCIS from 1990- 2007.
In that study, presented at last year's SABCS, patients in the elevated risk group, as defined by DCISionRT, had substantially higher likelihood of a cancer recurrence or a new tumor on the same breast within a 10-year period.
In the new analysis of patients in the SweDCIS cohort, Prelude was able to extend this, looking not only at the prognosis, or risk prediction, but also showing the test can specifically predict the likelihood of response to radiation therapy.
The SweDCIS principal investigator Fredrik Wärnberg, associate professor of surgery at Uppsala University, presented the results at SABCS.  According to an abstract, from the overall 1,000-patient cohort, complete biomarker and clinical information was available in 584 women to run the DCISionRT algorithm.
Wärnberg and colleagues reported that the assay defined an elevated risk group, which saw a pronounced 10-year benefit with added radiation therapy, with an absolute risk reduction of 9 percent for developing invasive breast cancer later on.
The corresponding low-risk group, which included 48 percent of all patients, showed no significant radiation benefit, with an absolute risk reduction of just 1 percent.
Although its competitor in the space, Genomic Health, is several years ahead of Prelude in terms of commercialization, Tyler Kibbee, Prelude's VP of strategic marketing, said that significant market space for new options still exists.
Prelude believes that because its test is designed specifically for DCIS, rather than being trained initially in the invasive breast cancer space, it will be able to demonstrate predictive value that will be more persuasive to the community of physicians who treat these women.
Genomic Health hasn't broken out DCIS test volume from its overall breast cancer business in recent financial reports, but the company is still investing in commercialization efforts. The firm has studied Oncotype DX DCIS in a number of cohorts, including a 1,200-patient study of women in Ontario Canada, who were followed for close to 10 years.
And although Genomic Health hasn't analyzed its assay in a cohort like SweDCIS — with patients randomized to radiation treatment or to surgery alone — researchers have published other analyses that support the ability of the test to predict radiation therapy benefit in addition to prognostic outcome.
A study published this spring in the Journal of the National Cancer Institute, for example, examined a cohort of 571 women treated with surgery alone and 689 cases treated with surgery and radiation and found that women with a low-risk, according to Oncotype, who were treated with surgery alone, had about 10 percent risk of recurring within 10 years, with a small benefit from radiation compared to those with a high-risk molecular score.
Genomic Health has also highlighted decision impact analyses, which showed that the assay changed physicians' treatment plans for 1 out of 3 patients, and presented new data at SABCS, including studies combining Oncotype DX with clinical and pathological data, showing that this can further refine risk estimates.
Kibbee said that Prelude is pricing DCISionRT similarly to other tests in the space.